When it comes to doing a dinosaur theme in preschool, you just have to expect some extra excitement.
You can channel that excitement and turn it into a fun movement activity with this printable that promotes taking turns, movement, and developing attention spans – all at the same time.
Your little learners will have a blast pretending to be their favorite dinosaurs!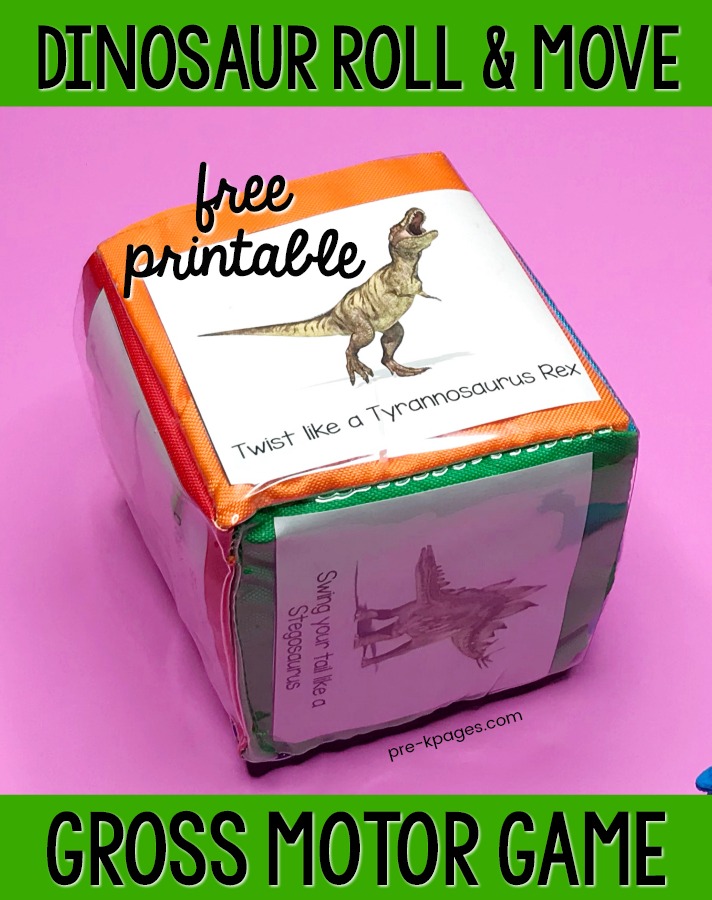 Dinosaur Movement Activity
Here are the supplies you will need to set-up this activity in your classroom.
Printable Dinosaur Movement Cards (see printable below)
Scissors
Paper
Optional: Laminator
Start by printing out the movement cards, then cut them apart and place them inside your soft pocket cube. You can also laminate the cards for durability if you would like them to last longer.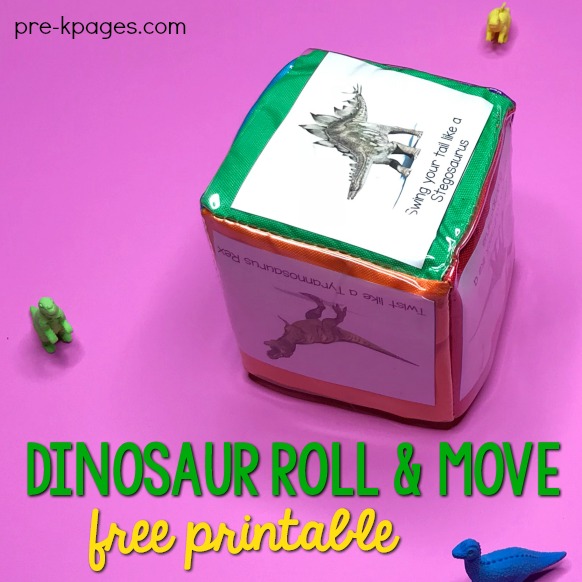 Dinosaur Movement Game
Each movement card includes directions for moving like a specific dinosaur. Here are the movements included below.
Twist like a Tyrannosaurus Rex
Stretch your neck like a Brachiosaurus
Flap your arms like a Pteranodon
Swing your tail like a Stegosaurus
Run like a Velociraptor
Tiptoe like a Triceratops
How to Play the Dinosaur Roll and Move Game
First, gather your students in a circle and invite one child at a time to roll the cube in the middle of the circle.
Then, read the sentence on top of the cube aloud each time it is rolled. The children will start to remember the phrases on their own quickly.
Invite the children to move their bodies to match the words used to describe the dinosaur. You can keep rolling the cube and playing as long as this activity holds their interest.
As you're playing this game with your students they will be practicing valuable skills that will help them be successful in school and life. Waiting for a turn is a very difficult for young children which helps them develop self-regulation skills.
When children are moving like dinosaurs they are learning how to follow directions and listen, all while developing their gross motor skills.
This activity is perfect for indoor recess too!

More Dinosaur Activities