One of the many cool facts about dinosaurs is that they're reptiles, and reptiles hatch from eggs. Many young children are captivated by dinosaurs and they soak up these facts as quickly as sponges soak up water.
One way to capitalize on children's natural curiosity and interest in dinosaurs is to make hatching dinosaur eggs using this easy play dough recipe. Your kids will have a blast cracking open these pretend dinosaur eggs in your sensory bin or table!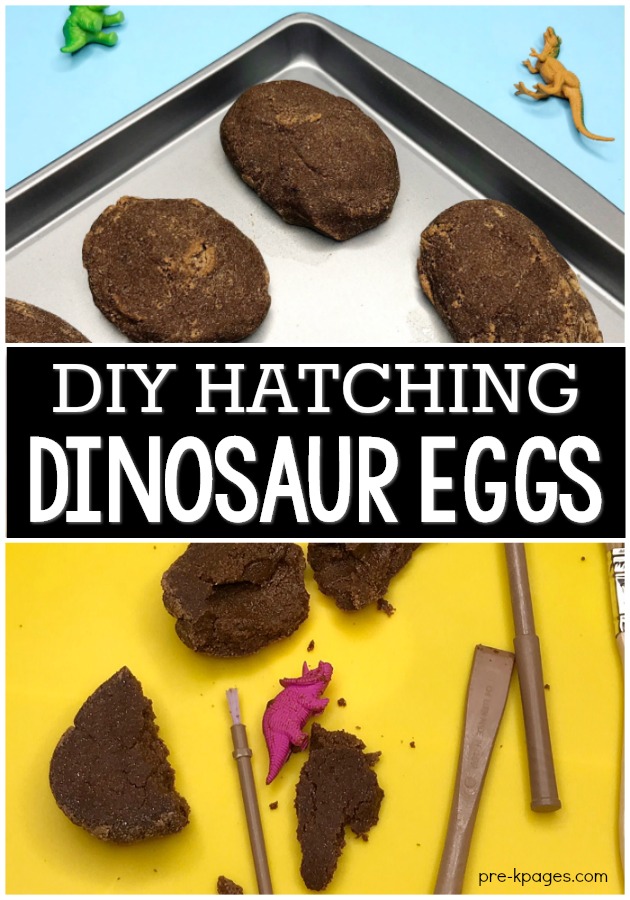 DIY Dinosaur Egg Recipe
Here are the supplies you will need to make your own hatching dinosaur eggs:
1 Cup All-Purpose Flour
1 Cup Loose Coffee (dollar store)
1 Cup Craft Sand (craft store)
3/4 Cup Table Salt
1/4- 1/2 Cup Water
Plastic Dinosaur Figures
Large Plastic Eggs
This recipe makes enough for 4-5 dinosaur eggs. For larger classes you will need to increase the amounts used for each ingredient.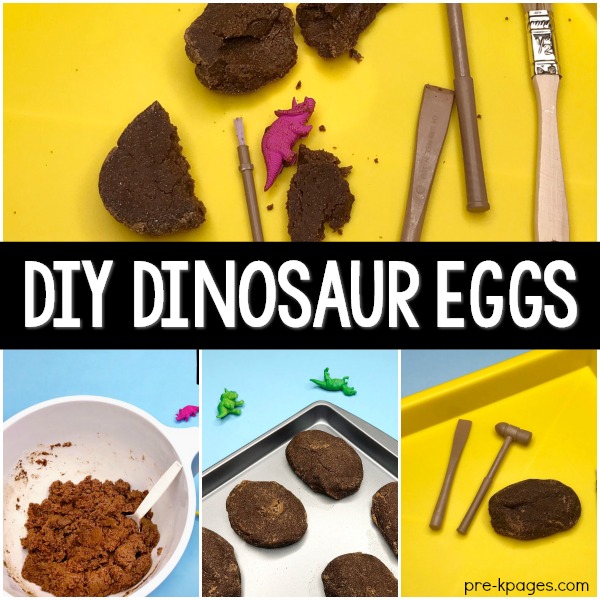 How to Make Hatching Dinosaur Eggs
So many people say "It didn't work!" and throw their hands up in frustration when they try these types of play recipes. When it comes to any play recipe, the most important thing to know is that it's not an exact cooking recipe, it's more of a science experiment. You will need to experiment with the ingredient amounts to get your mixture "just right." Maybe the craft sand you used was more course, or the coffee was too fine, these tiny little things can make a big difference when doing play recipes.
If your mixture doesn't turn out, you will need to try again and see if you can figure out why it didn't work the first time. This is how scientists approach experiments, they learn from their failures or mistakes. The ingredients and amounts you use may differ, yet your experiment may still be a success.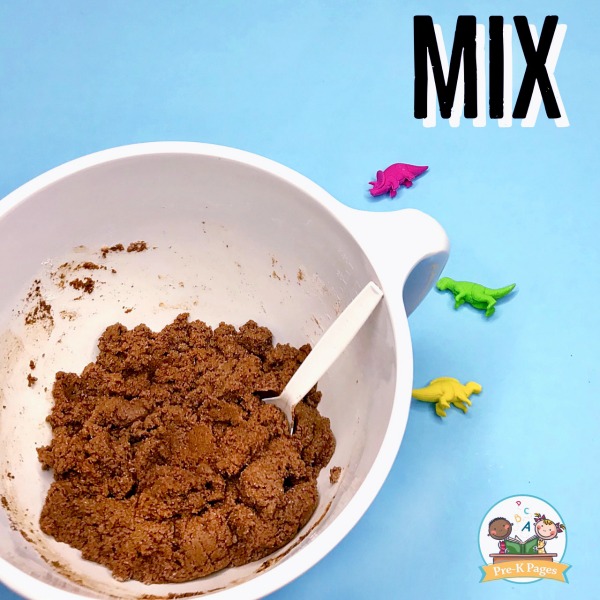 Dinosaur Egg Mixture
You got this, now let's get started!
First, mix the flour, coffee, craft sand, and salt in a bowl.
Next, add water slowly and mix. If your mixture is too dry, add more water. If your mixture is too wet, add more flour, sand, and coffee.
Then, rub olive oil on the inside of the plastic eggs so you will be able to easily remove the eggs.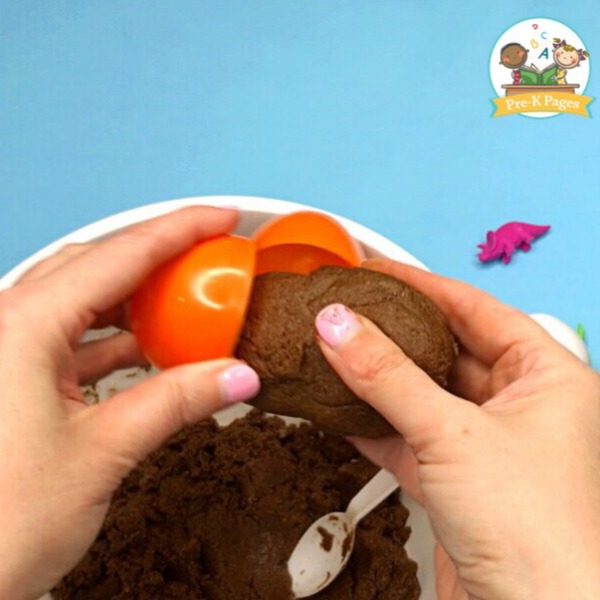 Filling the Dinosaur Eggs
Fill half a plastic egg with the mixture, stick a plastic dinosaur figure inside, and fill the other half of the egg.
Close the plastic egg to shape it, then remove it from the egg.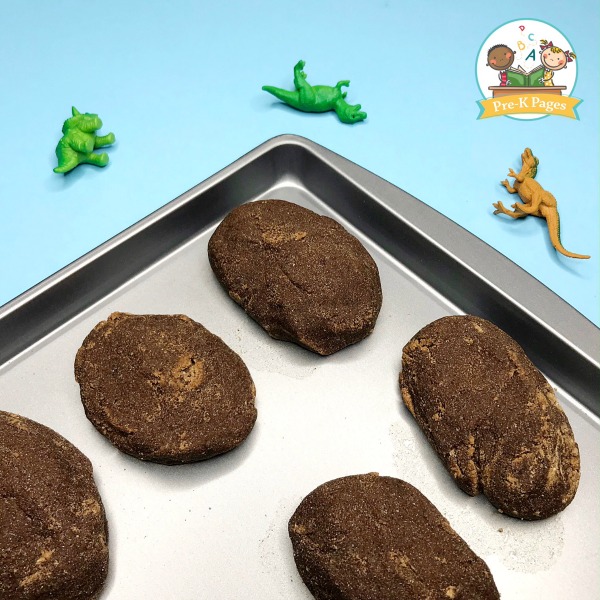 Drying the Dinosaur Eggs
Finally, lay the dinosaur eggs on a flat surface like a cookie tray and leave them out to dry. Drying time may take 3 days or more, depending on the climate where you live. You'll also want to flip the dinosaur eggs over at least once during the drying process to dry them evenly.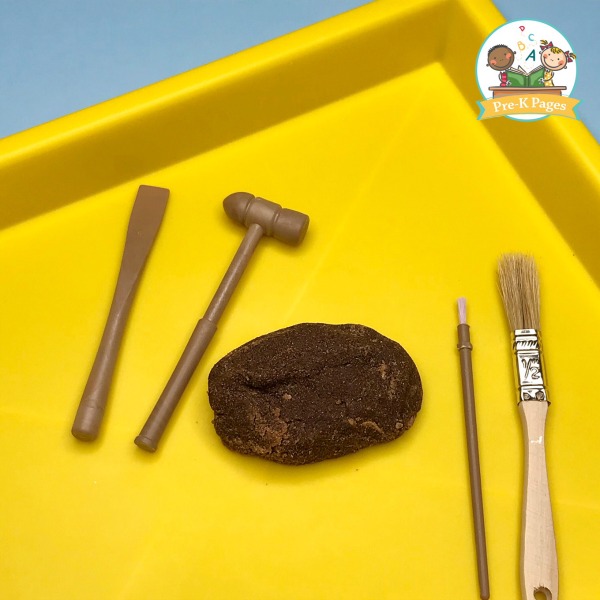 Cracking Open the Eggs
When dry, the outside of the egg will be hard and the inside will be moist, which makes removing the dinosaur easier.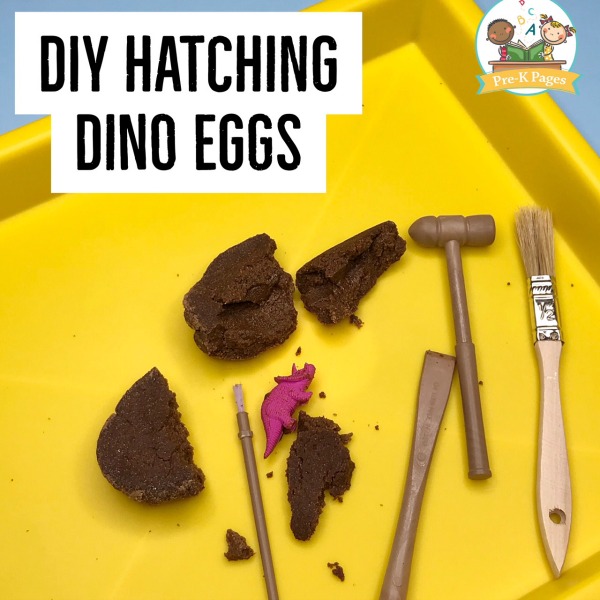 Place the dry eggs in your sensory table and invite the children to explore the eggs. Show them how they can crack open the eggs using their fingers and a few toy tools.
I found some of the toy tools pictured here at my local dollar store. The paintbrush was .80 cents at the craft store.
Watch the Video
Dinosaur Dig Dramatic Play
If your kids like dinosaurs, they'll LOVE this Dinosaur Dig dramatic play kit!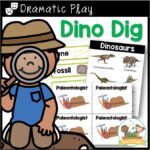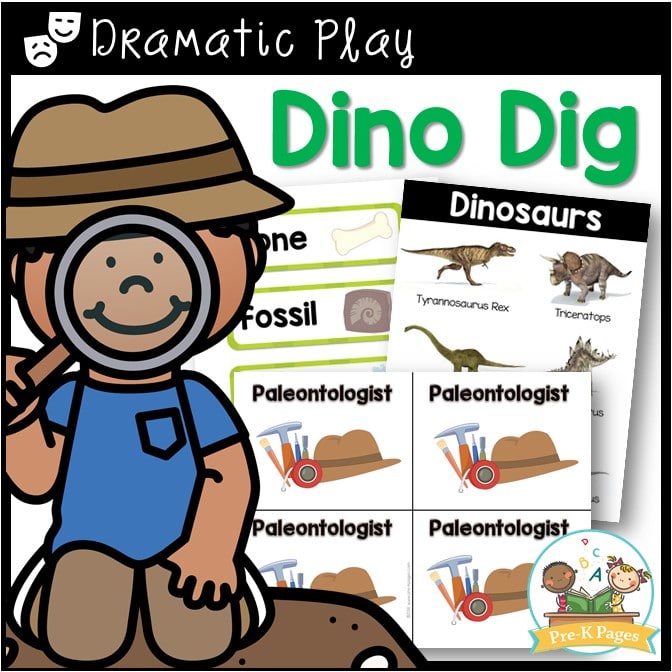 129 pages of printable props to help you easily transform your dramatic play center into a dinosaur dig. Includes literacy, oral language, and writing opportunities that align with current learning…
Dinosaur Sensory Bin (Pre-K Pages) – With this sensory bin, your preschoolers will have so much fun digging for dinosaurs!
Dinosaur Literacy Activities (Pre-K Pages) – You can help your kids celebrate all the different types of dinosaurs by extending the learning into your literacy center activities.
Dinosaur Math Activities (Pre-K Pages) – As your kids participate in these fun, hands-on dinosaur math center activities around a common theme, they will begin to develop important math skills that will help them build a solid foundation for future math success.
DIY Bones for Dinosaurs Dig (Pre-K Pages) – Here's a super quick and easy recipe to make your dinosaur bones.  Your little paleontologists will love digging for pretend dinosaur bones in your sensory table!
Dinosaur Roll and Move Game (Pre-K Pages) – When it comes to doing a dinosaur theme in preschool, you just have to expect some extra excitement.  You can channel that excitement and turn it into a fun movement activity with this printable that promotes taking turns, movement, and developing attention spans – all at the same time.
Dinosaur Play Dough Activity (Pre-K Pages) –  A dinosaur theme is always a huge hit with young children in the classroom. Their natural interest in dinosaurs sparks their curiosity and magically lengthens their attention spans.  But dinosaur play doesn't have to be limited to the block center, your kids can have fun learning and playing with dinos in the play dough center too.
More Dinosaur Ideas