This month in preschool, my students are learning about reptiles. We've been reading a variety of reptile books, and we even had a few reptiles visit the classroom.
While discussing reptiles, the kids were thrilled to learn that dinosaurs were reptiles.
A few of them expressed an interest in digging for dinosaurs, so I put together a dinosaur fossil dig sensory bin for them to do just that.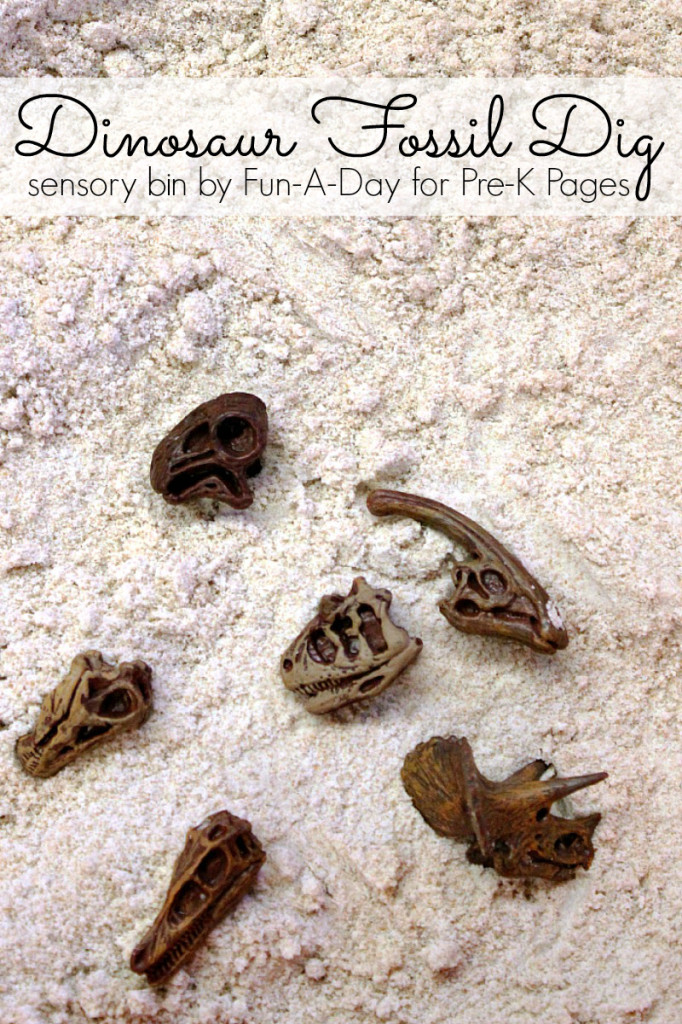 Dinosaur Fossil Dig Sensory Bin Materials
Here's what you need to create this fun dinosaur fossil dig sensory bin in your classroom.
Whole wheat flour
Oil
Paintbrushes
Safari Ltd. dinosaur fossils toob
Dinosaur Fossil Dig Sensory Bin Prep
First, I mixed up a large batch of the fake sand we made last summer (see link to recipe below) and added a little bit of real sand to it for texture.
The play sand packs like beach sand, making the dinosaur dig more fun for the children.
Once the play sand was made up, I hid the dinosaur fossils in it. I made sure to pat the sand down a bit, so the kids would have to dig to discover the dinosaur bones.
Paintbrushes were set alongside the sensory bin. Then it was time for the kids to check things out!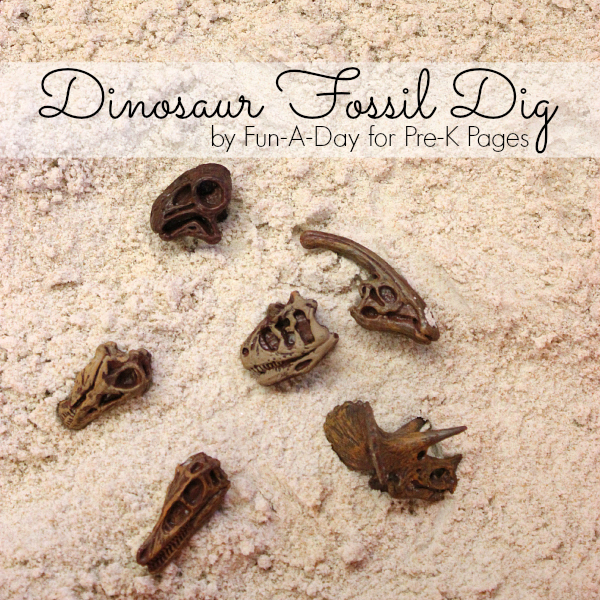 Dinosaur Fossil Dig Activity
Of course, the children were immediately interested in what was in our fossil dig sensory bin. When I explained that they were going to be searching for dinosaur fossils, they were even more excited. One of my boys exclaimed, "I've always wanted to dig for dinosaur fossils!"
The kids immediately began digging into the sand, looking for the dinosaurs. Some used their fingers, while others used the end of the paintbrushes. As they discovered the dinosaur bones, I showed them how the paintbrushes could remove the bits of sand.
They have loved this dinosaur sensory bin so much that we're extending it another week! To add a new aspect to it, I've created a printable checklist for the children to use. They can determine which dinosaur fossils they've found and use the list to keep track of which have been found. They're into things like this, so I'm sure it's going to be a big hit!

Educational Benefits of the Dinosaur Fossil Dig Sensory Bin
While some may look at this as "just another sensory bin", there's a lot of learning taking place. Here are some of the early learning concepts we touched on:
Science (learning about reptiles and dinosaurs)
Sensory exploration (especially the senses of seeing and touching)
Literacy (via the dinosaur fossil checklist)
Visual discrimination (looking at the fossils to determine which is which)
Fine motor skills (holding paintbrushes to dust off the fossils)
BIO: Our pretend sand recipe is perfect for a dinosaur sensory bin, and don't forget to check out how we excavated dinosaurs from "tar". Mary Catherine is mama to an elementary-aged son, preschool teacher to many, and the creator of Fun-A-Day. You can find her on Facebook, Pinterest, Twitter, and Instagram.
More Dinosaur Ideas