Do your little learners love to play in the dramatic play center? Pretend play is an important part of every early childhood classroom. To enhance literacy in your dramatic play center you can add some picture books. Here's a list of my favorite books to keep in the dramatic play center.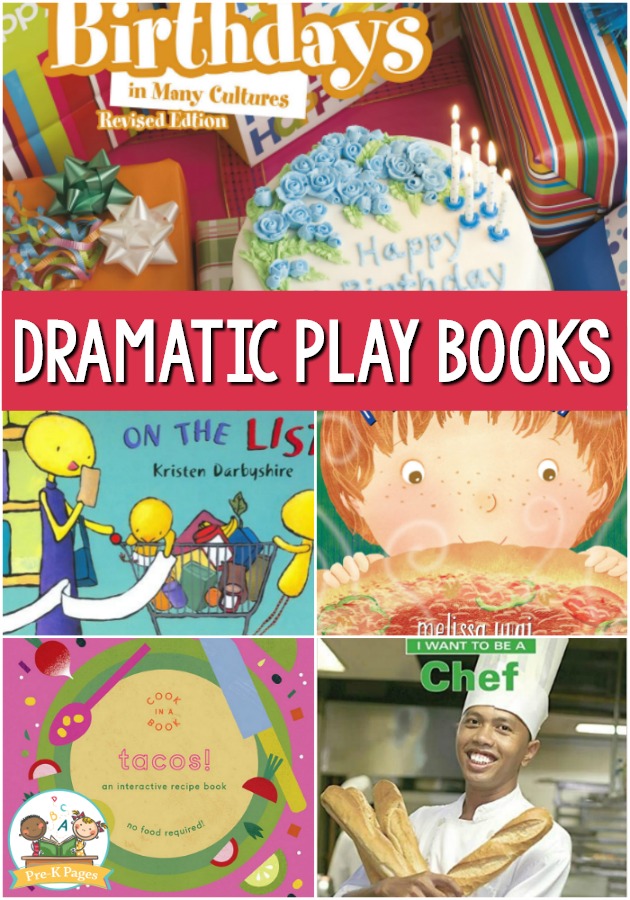 Dramatic Play Center Books
Pizza Day by Melissa Iwai
It's pizza day! A boy and his dad gather vegetables from the garden, carefully prepare them, and make dough and sauce. Then they assemble their pizza for dinner.
Pancakes! by Lotta Nieminen
The interactive book leads kids to make pancakes step by step.
Cookies! by Lotta Nieminen
Pretend to mix and bake cookies with this interactive book.
Pizza! by Lotta Nieminen
Explore how to make a pizza, from dough to toppings, as you "cook in a book."
Tacos! by Lotta Nieminen
Simple recipe text and illustrations lead kids to prepare tacos.
Birthdays in Many Cultures by Martha E. H. Rustad
The photographs in this book show children all around the world celebrating birthdays.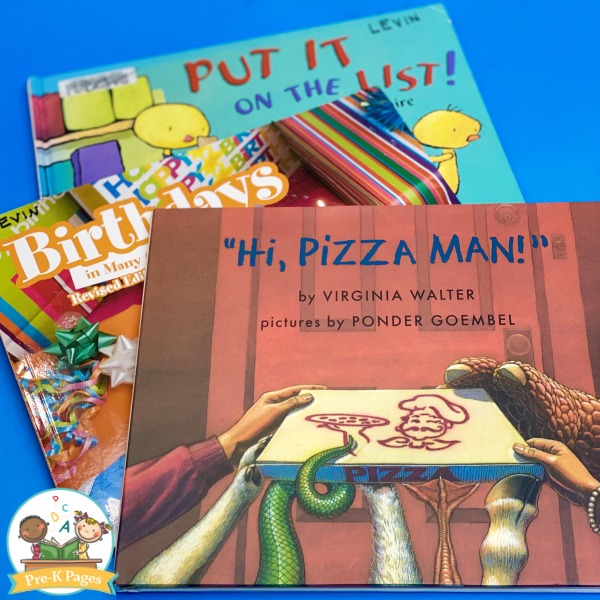 Pizza at Sally's by Monica Wellington
Sally owns a pizzeria. She gathers tomatoes from the community garden, buys cheese from the shop next door, receives flour delivered on a big truck. Then she gets to work to make pizza.
Mr. Cookie Baker by Monica Wellington
Step by step, Mr. Baker prepares his delicious cookies.
Put It On the List by Kristen Darbyshire
When the family runs out of something, Mom says to put it on the list. But the family keeps forgetting so they don't have what they need.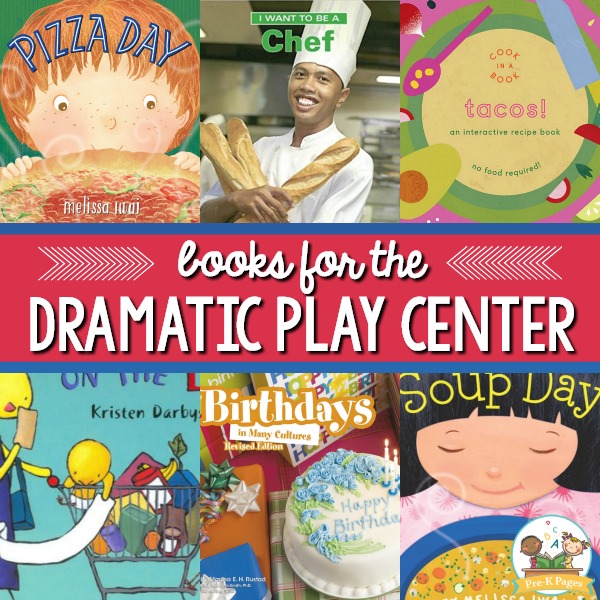 Books for Dramatic Play
A Trip to the Grocery Store by Josie Keogh
Check out what you can find at the grocery store.
What Happens at a Supermarket by Amy Hutchings
Explore the kinds of work people do in different areas of the supermarket.
Hi, Pizza Man! by Virginia Walter
Mom says she will open the door and say "Hi Pizza Man" when the pizza arrives. But Vivian wonders what Mom would say if the pizza was delivered by a woman, a cat, and many other characters.
Yum Yum Dim Sum by Amy Wilson Sanger
Simple illustrations and text show children dim sum. On the back is a glossary that explains the unfamiliar words.
Chaat and Sweets by Amy Wilson Sanger
The collage art helps children learn more about chaat, Indian snack foods. A glossary and pronunciation guide are included.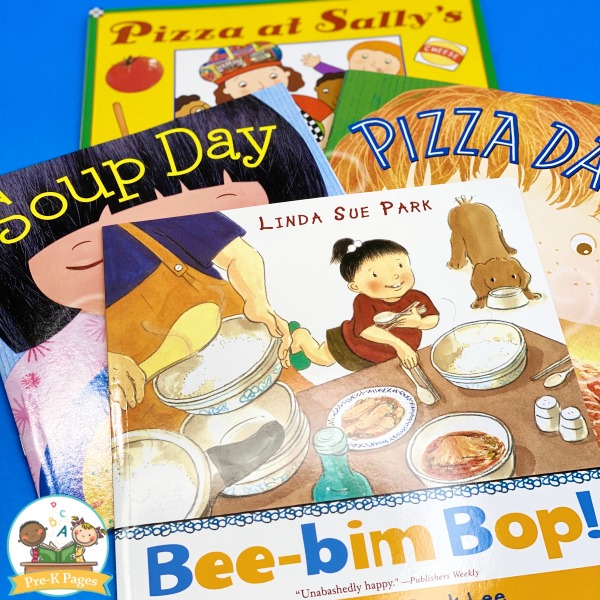 Hola Jalapeno by Amy Wilson Sanger
Explore a variety of foods of Mexican cuisine with rhyming text and paper collage illustrations.
A Little Bit of Soul Food by Amy Wilson Sanger
The simple text and illustrations guide children on a tour of soul food, with explanation of each type of food included at the back.
Mangia! Mangia! by Amy Wilson Sanger
Kids can discover a variety of Italian foods.
Dim Sum for Everyone! by Grace Lin
At the dim sum restaurant, everyone picks what they like…and then shares their dishes with the rest of the family.
Soup Day by Melissa Iwai
A girl and her mother buy ingredients at the grocery store and then, step by step, make soup.
Bee-Bim-Bop! by Linda Sue Park
Rhyming text describes making this delicious Korean dish, starting at the grocery store and ending at the table – yum!
Check online booksellers for used books or your local library to stock your library economically.
More Book Lists