Your little learners will have so much fun with this duck pond sensory bin! It's super quick and easy to set up and goes well with a pond theme or unit of study.
Sometimes we overthink what to put inside sensory bins, but the simpler the sensory bin, the more fun your kids will have playing and learning.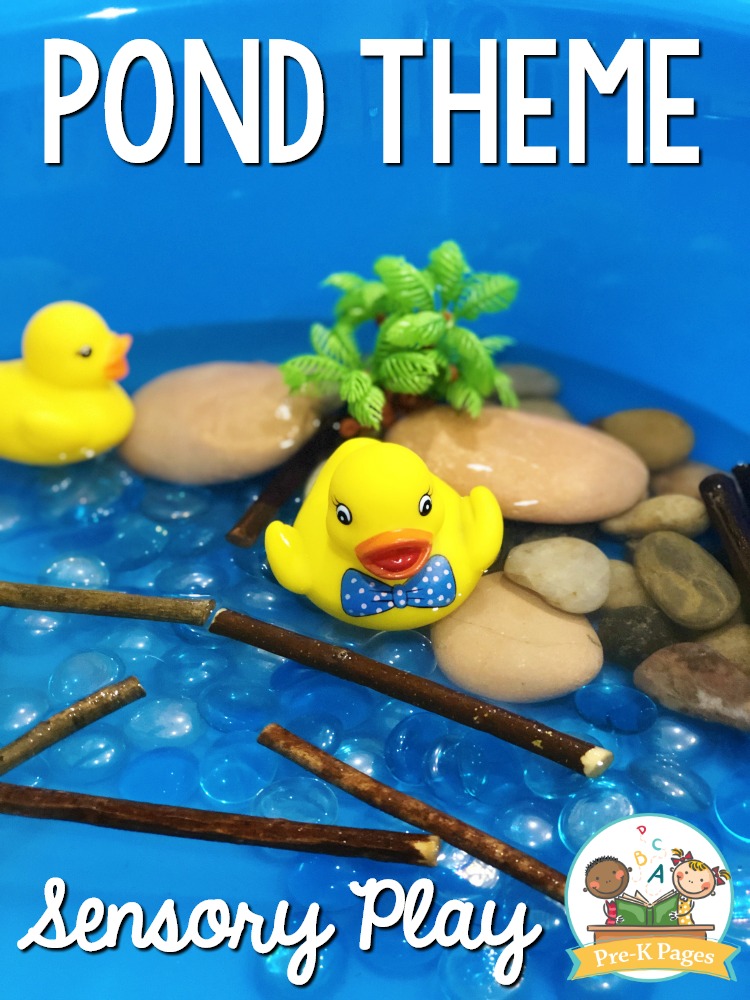 Duck Pond Sensory Bin
If sensory bins aren't familiar to you, you can learn all about them here.
In a nutshell, sensory play is open-ended, there isn't a set expectation or pre-determined outcome of playing with or exploring the materials inside the bin.
Encourage your children to use their senses and creativity to explore the materials inside the sensory bin on their own without any expectation of an end product.
Young children learn best when they can touch and feel things with their hands, sensory play provides opportunities for children to learn in meaningful ways.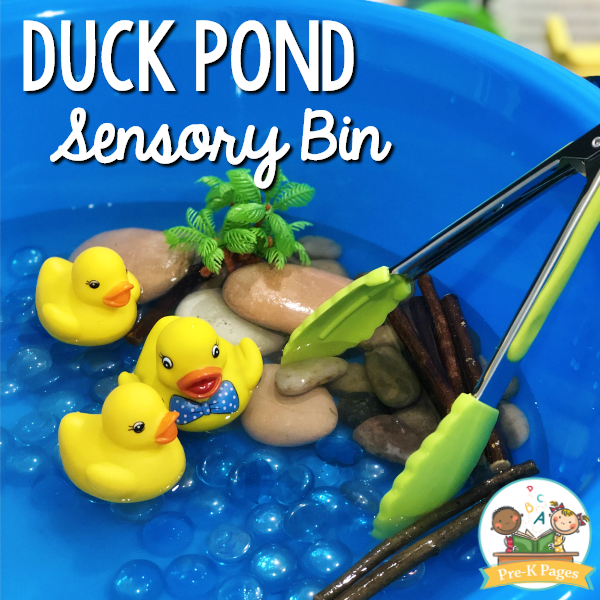 Duck Pond Sensory Bin Materials
To get started, first gather your materials. Almost everything on the list below is easy to source from your local dollar store, the only thing you might have to search for are the rubber ducks. Many dollar stores will stock the rubber ducks in the baby bath area.
I found my giant blue bowl at my local dollar store. If you don't have a blue bowl, you might want to consider using blue water beads in your bin. Another option is to color the water blue with liquid watercolors. I already had some cheap little fake plants on hand that came in a package of wild animals from the dollar store. They're not really pond plants, but don't tell the kids!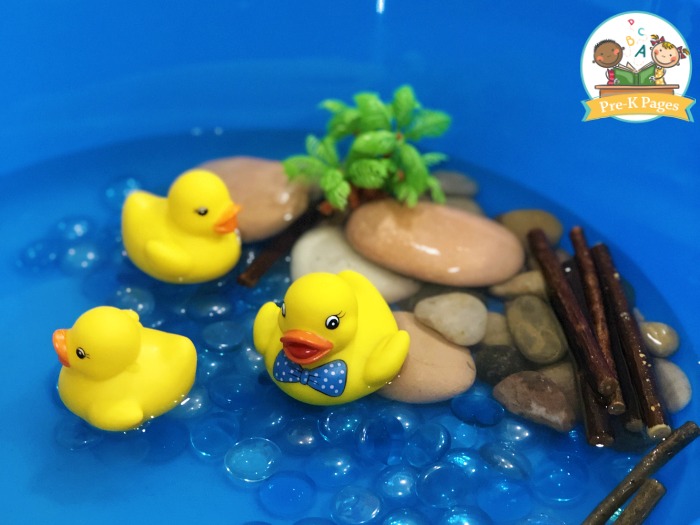 Sensory Bin Prep
Place your duck pond materials on a tray of some kind in preparation for introducing it to your children.
Next, you'll want to read the rhyme Five Little Ducks aloud during your whole group time and sing the rhyme a few times.
Introduce the tray of items to your students after you've finished reading the book and singing the song. Pass the tray around the group so they can touch and feel the materials.
Ask questions about the items on the tray such as, "How does it feel?" or "What can you do with that?"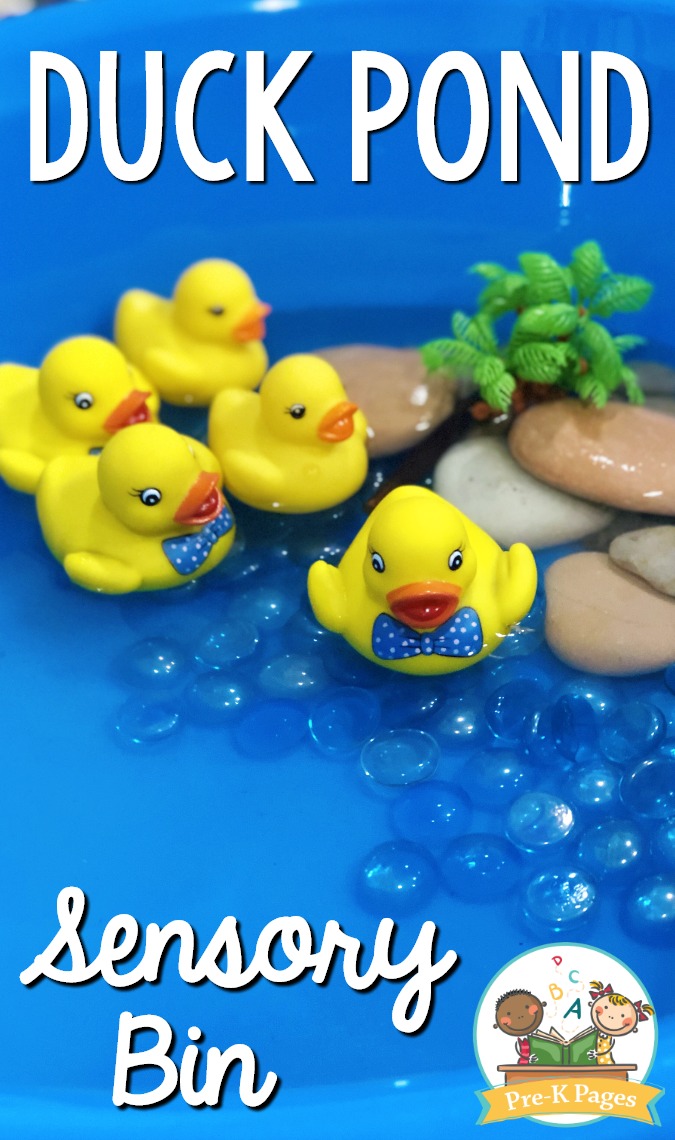 After you've read the book aloud and introduced the materials during your whole group, demonstrate how to use the materials in the shallow bin of water.
Show your kids how they can use the tongs to pick up the ducks and place them in the pond, which is a great way to develop fine motor skills.
When you invite them to use the tongs to fill the pond with ducks they'll be practicing important counting and one-to-one correspondence skills.
Remember not to become discouraged if your kids just want to play in the water without counting the ducks, they're still getting plenty of fine motor practice as they manipulate the ducks, rocks, gems, and sticks.
The most important thing about open-ended sensory play experiences is that your kids are learning through play while having fun!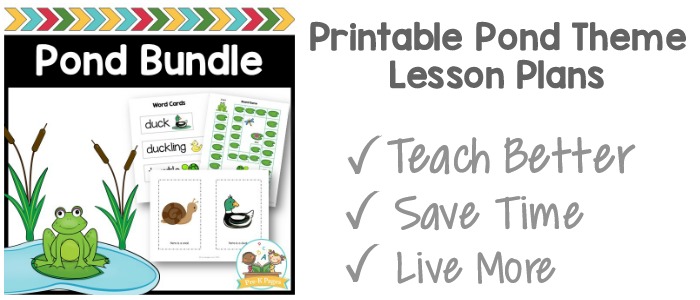 More Pond Ideas