Life cycles are a fun scientific spring theme. Your preschool and pre-k students will have a blast exploring the life cycle of trees and plants with this step by the step series of activities. The activity starts by predicting what a seed needs to grow into a plant, reviewing vocabulary words, and exploring seeds through hands-on activities, followed by an invitation to follow the journey of a seed into a plant.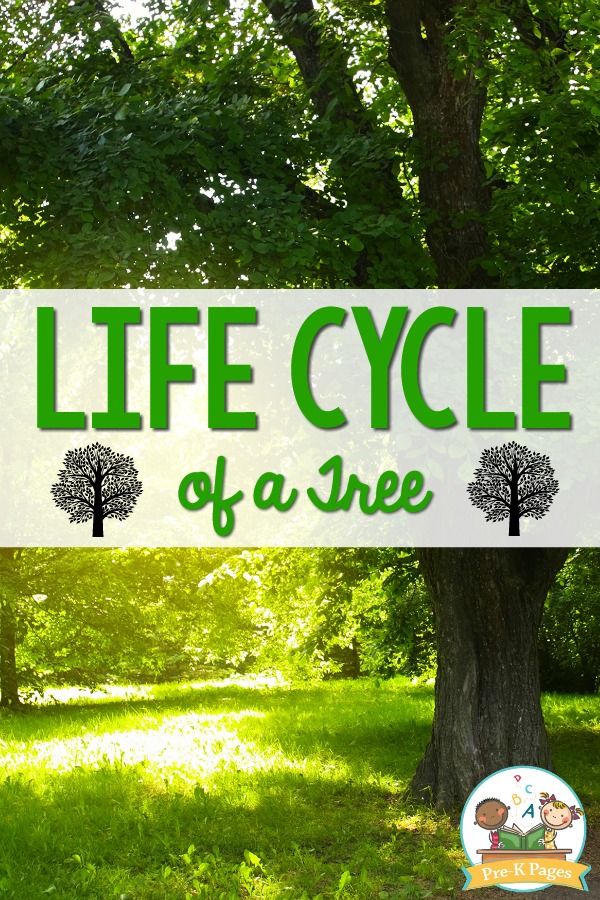 Exploring the Life Cycle of Trees
Supplies:
Jars
Journals
Chart paper
Soil
Orange seeds, peach seeds, acorns, pine cones, maple seeds, other tree seeds
Bean seeds
Water
Magnifying glass
Paper towel
Plant spray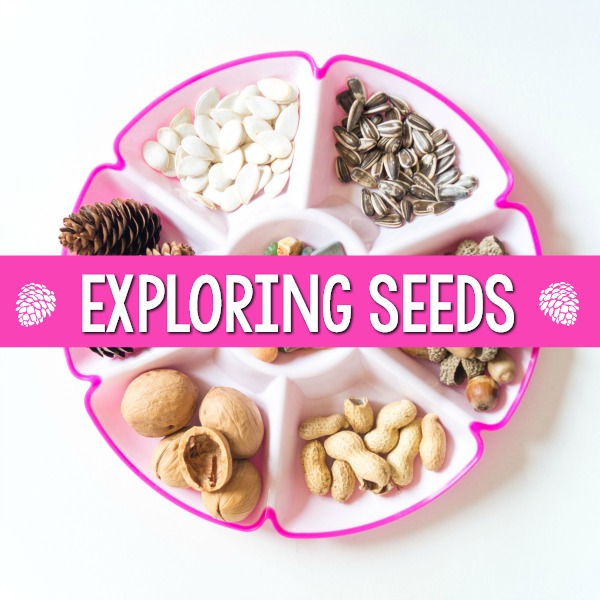 Seed Investigation Tray
To begin your explorations, place some seeds and magnifying glasses on a table for observation. Invite your students to investigate and explore the seeds. Of course, if you have any students with allergies to nuts or tree nuts you will need to adjust the types of seeds you use for this observation.
Ask children to draw their observations in a journal and share their findings before the activity. Talk about how the seeds are different and ways they are similar. Suggest the children make predictions about what they think a seed needs to grow into a plant.
Tip: A journal can be a bound book with pages. Or you can staple several blank pages together to make a journal for each of your preschoolers. Encourage your children to write down their observations in ways they choose–pictures, letters, words, other marks. They are learning that they can use marks on paper to represent their thinking.
Life Cycle of Trees Discussion
Guide children to understand the life cycle of trees and other large plants. Read a book about the life cycle of a tree. Use the Apple Life Cycle to talk about the stages in the life of a tree. Watch a time lapse video like this one to see trees grow.
Observe Seeds
Conduct a science experiment to grow seeds, guiding children to discover what seeds need and how they grow. Since tree seeds do not sprout quickly, tell the children you will use bean seeds instead. Note to them that tree seeds will grow in similar ways to the bean seeds.
Seed Experiment
Set up the experiment with different jars. In one jar, submerge a lima bean in water overnight. In the other, place a lima bean without soil and water. On the following day, invite children to observe both seeds and notice any differences. Engage them in a conversation about what a seed needs to grow. Record their initial observations on a class chart paper and compare it with the drawings and comments from the previous day. Or ask children to note their observations in their own journals.
Open the seed submerged in water and explore what is inside. Invite children to draw their findings. Introduce the word embryo, a little plant growing inside the seed.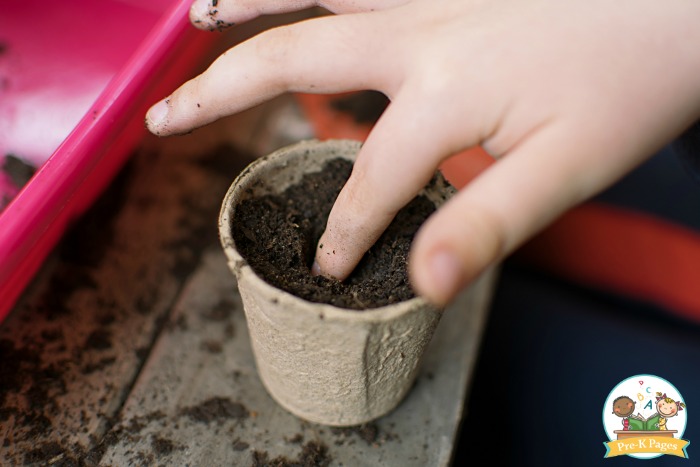 Plant a Seed
Your kids will have a blast planting bean seeds in cups of soil. Set the cups of soil next to a sunny window. Invite children to use a plant sprayer to sprinkle water on the plants every day. Talk about any observations they may have.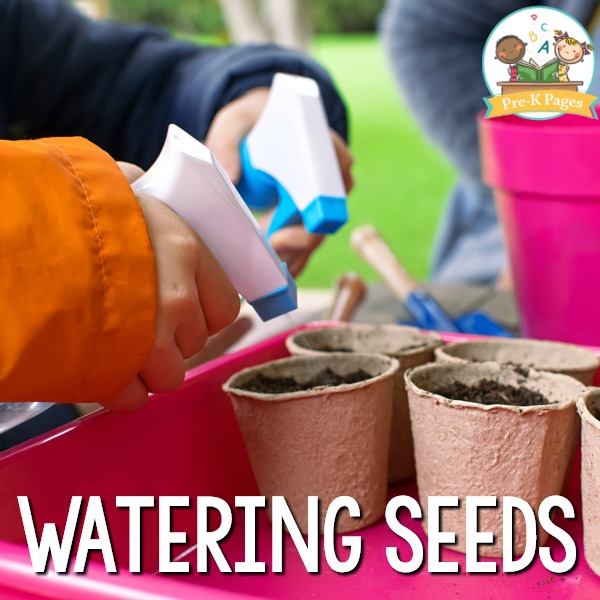 Watering Seeds in Preschool
Ask your little learners to predict what would happen in the following days. Track the growth of the seed by asking children to draw a picture of the seed growing every day.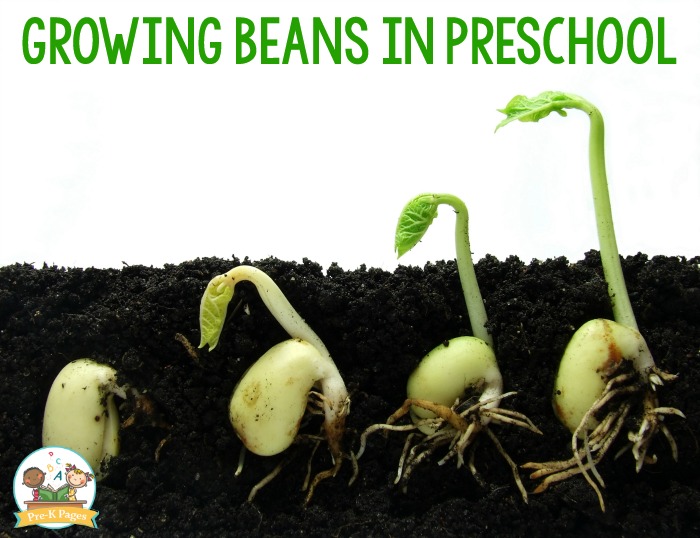 Germinating Seeds
After a few days, your bean seeds should begin to sprout. Talk about the different parts of the plant with your students: stem, seed, and root.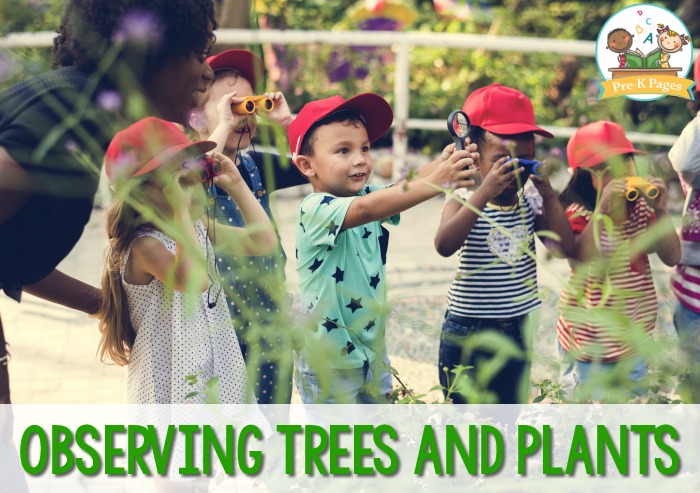 Observing Trees and Plants Outside
As a culminating activity, invite your children outdoors to observe plants and trees around your area. Emphasize that trees come in different sizes, but they grow in ways similar to other plants. Explain that all plants need certain things to grow, including nutrients from the soil, water, and the sun.
Point out that some plants have flowers and fruits. As an extension, allow your children to explore the inside of a fruit to find seeds. Compare the seeds you find to those you may have gotten from a seed packet.
What Children Can Learn from This Activity
Communication Skills: children will predict and discuss what they see, which facilitates oral development and promotes inquiry skills.
Fine Motor Skills: children will draw their observations.
Scientific Inquiry and Observation Skills: children will practice observation skills, use tools to support exploration and inquiry, and draw conclusions from their observations.
Independent Work: this activity allows children to work independently or in a small group.
Contributed by Marnie Forestieri
More Plant Life Cycle Resources
Lima Bean Life Cycle
Sunflower Life Cycle
Pumpkin Life Cycle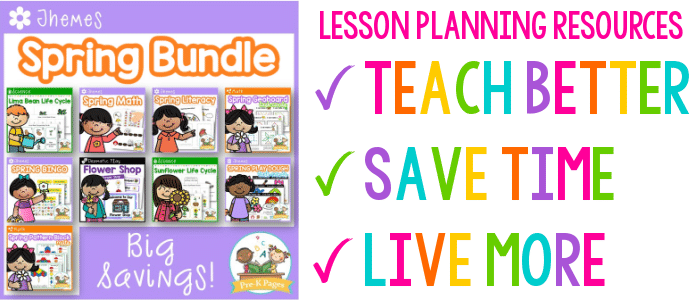 More Spring Ideas