Christmas is an important holiday for Christian and faith-based preschools. Christmas is the time to focus on celebrating Jesus' birth! Use these preschool Christmas crafts and activities as you plan for Advent or other Christmas celebrations in your classroom or home.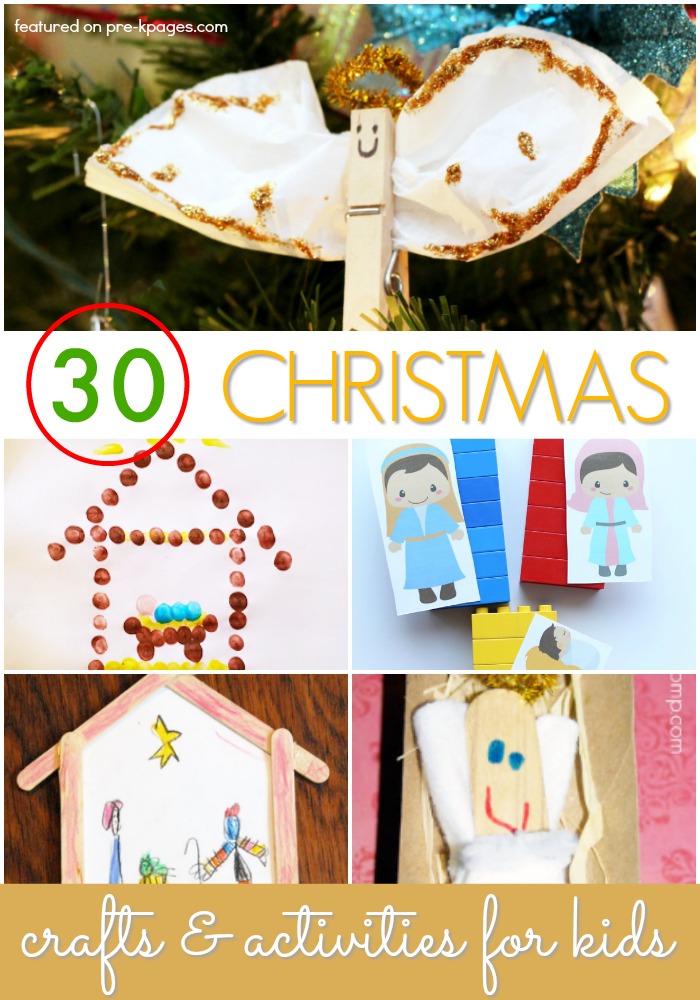 Faith-Based Christmas Activities
1. Easy Angel Ornament (Pre-K Pages) – Making Christmas ornaments with kids can be difficult. This angel ornament is super quick and easy for preschool and kindergarten kids to make at home or in a faith-based school setting.
2. Christmas Advent Calendar (Prekinders) – Use the printable and have your students make this advent calendar that they can take home and color each night.
3. Nativity Story Sequencing (Prekinders) – Read the story of Jesus' birth to children and use this printable for sequencing the story.
4. Nativity Picture-Word Cards (Prekinders) – These Nativity Picture-Word Cards were designed for use in Christian Preschool programs, Sunday School, or homeschool. Print these cards for your writing center during Christmas time!
5. Christian Christmas Books (Jenny Evolution) –  Bring the Christian spirit of the holiday to your children with Christian Christmas Books for kids.
6. Angel Crafts (Mama's Happy Hive) – Using simple materials, like pipe cleaners, and you and your preschoolers can have fun with these seven angel crafts.
7. Baby Jesus Fingerprint Picture (Crafty Morning) – With a little paint, your preschoolers and kindergartners will enjoy creating this picture with their fingerprints.
8. Salt Dough Stars (Meaningful Mama) – Make your own salt dough and then make these star dough star ornaments.
9. Craft Stick Nativity (Meaningful Mama) – Make a simple nativity scene out of popsicle sticks and then have your preschoolers draw their own nativity scene to put inside.
10. J is for Jesus (Teaching Mama) – Use these printables to explore the real meaning of Christmas with your little ones.
11. Make Baby Jesus and a Manger (Crystal and Co) – Using basic materials, like pipe cleaners, markers, and craft sticks, have your little ones create this easy baby Jesus and manger in this activity.
12. Wise Men Sensory Obstacle Course (My Mundane and Miraculous Life) – Create this easy obstacle course to go along with the Jesus Storybook Bible.
13. Lego Nativity Puzzles (I Can Teach My Child) – These LEGO Nativity Puzzles are an excellent way for children to have hands-on experience with each of the individuals who played a part in the Birth of Baby Jesus.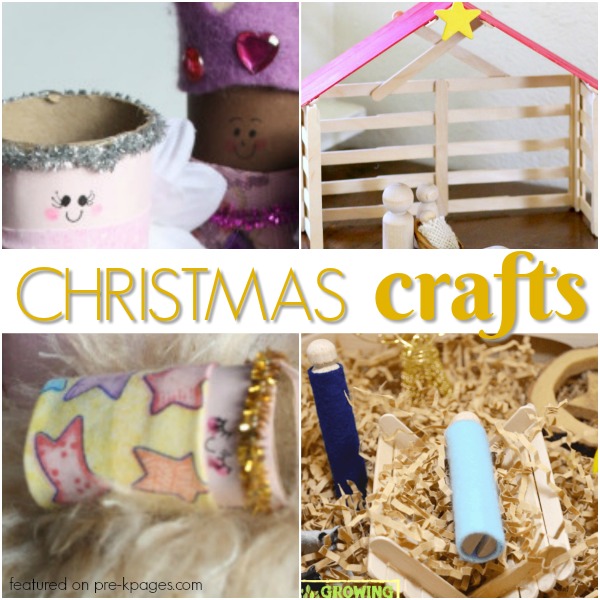 Nativity Preschool Christmas Crafts
14. Nativity Play (Sugar Aunts) – Use the dolls, teddy bears, and what your preschoolers have on hand to create a Nativity scene to act out.
15. Find and Fill Nativity Scene Game (No Time for Flash Cards) – Use the Little People Nativity scene to tell the roles of the people i the Christmas Story.
16. Nativity Dramatic Play (Brick by Brick) – Your preschoolers will have fun engaging in this dramatic play of the Nativity scene by using a doll, a box, and a bit of imagination!
17. Nativity Bingo Game (My Joy Filled Life) – Print these bingo games and have fun playing this Nativity bingo game!
18. Nativity Shadow Puppet Stage (What Happens at Grandmas) – Use tissue paper and foam board to create this fun shadow puppet stage for the Nativity scene.
19. Nativity Story Bag (Flame) – With only a few days to go before Christmas, here is the new Nativity Story Bag made up with lots of things to help to explore the characters and events.
20. Jesus in the Manger (Blessings Overflowing) – Read about Jesus' birth in The Jesus Storybook Bible. Then make a craft that that everyone will love playing with.
21. Born in a Stable: Simple Nativity Song (Let's Play Kids Music) – Born in a Stable is a very simple Nativity song sung to the tune of Baa, Baa Black Sheep with easy actions, just perfect for introducing the Christmas Story in a way that very little ones can understand.
22. Shampoo Bottles Wise Men (No Time for Flash Cards) – This is a great way to recycle some old shampoo bottles and have fun making the three Wise Men.
23. Felt Nativity Scene (Mama Smiles) – Make this felt Nativity Scene with felt board using this free nativity scene pattern from Under My Umbrella. The pattern was designed for wood cut-outs, but it works perfectly for felt!
24. Angels and Stars Mobile (Mama's Happy Hive) – Enjoy this beautiful DIY Stars and Angels Mobile that a preschooler can craft. This is a creative way to teach your children about the angels in the starry night sky over sleepy Bethlehem on the night that the Christ Child was born. It's affordable and easy to assemble.
25. Lego Nativity Instructions (Frugal Fun 4 Boys) – This LEGO® nativity is part of five more LEGO Christmas Projects to Build to also check out.
26. Stone Advent Calendar (Rhythms of Play) –  Make a simple stone Christmas advent calendar to get ready to for the holidays this year. This Christmas countdown calendar uses stones and rocks as an easy way to countdown to Christmas.
27. Cardboard Roll Nativity Set (Happy Hooligans) -Have fun making a homemade Nativity set out of toilet rolls and fabric scraps. This kid-friendly nativity set provides hours of imaginative play in the days and weeks leading up to Christmas.
28. Free Printable Nativity Pattern Block Mats (This Reading Mama) – Use these pattern blocks to create different Nativity scenes and characters.
29. DIY Craft Stick Nativity Stable (Rhythms of Play) – Both kids and adults will love making this DIY craft stick nativity stable. It's a fun handmade Christmas craft the whole family can enjoy!
30. Nativity Sensory Bin (Growing Hands On Kids) – With popsticle sticks, and wooden peg people, have fun creating this Nativity sensory bin.
More Christmas Ideas