The fall, the beginning of the school year, is a great time for an All About Me theme or a family theme. September also brings Grandparents Day (second Sunday in September). This activity is a fun way to make family pictures and develop some fine motor control at the same time. (Or your children may want to create fun circle prints without making faces at all.)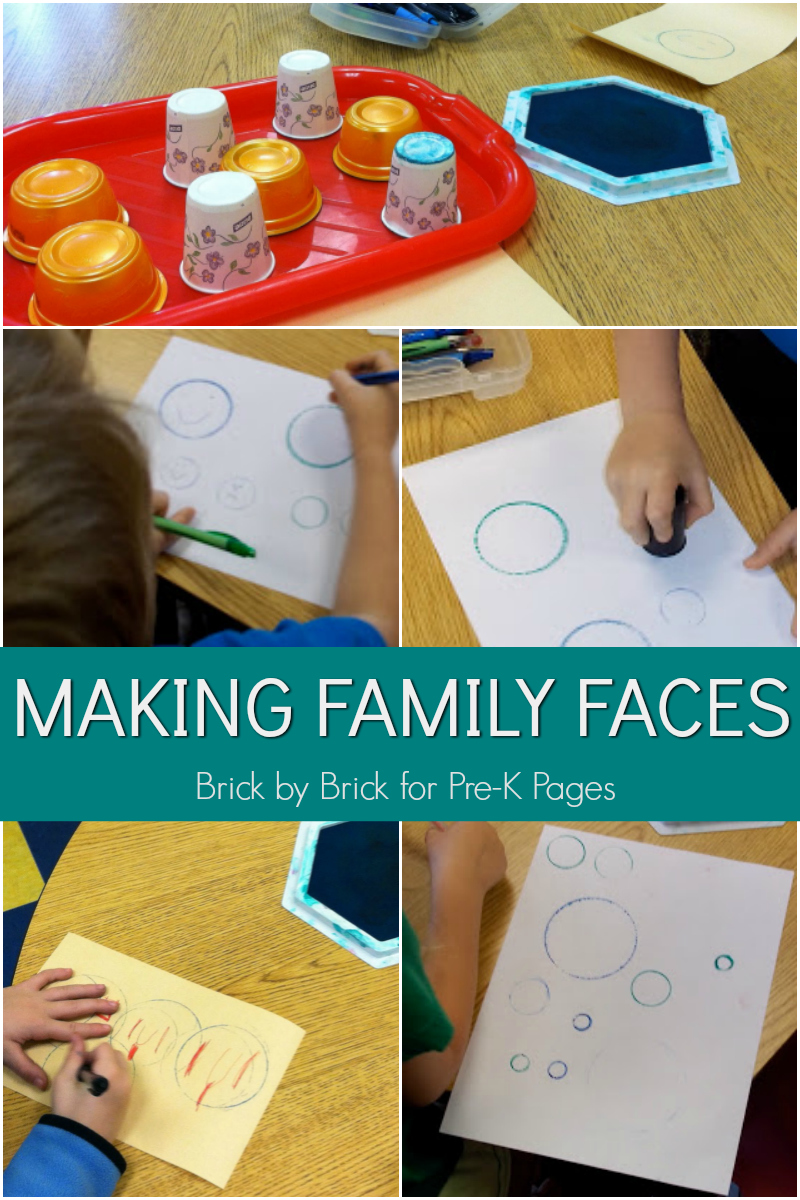 Family Faces from Stamped Circles
Materials
Paper cups or other circle-making items
Paper
Gel pens or washable markers
Tray
Preparation
Gather items to make circles. We have used paper cups (3-oz size works great), film canisters, pet food cups, circle cookie cutters, PVC connectors, and even marker lids. Sometimes I use several different things to offer different sizes. Sometimes I only put out a 1-2 types of items. Kids will enjoy the different possibilities.
Arrange the items on a tray. I've found that a tray keeps everything contained.
Create Family Portraits
Talk about families. You may want to read a book about families or encourage each child to count the number of people in his family.
Invite kids to press the cups or other items onto the stamp pads and then onto paper to make circles. Then they can draw faces inside the circles with pens or markers. Encourage older kids to print names of their family members on the faces.
Compare different quantities of families. Talk about how families are the same and how they are different. Kids may want to include extended family members or create in other ways. Encourage their creativity as you talk about families.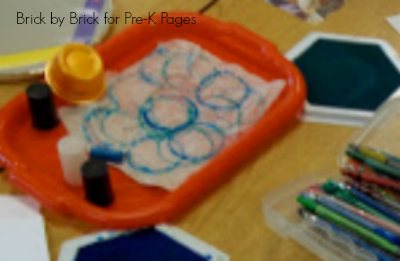 Tips, Tricks, and Adaptations
We like to use different colors of ink pads. But the colors are easily mixed and transferred. Show kids how to clean an item before they return it to the tray. We placed a wet paper towel on the tray to help with this cleaning process. A few other damp paper towels on the table can be helpful, too.
Create a gift for a parent or grandparent. Tell kids to make faces of themselves and the parent/grandparent on heavyweight paper. Print a special message (dictated by the child or written by the child). Use colored tape around the picture to create a frame and add yarn for a hanger or magnets to the back.
Use paint instead of ink pads. You will need to wait longer for the paint circles to dry or risk smearing the paint and getting it on hands as kids draw faces. (I don't mind that but your kids may.)
Use fingerprints to make the faces instead of pens or markers. Invite a child to press his finger on the ink pad and then onto the paper to make faces.
BIO: Scott Wiley, an early childhood educator for 30 years, is managing editor for Pre-K Pages. His blog Brick by Brick explores the connection between play and learning. Connect with Scott on Twitter, Facebook, and Pinterest.
Ideas for Fall