The first "community" that a preschooler experiences and is part of is the family. Preschoolers love reading and learning about families. Books about families can help a preschooler make direct connections to a book's text, an important skill in literacy development. These books about families are great for an All About Me theme, a family theme, or as fun read-alouds for your preschoolers.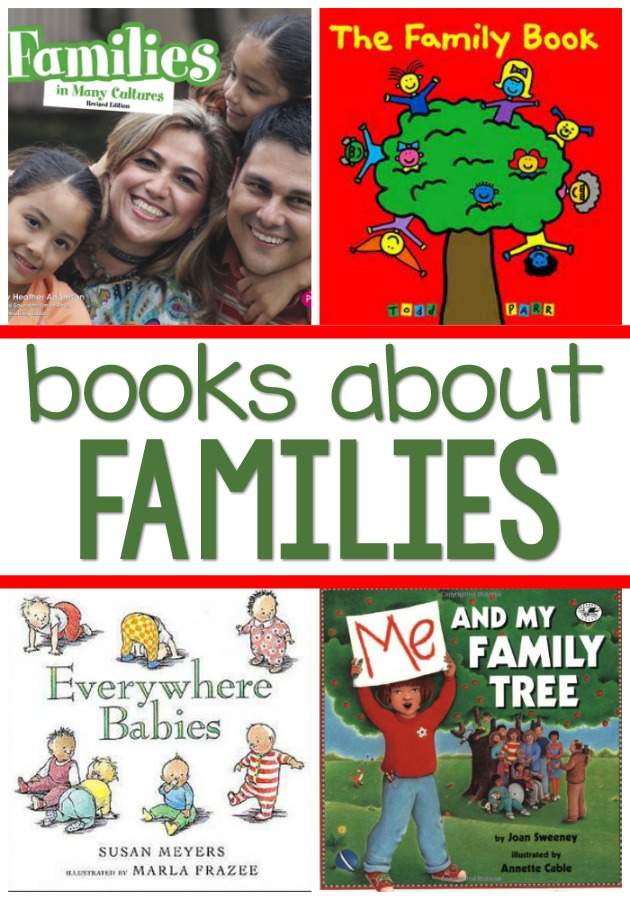 Family Books for Preschoolers
The Family Book by Todd Parr
Families are different–big, small, loud, quiet, messy, neat. But families are alike in some important ways. For example, "All families can help each other be strong!" This book celebrates all kinds of families.
Me and My Family Tree by Joan Sweeney
A girl explains how her family members are related to her…and draws a family tree.
The Grandma Book by Todd Parr
All grandmas are different, but all grandmas are special. And they love to give you lots of kisses.
The Grandpa Book by Todd Parr
Grandpas may walk or drive; they may take you to the park or take you to school. They may be different in many ways. But all grandpas like to make you laugh and hug you.
The Mommy Book by Todd Parr
Not all mommies are the same. But all mommies love to give hugs and kisses.
The Daddy Book by Todd Parr
Daddies do all kinds of different things. Daddies love you and want you to be who you are.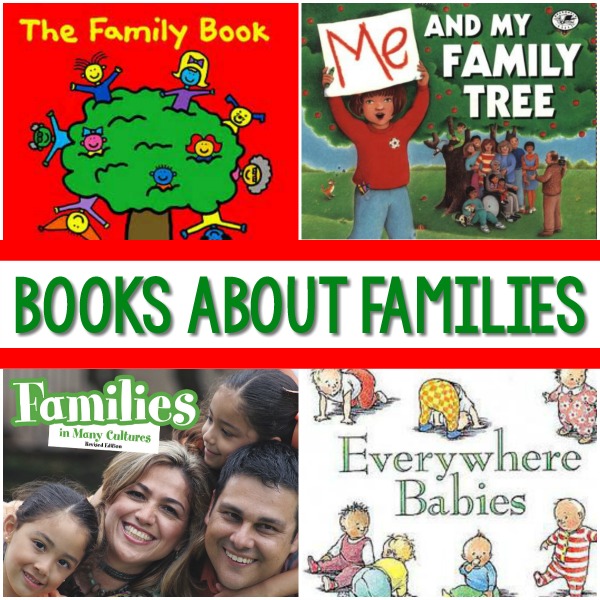 Everywhere Babies by Susan Meyers
Every day, everywhere, babies are rocked and fed and dressed and kissed. This book has pictures of babies and families in every day life.
Families in Many Cultures by Heather Adamson
This book has great photographs of families from all over the world. The text emphasizes that families may live in different places but they are very similar to one another.
How to Babysit a Grandpa by Jean Reagan
What can a child do when he must care for his grandpa all day? This fun book explores activities that grandpas and kids can do.
How to Babysit a Grandma by Jean Reagan
A fun book that explores what grandmas and kids can do together to keep the grandma occupied.
What Brothers Do Best/What Sisters Do Best by Laura Numeroff
This is two books in one; read one half to the middle, then flip the book and read the other half. The text is similar (but not exactly the same) for both brothers and sisters. Brothers and sisters can do lots and lots of things with you, but most of all they can give you lots of love.
Baby Ruby Bawled by Malaika Rose Stanley
Baby Ruby would not sleep. Each family member tries something different to help Baby Ruby sleep. But Baby Ruby bawled each time. Finally her brother Theo sings to her. Will Baby Ruby (and all the family) get some sleep?
Blackout by John Rocco
The city was loud and hot. A family is busy in their apartment. Then the lights go out. All of them. What can you do when nothing is working? Go outside. This story is told in panels (like a comic book or graphic novel).
Who's in My Family?: All About Our Families by Robie H. Harris
"Wherever you live, wherever you go, there are all kinds of families." Families of all types are represented in this book…even animal families.
Check out these activities for Family Theme—
Dramatic Play Baby Nursery
Make a Book for Grandparents Day
Activities for All About Me Theme
Making Faces Play Dough Activity