Sensory bins are so much more than just lots of fun, they're also a great way to develop oral language, vocabulary, and social skills. This farm sensory bin is packed with plenty of learning and hands-on fun that will keep your kids engaged and on-task during center time.
Add some farm animals, a tractor, and a barn to your sensory bin for hours of creativity, curiosity, and imaginative fun.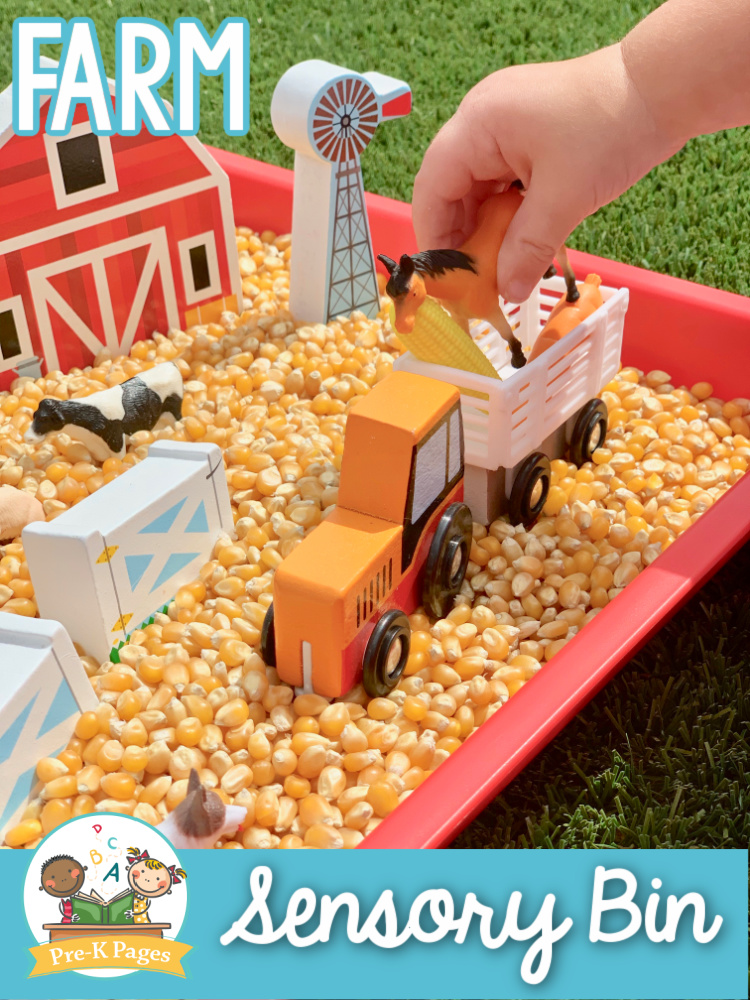 Farm Sensory Bin
If you're not sold on the idea of using a sensory bin in your classroom, hear me out because the educational benefits far outweigh any potential mess. In my opinion, messes are the cost of doing kid business.
A good early childhood educator knows that young children learn best when they are touching and exploring things with their hands.
Which is why sensory bins are perfect for your little learners! They allow young children to explore, play, and discover without any set expectations. Just invite your kids to explore the materials inside the tub however they would like (within reason of course.)
As they're exploring, playing, and discovering it will naturally lead to lots of pouring, scooping, and transferring. When they pour, scoop, and transfer, your kids are comparing volume, weight, more and less etc.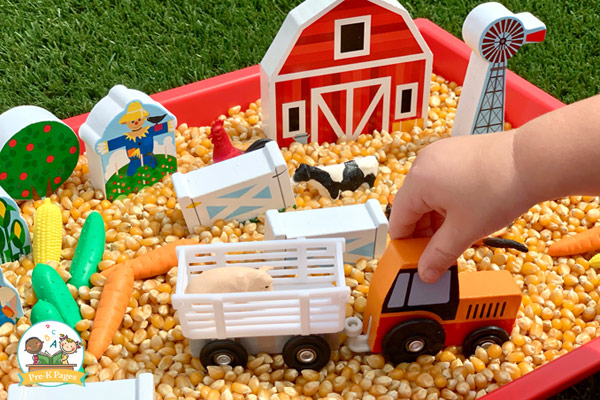 And while we're on the topic, let's discuss all the fabulous opportunities for developing fine motor skills that sensory bins provide.
The development of the small muscles in their little hands, fingers, and wrists are known as fine motor skills. Your kids need to develop these skills before they can be successful with self-help skills like feeding and dressing themselves independently, as well as holding a pencil and writing.
See, I told you that sensory bins are educational powerhouses!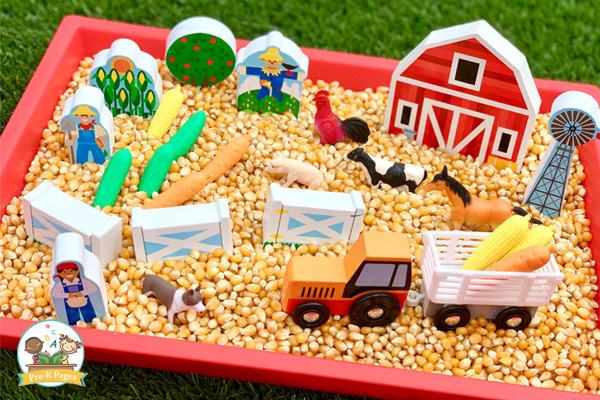 Farm Sensory Bin Supplies
Start by gathering the supplies you'll need to set up your very own farm sensory bin. Here are the things I used in my bin, but you can use whatever you prefer or have on-hand.
Farm animals (We used this set.)
Unpopped popcorn kernels
Toy tractor
Toy farmer(s)
Plastic tub
Scoops
* You can use other types of sensory bin fillers if you like. We like to use the birdseed later to make birdseed ornaments.
Birdseed or split peas are other sensory bin filler ideas for a farm theme.
Preparing the Farm Sensory Bin
First, pour the popcorn kernels into the bin. Add enough popcorn for your kids to be able to scoop up and pour or transfer into different containers. Then, add the animals, the tractor, the barn and any other farm props you have.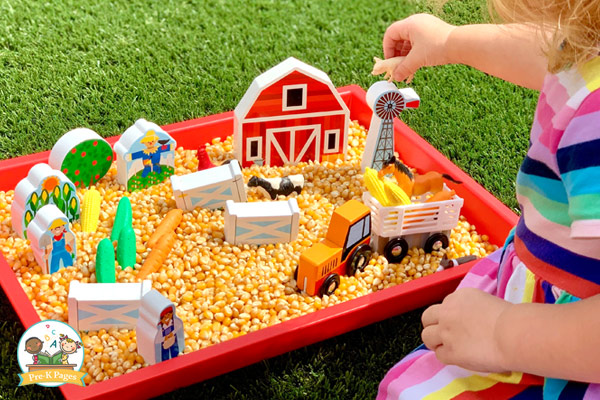 Exploring the Sensory Bin
Now it's time for the fun to begin! Reading a farm book is a great way to kick off your new farm theme. Demonstrate how they can explore the materials in the bin however they like. Hold up the props one at a time and ask your kids what ideas they have for playing with them in the sensory bin.
When they scoop and pour the corn kernels they'll also be practicing those important fine motor skills we talked about earlier.
If your kids just want to play with items in the bin, don't get discouraged! They'll still be practicing those important fine motor skills when they scoop, pour, and transfer the birdseed.
Open-ended sensory experiences like this invite your kids to learn through play while having fun!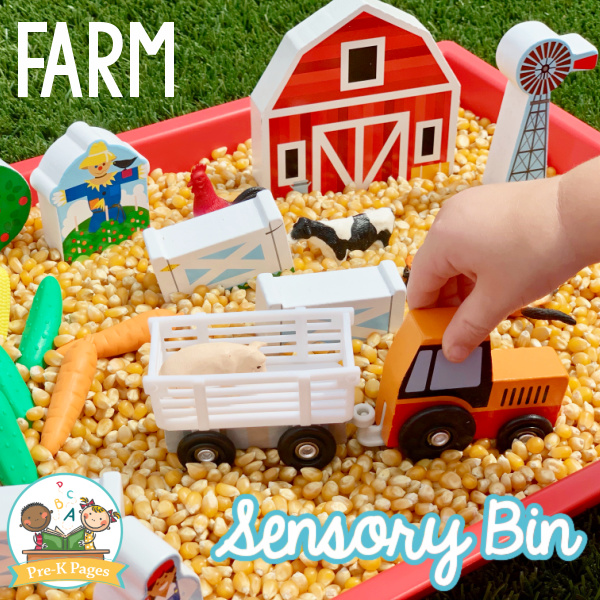 More Farm Lesson Plan Activities
Farm Animal Play Dough Exploration– We took the cow, goat, pig, and the bunch of horses and compared their footprints in the play dough.
Farm Book Activity: Get Well Card Center– Exploring animals that live on the farm is a popular topic in many early childhood settings. Spring is the perfect opportunity for children to discover activities unique to farm life.
Farm Animal Science: Chicken Life Cycle Cards–  We have all heard the question, "Which came first: the chicken or the egg?" Here's a science activity for a farm theme, this is a fun way for your children to learn and remember the chicken life cycle.
Farm Songs for Kids in Preschool and Pre-K- You may want to incorporate one of the fun farm songs for kids to go along with this sensory bin activity!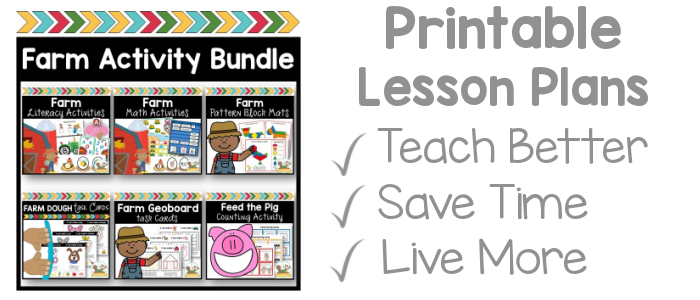 More Farm Learning Activities