Do you need some farm songs for your preschool class? Using music and videos can be a great way to help your kids learn important skills and concepts.
If you're teaching your little learners about the farm and farm animals, these songs will help you supplement and support what you're already doing in your preschool or pre-k classroom.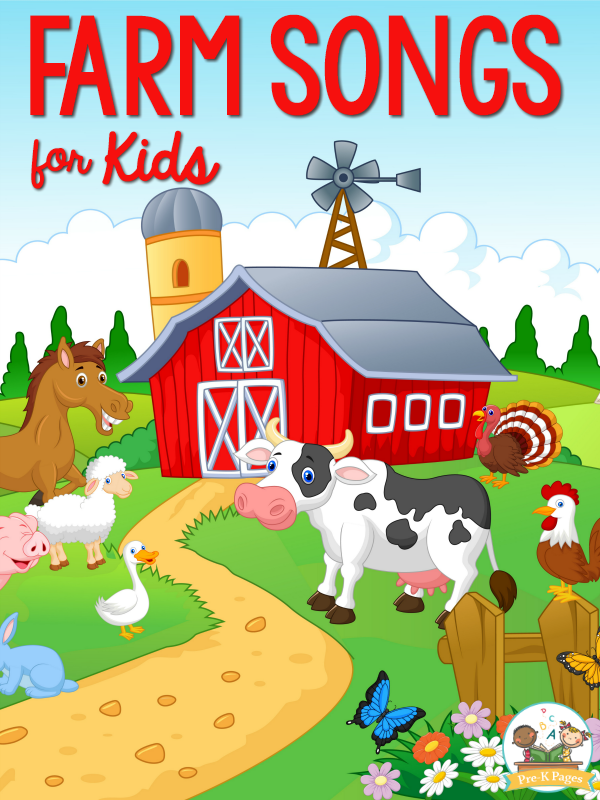 Farm Songs for Kids
Are your kids fidgety? Are they having trouble paying attention? Add some songs to your farm theme to get them up and moving to get those wiggles out! Your kids will also enjoy singing songs during circle time or transitions.
Music can be a great tool for introducing new concepts, building background knowledge, and developing vocabulary skills.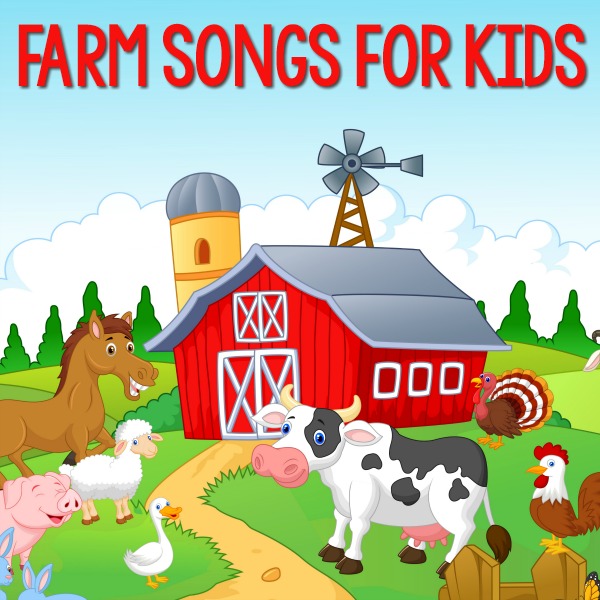 Songs About the Farm
You can find lots of fun, kid-friendly songs about the farm and farm animals to use in your preschool, pre-k, or kindergarten classroom at YouTube. If you don't have spare time to search for and watch every video on YouTube, I've done all the hard work for you! You can rest easy knowing that all the videos listed here are age-appropriate and teacher-approved for young children.
One way to use these songs in your classroom is to show them on a smart TV, or by using an LCD projector and computer screen if your program allows. But you can just play the audio if you prefer, either way, your kids will have a blast singing and dancing along to these fun songs!
Old MacDonald Had a Farm,
by Super Simple Songs
Animal Farm
, by Nancy Kopman
All Around the Farm,
by Jack Hartmann
The Farmer in the Dell,
by The Learning Station
I Know a Chicken,
by The Laurie Berkner Band
Farmer Plants the Seeds,
by The Kiboomers
Little Bo Peep,
by Mother Goose Club
Baa Baa Black Sheep,
by The Kiboomers
We're Going to the Farm,
by Yallabina
Farm Animal Sounds,
by Super Simple Songs
What are some other songs about the farm or farm animals that your class enjoys? Leave a comment below and we'll add it to our list!
More Farm Ideas and Activities
Of course why stop at farm songs? There are so many ways to incorporate farm themed activities into your preschool and pre-k classroom.
1. Farm Small World Sensory Play (Pre-K Pages) – Sensory play is a fantastic way to dive deeper into a preschool theme to solidify learning. Recently, my children explored a farm themed sensory small world.
2. Farm Animal Counting Activity (Pre-K Pages) – I've found that if you want to engage children in a learning activity just add animals. Children are naturally drawn to animals and any time that I can include them in an activity I am sure it will be a success.  With that in mind, what could be more fun than Counting Feet with farm animals?
3. Farm Animal Play Dough Exploration (Pre-K Pages) – Farm animals are always a huge hit with young children and a great way to capture their interest.  Today I'm sharing a few simple ideas you can try to start learning-inspired conversations with your kids. All you need is some farm animals and play dough!
4. Farm Book Activity: Get Well Card Center (Pre-K Pages) – Exploring animals that live on the farm is a popular topic in many early childhood settings. Spring is the perfect opportunity for children to discover activities unique to farm life.