Many preschoolers have little or no connection to a farm. Use these activities to plan explorations for your preschoolers to learn more about the farm and farm animals. A farm theme can be great for spring or fall learning.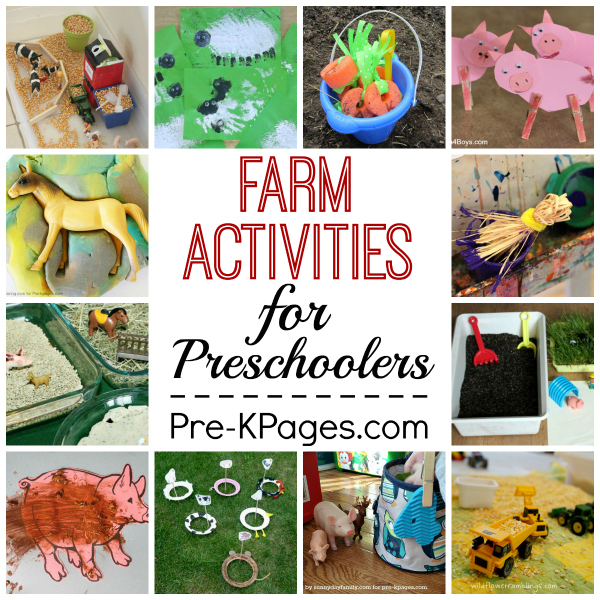 Farm Activities for Preschoolers
1. Farm Small World Sensory Play (Pre-K Pages) – Sensory play is a fantastic way to dive deeper into a preschool theme to solidify learning. Recently, my children explored a farm themed sensory small world.
2. Farm Animal Counting Activity (Pre-K Pages) – I've found that if you want to engage children in a learning activity just add animals. Children are naturally drawn to animals and any time that I can include them in an activity I am sure it will be a success.  With that in mind, what could be more fun than Counting Feet with farm animals?
3. Farm Animal Play Dough Exploration (Pre-K Pages) – Farm animals are always a huge hit with young children and a great way to capture their interest.  Today I'm sharing a few simple ideas you can try to start learning-inspired conversations with your kids. All you need is some farm animals and play dough!
4. Farm Songs For Kids – These 10 farm songs are perfect to play for your preschool kids when discovering all about the farm in your classroom!
5. Farm Book Activity: Get Well Card Center (Pre-K Pages) – Exploring animals that live on the farm is a popular topic in many early childhood settings. Spring is the perfect opportunity for children to discover activities unique to farm life.
6. Chicken Life Cycle Cards (Pre-K Pages)- We have all heard the question, "Which came first: the chicken or the egg?" Here's a science activity for a farm theme, this is a fun way for your children to learn and remember the chicken life cycle.
7. Farm Week Activities (Teach Preschool) – Throughout the week, children spent time learning all about the farm through a variety of hands-on experiences.
8. Farm Picture-Word Cards (Prekinders) – This set of 19 Farm Picture-Word Cards includes farmer, tractor, wheelbarrow, barn, pitchfork, sheep, chicken, eggs, cow, pig, donkey, goat, horse, cat, dog, cotton, corn, hay, and wheat.
9. Farm Yard Play Dough Counting Mats (Prekinders) – Use these Farm Play Dough Mats to combine fine motor and math skills in a fun way.
10. Sensory Play with Oats (Fun-a-Day) – Sensory play with oats is definitely a messy activity, just to warn you!  I have done this in my classroom a few times, usually when we're doing some kind of farm unit.
11. Farm Discovery Table and Sensory Play (Little Bins for Little Hands) – This week's theme is all about preschool farm activities! There are so many interesting aspects to farm life from planting and harvesting to the different machines used!
12. Pretend Play Farm (Nurture Store) – This pretend play farm is easy to set up and gives children lots of opportunities to add their own ideas to the imaginary play. It includes lots of interesting textures, so it's great for sensory play too.
13. Coffee Grounds Farm Sensory Bin (Still Playing School) – Dried coffee grounds make an irresistible sensory material! Learn how we saved ours to use in sensory play when learning about farms.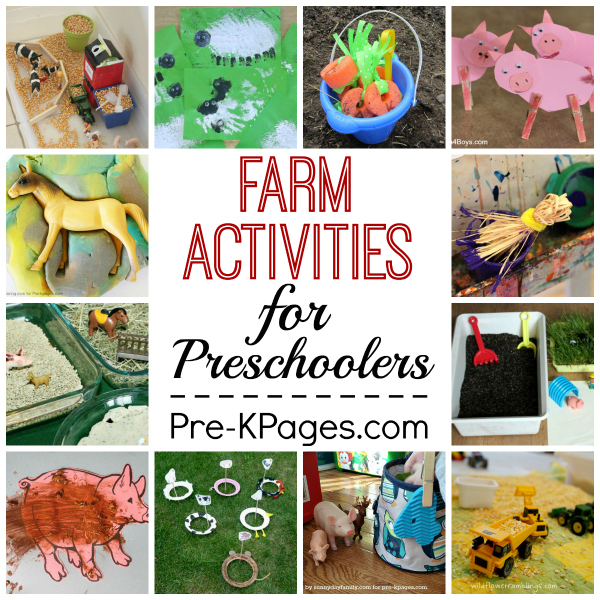 Farm Activities for Preschool
14. Farm Animal Beginning Sounds Game (Mom Inspired Life) – This activity will help your child work on identifying beginning sounds of words and finding the letter that makes the sound. The hands-on, playful approach to this activity will have your child moving while learning as well.
15. Messy Pig Art Activity (My Mundane and Miraculous Life) – Here's a simple, messy craft project that pairs perfectly with a preschool farm unit.
16. Farm Animal Sort (Powerful Mothering) – A simple sorting activity for your preschooler! Practice sorting farm animals and non farm animals.
17. The Story of Milk: Making Butter (Not Just Cute) – Your preschoolers will be fascinated about the story of milk and how it gets from farm to store! And then they can practice making their own butter!
18. Old MacDonald Had a Farm Music Basket (Play and Learn Every Day) – Using a basket full of farm animal toys, your toddler can learn the words as he or she sings along to Old MacDonald.
19. Make a Mystery Animal Book (The Educators' Spin on It) – Here are some easy and FUN preschool learning activities to do with your children during a farm themed unit.
20. Gardening For Letters (No Time for Flash Cards) – With a few simple materials, your students can garden for letters in this cute activity!
21. Read and Play Mrs. Wishy Washy's Farm (Sunny Day Family) – After reading the book, Mrs. Wishy Washy's Farm, your preschoolers will love this activity to go with the book.
22. Big Red Barn Sensory Small Word (Still Playing School) – This is a  fun farm themed sensory small world based on the book, The Big Red Barn.  It includes the animal characters from the book as well as several interesting textures to explore during play.
23. Old MacDonald Had a Farm Hide & Seek Sensory Box (Learning 4 Kids) – To continue the learning and love of this nursery rhyme, set up this Sensory Hide and Seek activity. This activity is also provides a learning opportunity that encourages oral language and fine motor development.
24. Little Lamb Sensory Bin (Wildflower Ramblings) – This is a simple sensory bin that only included little lambs and tractors.  The base was ground corn, found in the pets department, and some spoons and bowls to explore with.
25. The Farmer's in His Den Circle Game (Let's Play Music) – A circle and storytelling activity that will help your preschoolers with rhythym recognition, remembering words, and so much more!
26. Little Red Hen Retelling (Fun-A-Day) – Your students will have fun acting out and retelling the book, The Little Red Hen.
27. Farm Animal Bowling (Kids Activities Blog) – This Farm Animal Bowling Game will definitely get your kids saying all of their animal sounds!
28. Farm Animal Sort (Brick by Brick) – Explore the different ways that you can sort the farm animals!
29. Farm Activities for Preschool (Frugal Fun for Boys) – Some simple ideas for farm activities from a corn sensory play to trying different varieties of apples!
30. Farm Animal Ring Toss Game (Craftulate) – This gross motor game for the book, The Big Red Barn, will surely be loved by your students.
31. Measuring in Farm Units (JDaniel4's Mom) – Your preschoolers will love measuring with these farm rulers.
32. Videos for a Farm Theme (Still Playing School) – A few videos to go along with your farm unit that your preschoolers will love.
33. Horses in the Blocks Center (Pre-K Pages) – Often when we think of dramatic play, we think of kids putting on different clothes or using different props to play out roles. However, dramatic play can take place in the blocks center, too. For a western or cowboy theme, put horses and other items with your blocks. Children can enjoy pretending to gallop horses across the plains.
34. Baa Baa Black Sheep Painting (Crafty Kids at Home) – A fun sponge painting for kids activity to enjoy doing as part of a Farm Unit or after singing the popular children's nursery rhyme, Baa Baa Black Sheep.
35. Animals in a Haystack Sensory Bin (Playground Parkbench) – Do you have a farm set laying around that your kids don't play with much anymore?  Breathe fresh life and inspire an afternoon or more worth of activity by adding the elements to a sensory bin!
36. "Put the Mud on the Pig" Game (Fun-a-Day) – This farm-themed preschool math game is called "put the mud on the pig". Having a silly name apparently made it even more fun for the kiddos to play!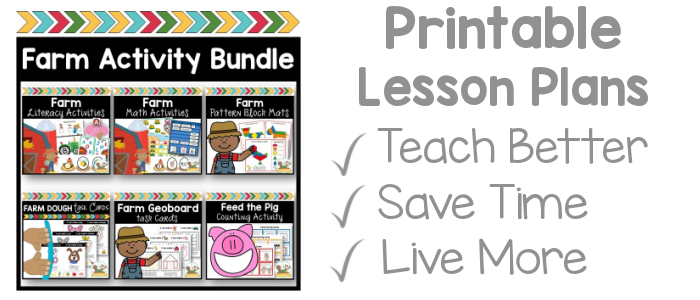 More Farm Ideas