Sensory play is a fantastic way to dive deeper into a preschool theme to solidify learning. Recently, my children explored a farm sensory activity with a small world twist.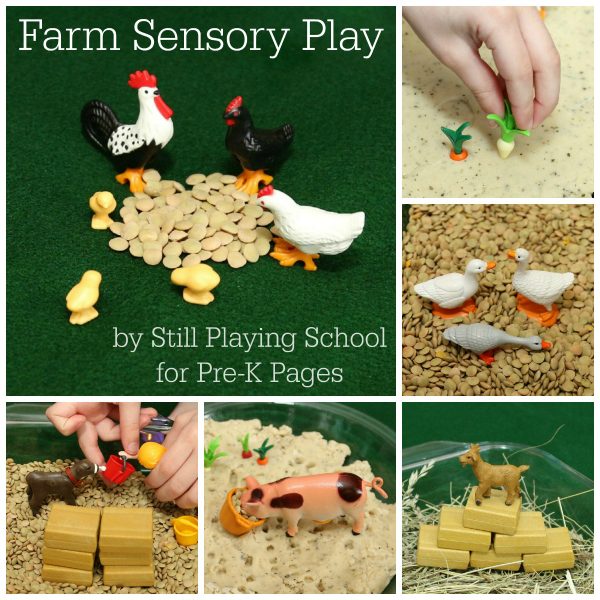 Farm Sensory Play Small World
A small world is a miniature version of people, places, or things for play. As children engage all of their senses through sensory play, they retain more information. The sights, sounds, and feeling of the play materials inspires a deeper concentration, so you'll find your children getting lost in the pretend play involved in a sensory small world set up.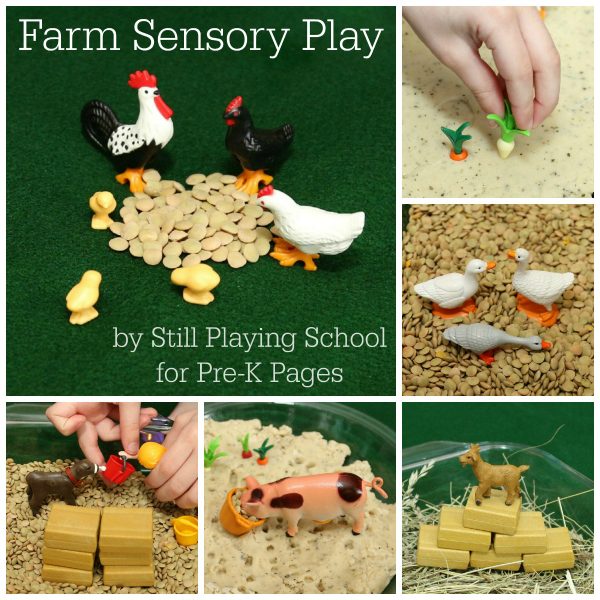 Educational Benefits of Farm Sensory Play
As our preschooler and toddler explored our farm-themed sensory small world the learning involved spanned so many subject areas and concepts!
Fine Motor: Manipulating the materials and toys, cutting the hay, stacking toy hay bales, planting and harvesting the crops from the play dough, making animal foot prints in the play dough
Math: Sorting and counting animals
Science: Discussing animal behavior – how they act, what they eat, and the sounds they make
Oral Language: Sensory and small world play inspires lots of conversation
Social Skills: Working together to plan the play, share toys, coordinate activities
Pretend Play: Small worlds naturally inspire the imagination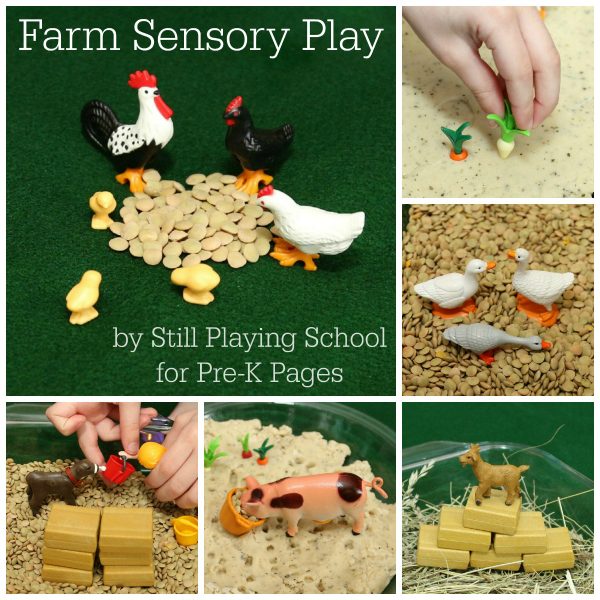 Farm Small World Play
I love to set out an invitation for my children to discover a sensory small world with the toys set up in creative ways to inspire their own imaginative play. Variety in both the sensory materials provided and toys is fantastic but you can set up a sensory small world on a simpler scale as well using whatever you have on hand. We store and reuse many of our sensory materials over and over again. If you don't use food in sensory play, you could easily substitute alternatives for those materials.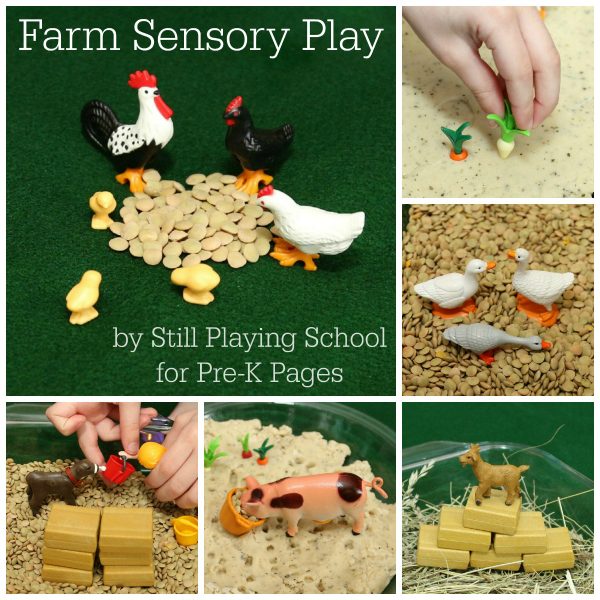 Setting Up a Farm Small World
We used green felt as a play mat with containers of real hay, lentils, and homemade play dough as our sensory bases. You could try used dried coffee grounds for soil, real soil and mud, grass clippings, sand, or small pebbles to name a few. The possibilities are endless so use what works best for your children!
The toys we included are a mix of ones we've had on hand and collected over the years. Again, use what you have, ask parents if you can borrow for a certain theme, or coordinate a toy swap to borrow themed props from a friend or neighbor! They can work on pirate play while you set up a farm small world and then you can switch!
Here are some favorite farm toys:
Down on the Farm TOOB
Farm TOOB
Fisher-Price Little People Farm
BIO:Devany LeDrew is a former kindergarten teacher who writes at Still Playing School where she shares play based learning activities. She specializes in sensory activities and often creates her own sensory recipes including the green tea play dough featured in this post! Follow Still Playing School on Facebook, Pinterest, and Twitter!
More Farm Activities