Exploring animals that live on the farm is a popular topic in many early childhood settings. Spring is the perfect opportunity for a farm preschool them for children to discover activities unique to farm life.  Using great children's books is a springboard for learning about a topic or theme. Here is a fun farm activity – a book and a writing center to help learn about language and a form of writing.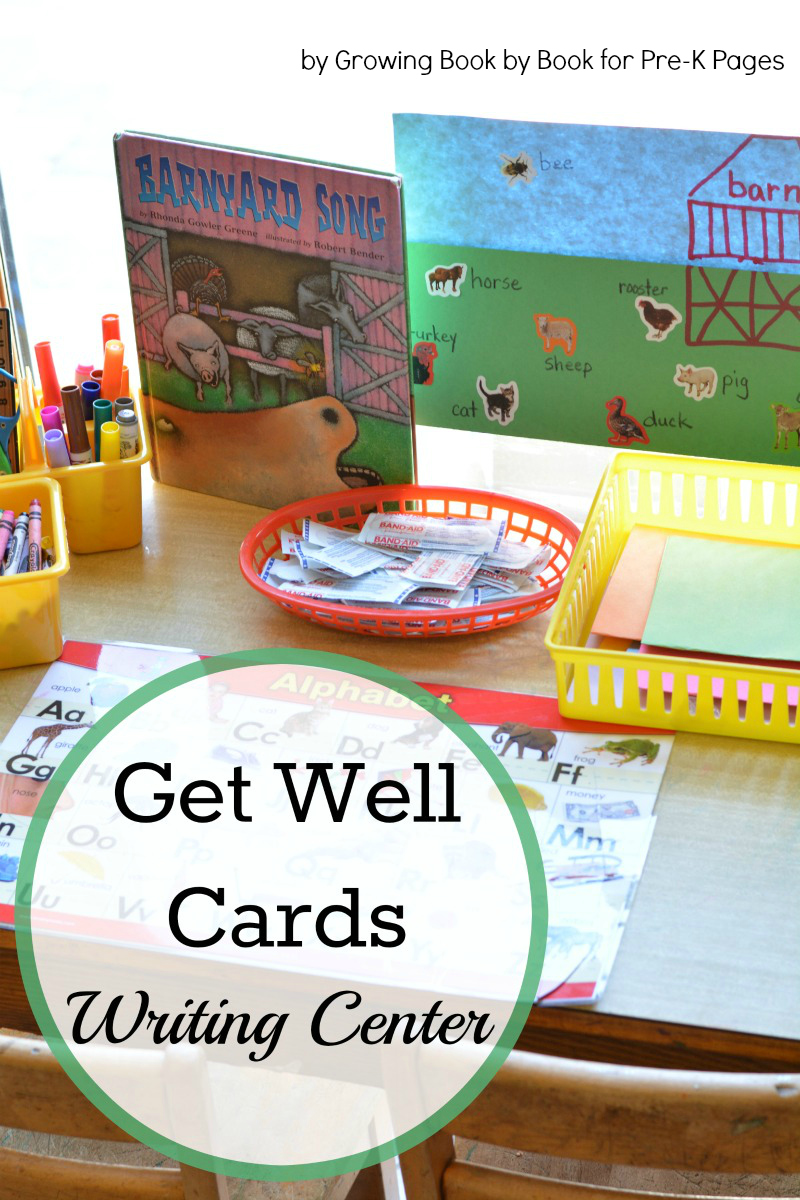 Farm Writing Activity Purpose
In this activity, children will listen to a read-aloud. To extend the story the children will create get well cards for the animals in the farm book at a writing center.
The literacy skills covered in this activity include:
Listening: actively looking at the book while the reader is reading
Comprehension: retelling the major events in the story
Vocabulary: learning words relevant to the story (blustery, usual, savory and gathered)
Writing: expressing ideas through emergent writing for a variety of purposes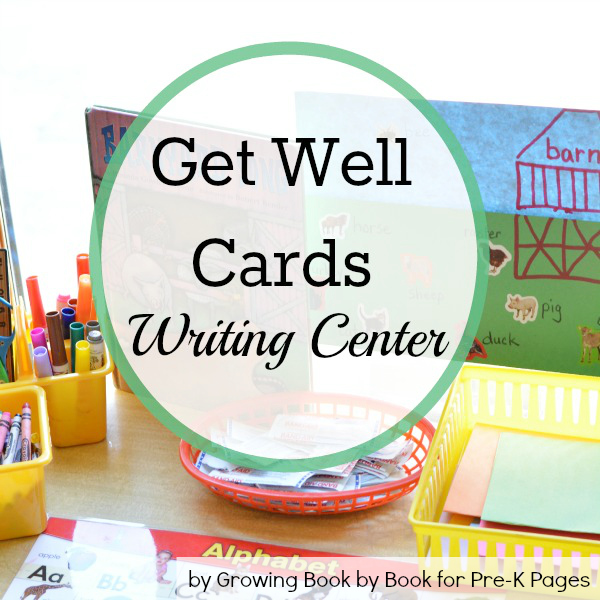 Get Well Card Supplies
These are the supplies you will need for the get well card writing center.
Barnyard Song by Rhonda Gowler Greene
Paper
Writing supplies (crayons, markers, colored pencils)
Bandages
ABC chart
Farm poster
Reading Barnyard Song
Barnyard Song by Rhonda Gowler Greene tells the story of a farm animal choir that sings sweetly each day until the barnyard flu arrives! The choir takes on a different sound when all the animals are feeling under the weather. The farmer serves some savory soup to help for a speedy recovery.
Gather the children close so that they will all be able to see the pictures while you read. Remember to read with expression. There are lots of animal characters so you can have fun adjusting your voice to get into the story. Don't forget to use that "feeling under the weather" voice when the animals get sick. Invite the kids to join in on the animal noises, too!
As you read emphasize the following vocabulary: blustery, usual, savory, and gathered. Talk about these words and what they mean in the story.
After reading, help the children retell the story in their own words making sure to highlight the major events in the story. Ask the children why the animal voices changed in the story.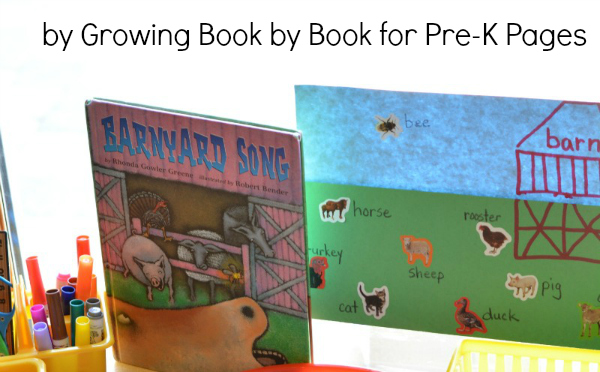 Writing Center Activity
Set up the writing center as a get well card making station. Fill the center with blank cards (folded paper), writing materials such as crayons, markers or colored pencils, bandages for the kids to use as stickers, ABC chart and a labeled farm picture.
To create the farm reference picture, draw a simple farm scene on paper. Include each animal from the story (bee, cat, rooster, pig, sheep, cow, donkey, turkey, duck, and horse). Stickers work great if drawing isn't your strongest talent. Label each animal. Children will be able to refer to the chart when selecting which animal they wish to choose as the recipient of their get well card. Students who are writing conventional letters may also use the chart to copy their animal choice.
Introduce the center to the children. Tell the students that they are invited to make get well cards for the sick animals. You may want to limit the number of bandage stickers they can use on each card.
After center time, allow the children to share and read their cards to the class.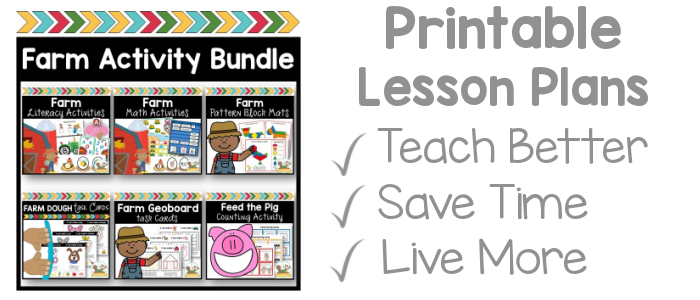 BIO: Jodie is the creator of Growing Book by Book where she shares book lists, reading and writing activities, and literacy building tips for young children. She is also the proud mom of 2 little boys. Check out their playful preschool year! You can connect with her on Facebook and Pinterest.
More Farm Ideas
Farm Sensory Bin and I Spy Activity- Kids love to search for items hidden in pictures in a book or sensory bins. It is like finding hidden treasure! This farm themed sensory bin has a variety of farm animals tucked into birdseed. Your children will have a great time looking for them!
Farm Activities for Preschoolers– Many preschoolers have little or no connection to a farm. Use these activities to plan explorations for your preschoolers to learn more about the farm and farm animals. A farm theme can be great for spring or fall learning.
Preschool Farm Theme Books– Here are some inspirational books for a preschool farm theme in your classroom!