That day for recognizing dads, granddads, and other special men is coming soon. Check out these two ideas for making frames for Father's Day.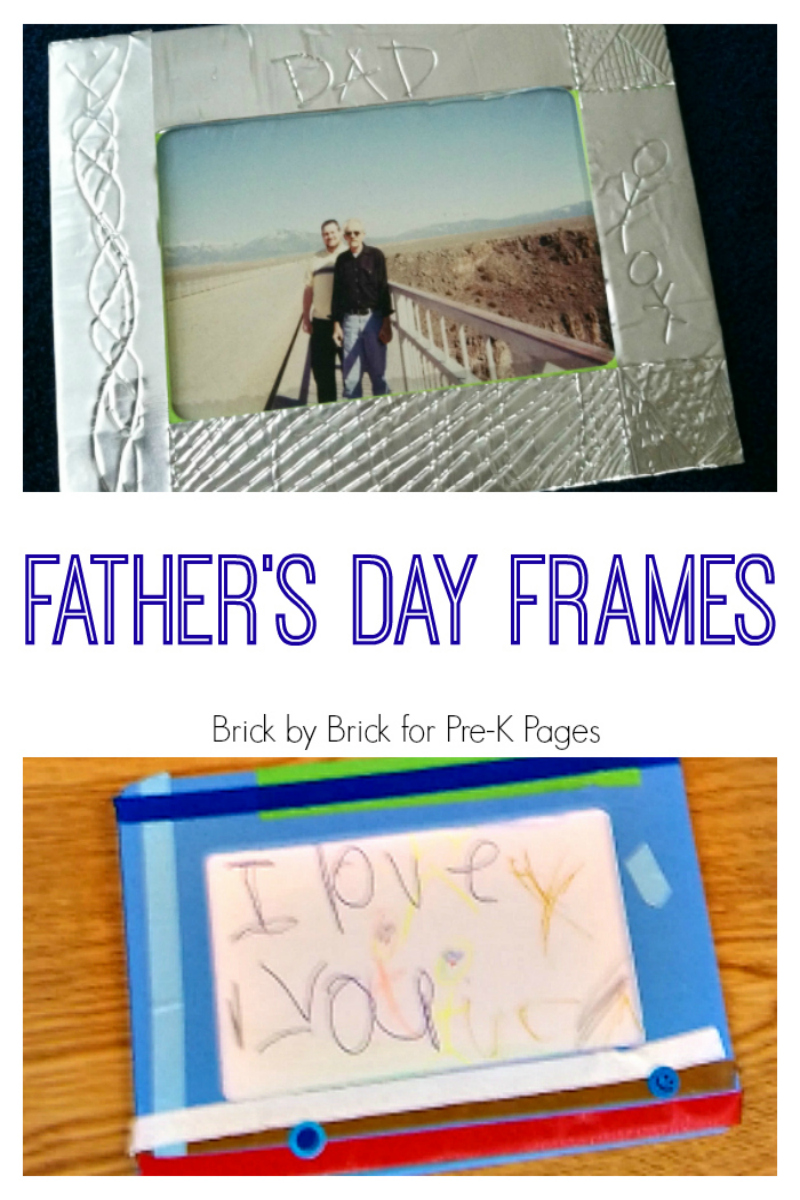 Frames are fun gifts for any occasion. In these frames, kids can add photos, drawings, or special messages. The embossed frame is a little more involved and takes a little more time. The sticker frame is easy for any child to make. Add magnets to the back of either frame to make it a fun magnetic accessory for Dad.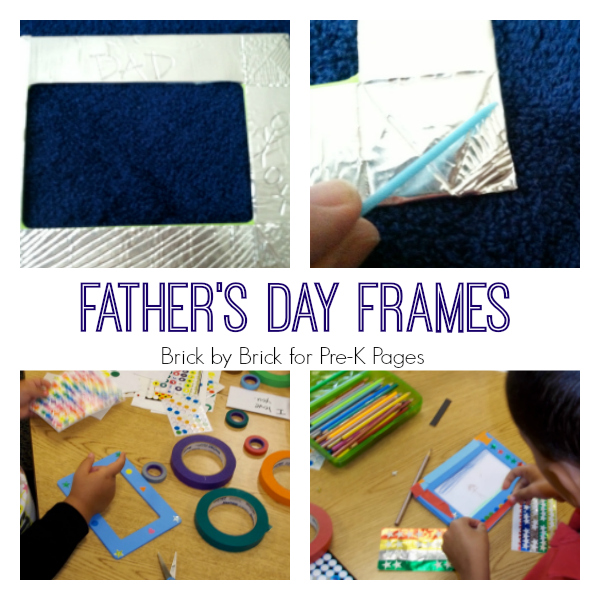 Embossed Frame for Father's Day
Supplies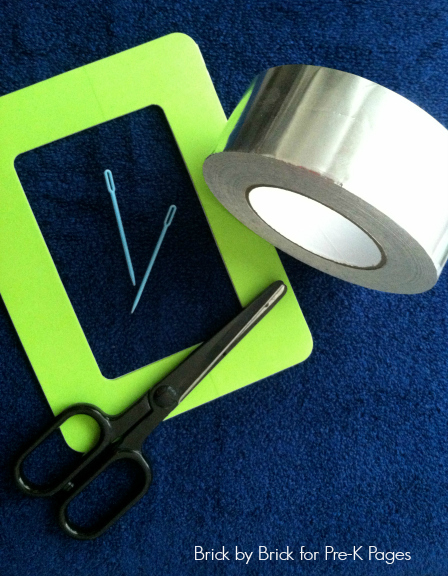 Aluminum tape is shiny, smooth tape used for HVAC repair. I found it in my local discount big box store. The smooth surface makes it easy to emboss. Use a precut foam frame (or craft foam cut into a frame); the foam has "give" that allows good embossing lines.
1. Cover the frame with the aluminum tape. This is the trickiest part of the process. You, the adult, will need to do this step. The aluminum tape has a backing (much like contact plastic) and the sticky surface is very sticky. If the tape folds on itself, it is difficult to pull back apart (much like contact plastic!).
I cut a length of tape for one side of the frame and peeled a short length of one end. I adhered that end in place on the frame and slowly pulled the rest of the backing, attaching the tape as I went. Some of my sides were smoother and others had a few bumps and wrinkles. However, these wrinkles seemed to disappear or become part of the design as the frame was embossed.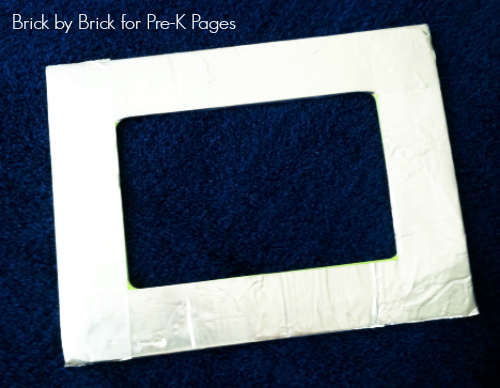 2. Use the plastic needle to make lines, curves, and designs in the aluminum tape. Kids can draw whatever they want. They need to press firmly when they draw or they may need to go over the same lines more than once.
Use both ends of the needle. The "eye" part of the needle was great for making dots or wider lines. You could experiment with plastic forks, play dough tools, or other items to press different designs in the frame.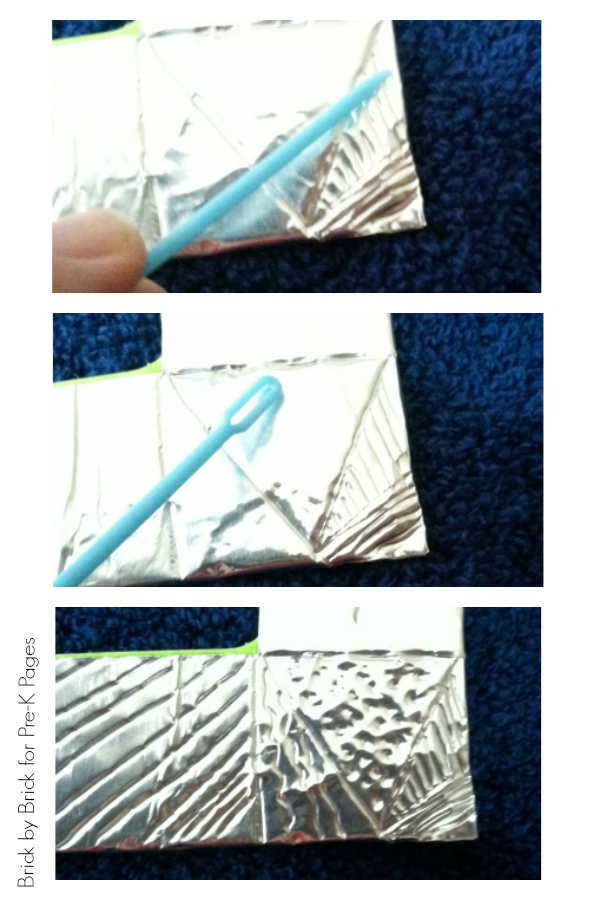 3. Add self-adhesive magnets to the back of the frame. (This can be omitted and the frame just propped into place.)
4. Tape a photo or drawing to the back of the frame. Wrap it up for Dad!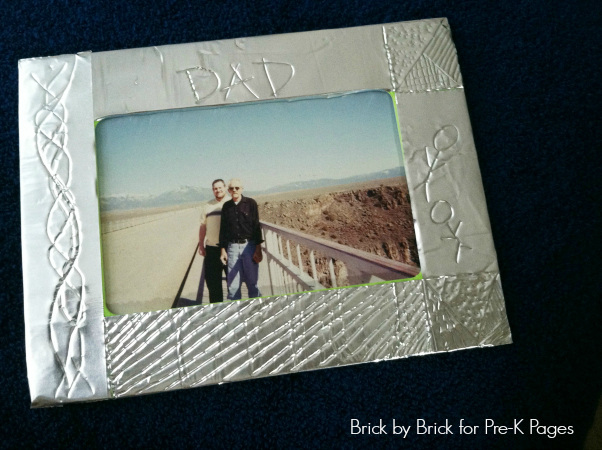 Sticker Frame for Father's Day
Supplies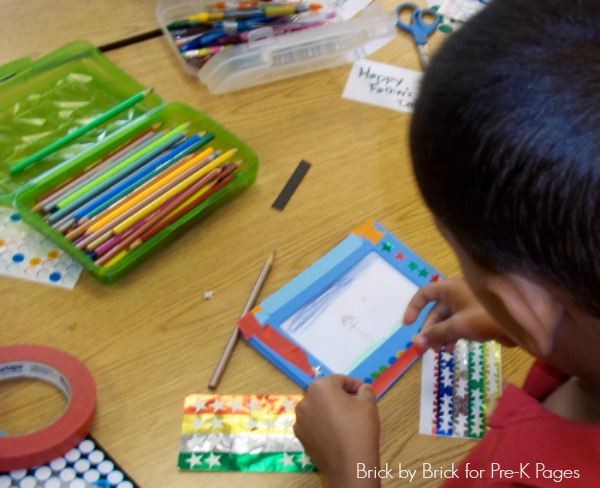 Invite children to use stickers and colored tape to decorate the frames in whatever ways they choose. Allow freedom for creativity and exploration.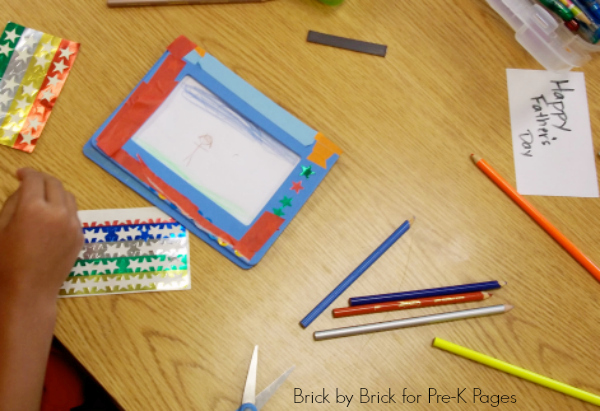 We offered large note cards, colored pencils, and gel pens for kids to draw pictures or write messages to add to their frames. We provided sample messages for kids to copy: "I love you" and "Happy Father's Day."
Add self-adhesive magnets to the back of the frame (as you choose).
Tape the message or a photo to the back of the frame. It's ready for Dad!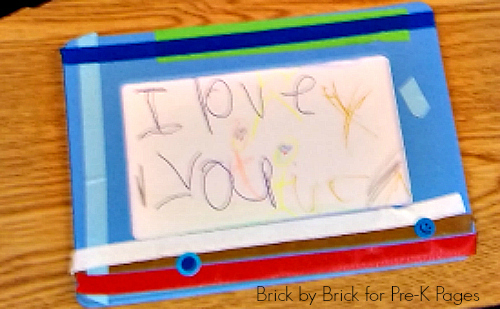 These fun frames make a great gift for anyone in your family. Explore the different ways to make frames. Homemade gifts seem the most special!
BIO: Scott Wiley, an early childhood educator for over 25 years, is editor for Pre-K Pages. He blogs at Brick by Brick, exploring the connection between play and learning. Connect with Scott on Twitter, Facebook, and Pinterest.
You may want to explore the wonky frames his kids make with craft sticks and hot glue!
More Ideas for Father's Day—
Easy Father's Day Gifts Kids Can Make
Father's Day Cookie Gift
Father's Day Wordle Gift
A Collection of Father's Day Gifts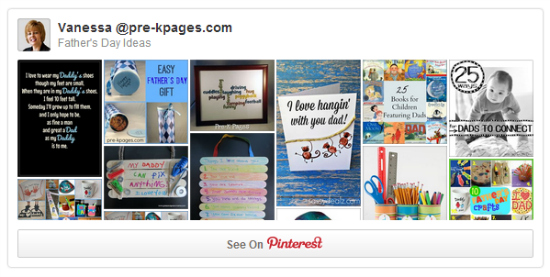 Follow my Father's Day Pinterest Board for more great ideas!