The term gross motor refers to the large muscles in the body. Gross motor skills play an important role in the healthy development of young children. These skills include actions like crawling, jumping, throwing, and running.
These are some of my favorite tools to help develop gross motor skills.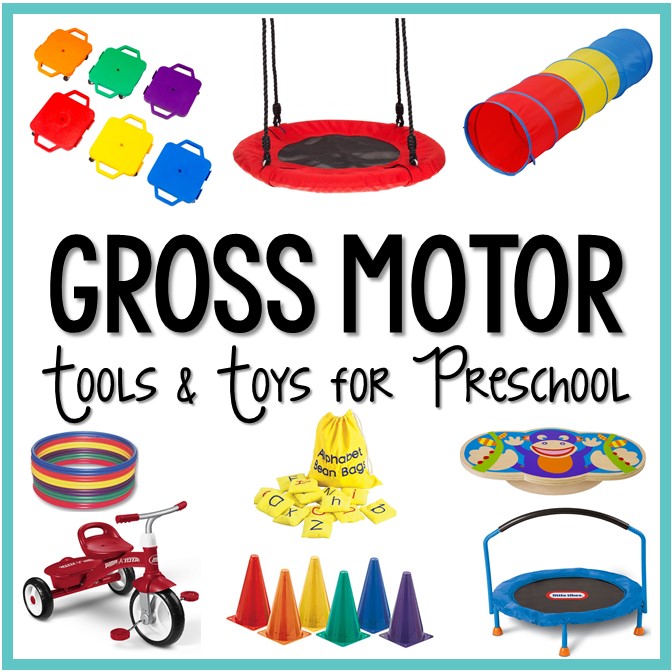 Gross Motor Tools for Preschool
Here are my must-have tools and toys for helping your kids develop gross motor skills throughout the year.
Parachute
Your children will have a blast standing in a circle while raising and lowering the parachute so their friends can run underneath. There are so many fun parachute games to play, the possibilities are endless!
Movement Scarves
Scarves are perfect for open-ended movement and development of gross motor skills. Turn on some music and invite your kids to express themselves by moving the scarves to the beat!
Round Spot Markers
Create a path on the floor with these durable spot markers and invite your kids to hop from spot to spot like frogs, fly like butterflies, or slither like snakes.
Alphabet Bean Bags
These cloth bean bags are easy to catch and super fun for tossing and learning! Play games like "If you have the letter "A" jump up and down! If you have the letter B fly like a butterfly!" or "Put your beanbag on your head, now put it on your toes…" The possibilities for learning with bean bags are endless!
Cones
Cones can be used with many different gross motor games to create a path for kids to follow. You can use these colorful cones as markers for relay races, obstacle courses and more.
Scooter Boards
What kid doesn't love rolling around on a scooter board? And they're developing their core muscles at the same time, it's a win-win!
Tricycles
The classic tricycle is also a great way for kids to develop those gross motor and coordination skills. They love pedaling the tricycles around on the playground, the tricky part is getting them to take turns!
Trampoline
Do your kids have excess energy? Do you dread indoor recess? Then you need a mini trampoline in your life! They can hold on to the support bar while jumping to avoid accidents.
Tunnel
Not only are tunnels excellent for developing muscles in the shoulders, wrists, and core, but kids absolutely love them! This one is perfect for indoor recess and it folds up flat when not in use.
Hula Hoops
No indoor recess would be complete without hula hoops! These inexpensive and simple hoops are actually gross motor powerhouses. While your kids probably can't use them as intended, you can use them to set up fun obstacle courses to exercise those muscles.
Saucer Swing
Saucer swings are a huge hit with all young children, they love laying on their stomachs and flying through the air! This swing is also a great tool to use for those children who crave sensory input.