The vestibular system is all about balance and movement, or spatial awareness. One of the seven different systems under the sensory processing umbrella, the vestibular system helps children use their hands, eyes, and ears together to develop spatial awareness.
These tools are perfect for helping your kids develop balance and spatial awareness skills in Preschool and Kindergarten classrooms.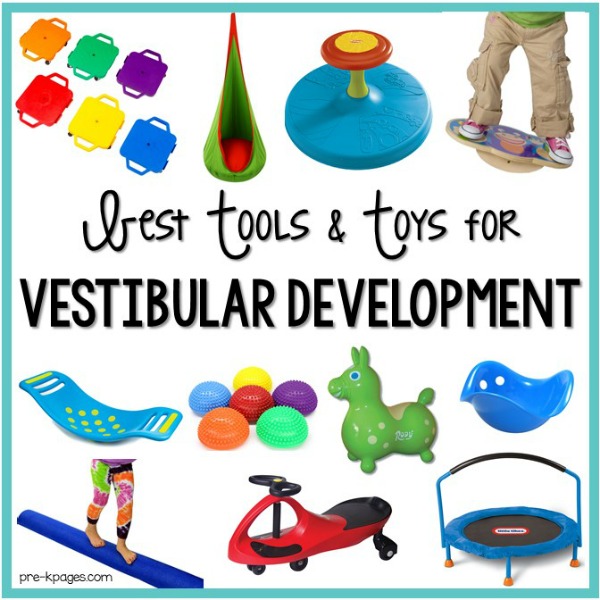 Vestibular Tools and Toys for Preschool
Here are some vestibular tools and toys that young children enjoy using at home or in the classroom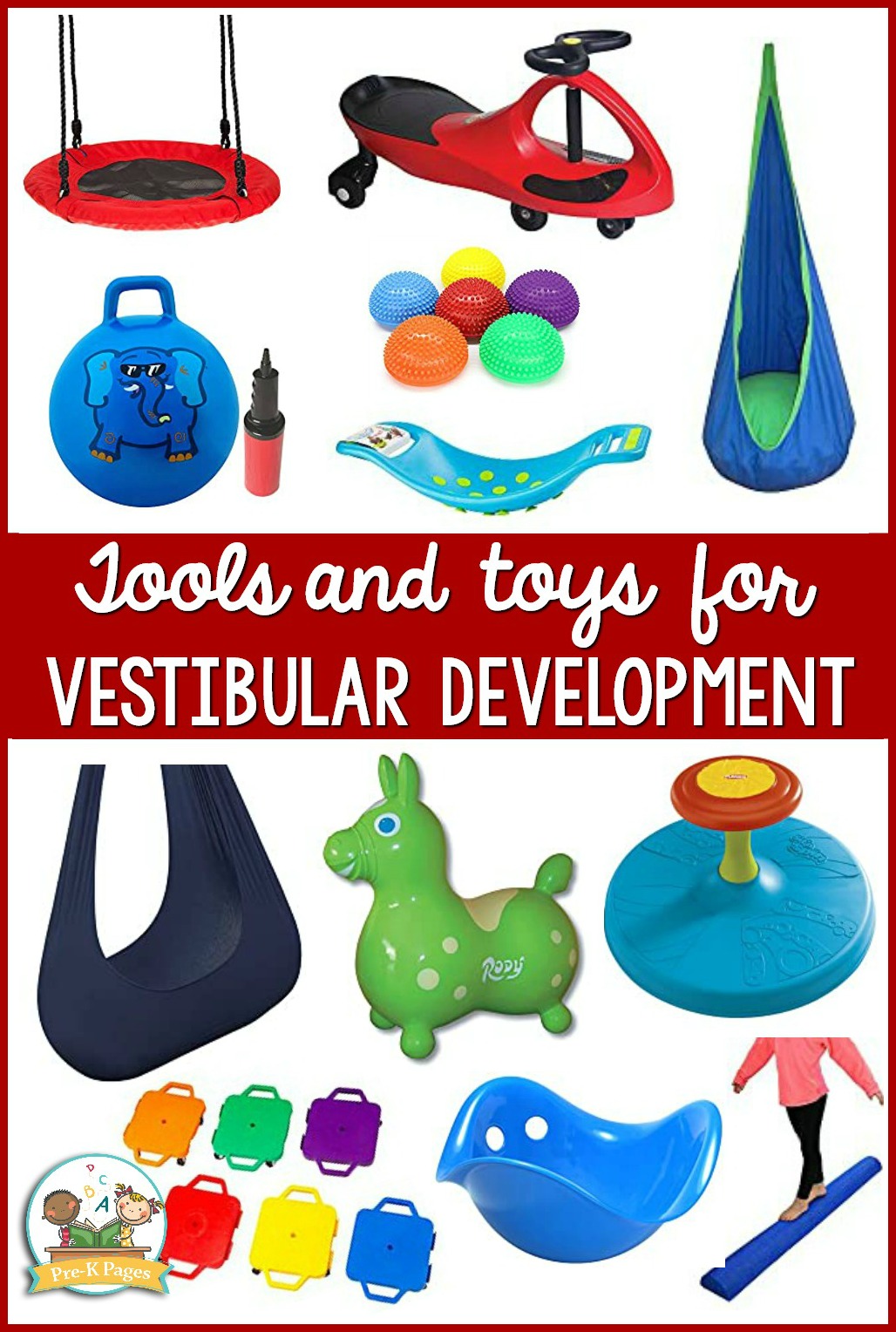 Balance Board
A balance board is the perfect tool to help your students practice balancing. They think they're playing and having fun, but they're really developing important vestibular skills!
Scooter Board
Scooter boards are always a favorite with young children, they love scooting on their tummies! But did you know scooter boards are more than just fun toys? Yes! Scooter boards offer your kids many opportunities for vestibular input such as moving sideways, backwards, and forwards. Scooter boards can be used both indoors and out while the handles provide additional balance and stability for your little ones.
Therapeutic Swing
Swinging strengthens the vestibular and proprioceptive systems by helping the child's brain and body to work together. This sensory integration can help improve coordination, balance, body awareness, and concentration. The fabric in this swing also swaddles the child, giving them a sense of protection and blocking out unwanted sensory input.
Hanging Chair Swing
Bring some swinging fun inside with a chair swing. These cozy swings are great for your calm down corner!
Saucer Swing
Your kids will enjoy laying on their tummies and swinging on the saucer swing.
Sit and Spin
Did you have a Sit and Spin when you were growing up? The Sit and Spin is the ultimate vestibular tool for young children. As they turn the wheel and spin around and around they're actually developing balance and coordination skills.
Balance Beam
Balance beams aren't just for gymnasts! The balance beam is actually a great tool for developing vestibular skills. Plus, your kids will think they're just having fun and playing as they attempt to walk across this foam balance beam.
Teeter Popper
The Teeter Popper is designed especially for your sensory seeking students. It's a concave board covered with sturdy silicone suction cups on the bottom. Your kids will have a blast sitting, standing, or rocking on the Teeter Popper as they improve their core strength and stability, balance, and coordination skills. On hard surfaces, the suction cups will make popping noises as the Teeter Popper rocks!
Trampoline
Do your kids like to jump? A trampoline is a fun way to offer your kids a vestibular workout!
Hopper Ball
Who knew that the classic Hopper Balls of our youth were actually vestibular tools in disguise? Hoppy Balls will help your kids develop those important vestibular skills – and they'll have a blast doing it!
Rody the Horse
If the Hoppy Ball is too difficult for your children, try a Rody Horse instead! The Rody Horse offers a little more stability but it's just as fun as a Hoppy Ball.
Bilibo
A rocking chair, a spinning seat, or even a stepping stone – your kids will have fun playing and developing vestibular skills both indoors and out with the Bilibo.
Balance Pods
Balance Pods can help improve body awareness and coordination skills. Place the flat side down and create a path, then invite your kids to step from one to another to create a balance game with tactile input.
Plasma Car
The Plasma Car isn't just super cool and fun, it's also a way for your kids to explore spatial awareness as they use inertia, gravity, and friction to maneuver their cards.