Music and movement are the building blocks of any good preschool education. Not only do young children love music and movement, it plays an important role in their healthy development.
When you provide music and movement activities in the preschool classroom, you're supporting learning across all domains. Music can help young children develop social-emotional skills such as self-regulation, self-esteem, and turn-taking.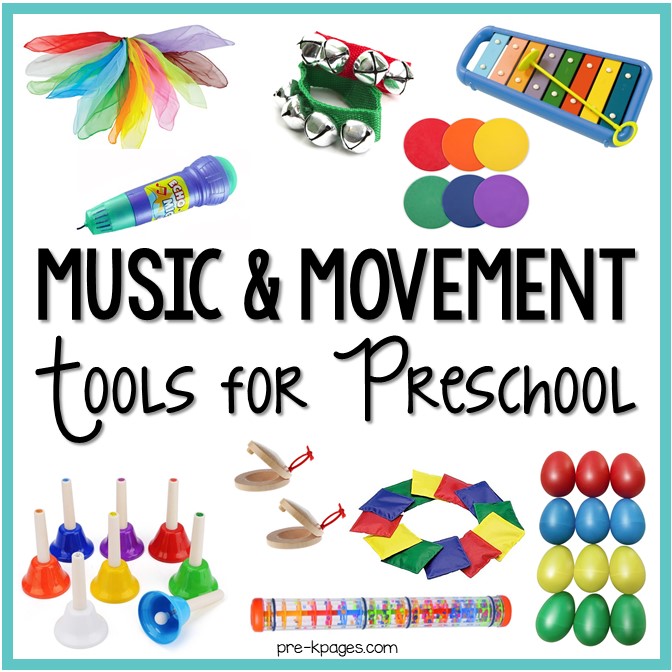 Music and Movement Tools
Here are some must-have music and movement basics used in preschool classrooms throughout the year.
Importance of Music and Movement in Preschool
Many physical skills can also be developed through the use of music such as gross motor, fine motor, balance, and bi-lateral coordination.
Music can also help children develop cognitive skills including counting, patterning and sequencing, receptive language, phonemic awareness and many more.
Musical Egg Shakers
Young children love using these eggs to shake to the beat of the music!
Echo Microphone
Even your most reluctant musicians will be enticed to participate with this fun, pretend microphone.
Rainstick
Rainsticks can quickly catch the attention of even the most energetic preschooler! Rainsticks are perfect for transitions or for soothing a rowdy class.
Jingle Bell Bracelets
Jingle bells aren't just for the holidays! These jingle bell bracelets can be used for keeping the beat to music, all kids have to do is shake their hands.
Hand Bells
Playing hand bells provides many long-term benefits for young children such as increased memory, reasoning, language, and math skills such as patterns and sequencing.
Maracas
Maracas can be added to your musical routine to provide cultural awareness and acceptance. Using musical instruments that represent the cultures of the students in your classroom validates the importance of those cultures and languages.
Xylophone
A xylophone is another musical instrument that can be used to support the development of memory, reasoning, language, and math skills such as patterns and sequencing.
Castanets
Castanets are perfect for validating the importance of cultures and languages in addition to memory and math skills.
Wireless Blue Tooth Speakers
Wireless speakers make playing music in the classroom so much easier!
Rhythm Wrist Ribbons
You kids will love moving to the beat using their whole bodies with these rhythm ribbons!
Rhythm Sticks
Rhythm sticks aren't just for keeping the beat, they are also great for patterning and math skills! Invite children to listen to you tap your sticks together in a pattern, then invite them to imitate you. They have no idea they're learning valuable math skills!
Round Spot Markers
These sturdy vinyl spot markers are great for many music and movement activities that require kids to have their own "spot."
Bean Bags
Bean bags are a timeless classic in all preschool classrooms. Tossing and moving the beanbags helps develop both fine and gross motor skills as well as spatial relationships and more!
Parachute
The parachute is perfect for supporting cooperative play! Your kids will squeal with delight every single time you take out the parachute!
Movement Scarves
Your children will love waving these lightweight scarves to the beat as they move their bodies to the rhythm.