Let's face it, there are certain teaching supplies that just make your teacher life easier. Whether you're looking to up your own teaching game and make your life easier, or if you want to make a teacher's heart go pitter patter, then this list is for you.
The thing about teaching supplies is that some are great for all teachers, and others are better for those who teach the younger grades, like preschool, pre-k, and kindergarten. This list has a little something for everyone.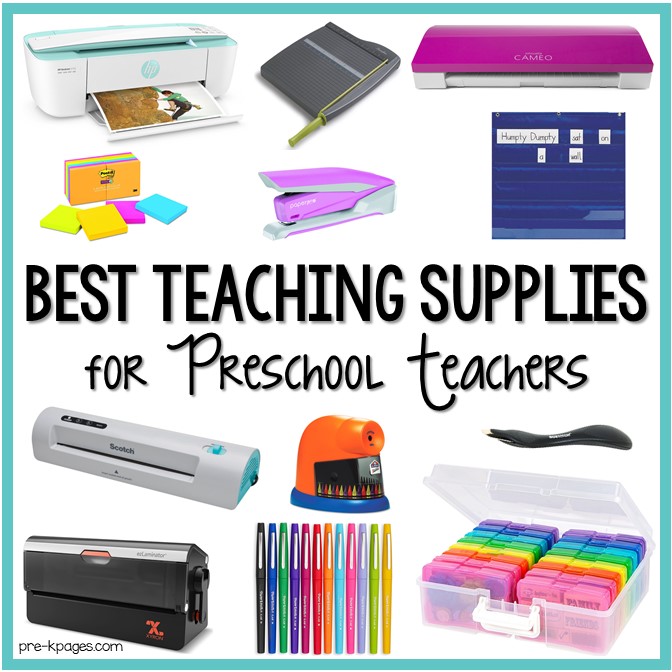 Best Teaching Supplies for Preschool Teachers
Here are my favorite teaching supplies I use in my preschool classroom, in no particular order.
Hot Laminator
I absolutely adore my laminator, it's one of those teacher "must-haves" that makes me SO happy! You can read more about my thoughts on my Scotch laminator here. The latest model is so small and compact it's easy to store and carry home on the weekends – not that I would know anything about that…
Cold Laminator
So you're probably thinking, why on earth do you need a cold laminator too? Um, only because the Xyron cold laminator is so stinkin cool and easy to use – how could you live without one? But seriously, this little gem can do everything from laminate without the use of heat or electricity, to create stickers, and even attach magnets to the back of your projects. Amazing!
Printer
Oh, HP Instant Ink printer, how do I love thee? Let me count the ways… I've extolled the virtues of the magical HP Instant Ink printer before, but they're so amazing that shouting it from the rooftops just doesn't seem to do them enough justice.
What if you never had to leave your house to buy ink for your printer again? What if your printer magically knew when you were running low on ink and auto-shipped it right to your front door? And, as if that wasn't enough, what if the printing quality was so amazing that you couldn't tell the difference between things you printed on your HP from things you printed at Kinko's? Yep, I told you it was amazing, didn't I?
Paper Cutter
I used to schlep down to the teacher workroom every day before and after school to use the ancient, dull paper cutter. You know that scene in the Wizard of Oz when Dorothy lands in Oz and all of a sudden the picture goes from black and white to color? Yep. That's what it felt like when I finally splurged and bought my very own paper cutter! I could cut anything, any time I wanted! Cut to Maria singing "The hills are alive…"
Crayon Sharpener
I would like to know where exactly this crayon sharpener has been all my life? Seriously, Best. Gift. Ever!
Pocket Chart
Pocket charts are like potato chips, you can never have just one. There are so many different colors and sizes to choose from, and you can use them for any subject.
Super Sticky Post-It Notes
The invention of the Post-It Note is right up there with the telephone and electricity. No? Hmmm… but be a teacher thing. Anyway, Post-It notes are cool and all, but when you add fun colors and make them SUPER sticky the coolness factor gets kicked up a few notches. These Post-It notes take me to my happy place, and the more I have the happier I feel.
Flair Pens
There's just something about using a colorful Flair pen that makes my teacher heart happy. Using the Flair pen on my super sticky Post-It notes doubles the happiness. What's that? You think I have an office supply problem? Surely not…
Silhouette Cameo
The Silhouette Cameo is the Cadillac Escalade of teaching supplies. Nobody actually needs one, but everybody secretly wants one. Here's the thing about the Silhouette, you know those cute bulletin boards you spend hours creating each month? This baby takes bulletin board creation to a whole new level – like Mt. Everest level. You can make anything look amazing with this handy dandy tool. Say bye-bye to that ancient die-cut machine that takes up the entire teacher workroom and hello to this slim electronic goddess.
Staple Remover
This may seem like a very boring teacher must-have, but let me assure you that it's a necessity. You know those amazing bulletin boards we were just talking about? You need a good staple remover if you're going to change those bulletin boards out each month. Those chompy, alligator type staple removers are a joke. When you upgrade to this baby you'll be able to remove those staples in the blink of an eye without ruining your nails!
Automatic Stapler
Speaking of staples, that reminds me about my automatic stapler. I remember the days when the school hallways were filled with the sounds of the loud thump, thump, thumping as teachers banged their staplers with the heel of their hands. You can kiss those days good-bye when you take the plunge and switch to an automatic stapler. No more bruised palms – hallelujah! Stapling is a breeze with an automatic stapler.
IRIS Photo Keeper Storage Boxes
I have no idea who prints actual photos anymore, but this storage box is perfect for storing everything from name cards, calendar pieces, card games and more! I use my label maker and label each of the boxes and presto – I can quickly and easily find whatever I need, whenever I need it!
Label Maker
Speaking of label makers… I credit my label maker with saving my sanity. Yep, true story. #labelallthethings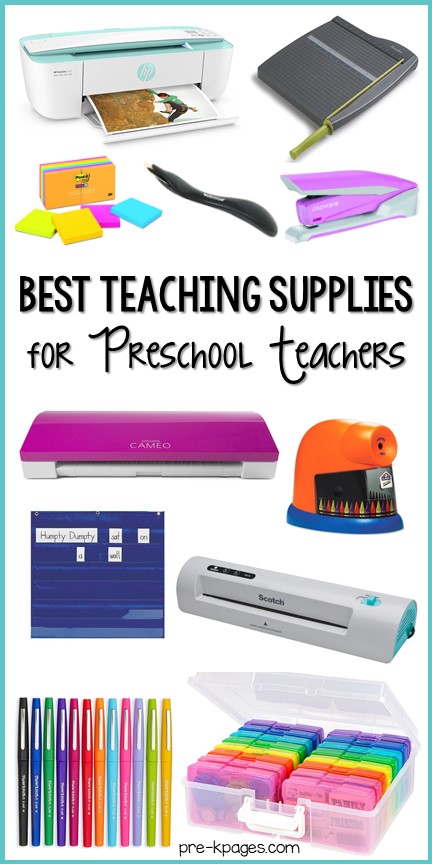 More of my Favorite Things