Kids can use fine motor skills all day, but doing the same thing over and over can cause children to lose interest. These activities are fun experiences for October that will help build fine motor skills. These are perfect for a fall theme or Halloween theme. And, since many of the items are from the dollar store, you can stock up your morning work baskets or centers.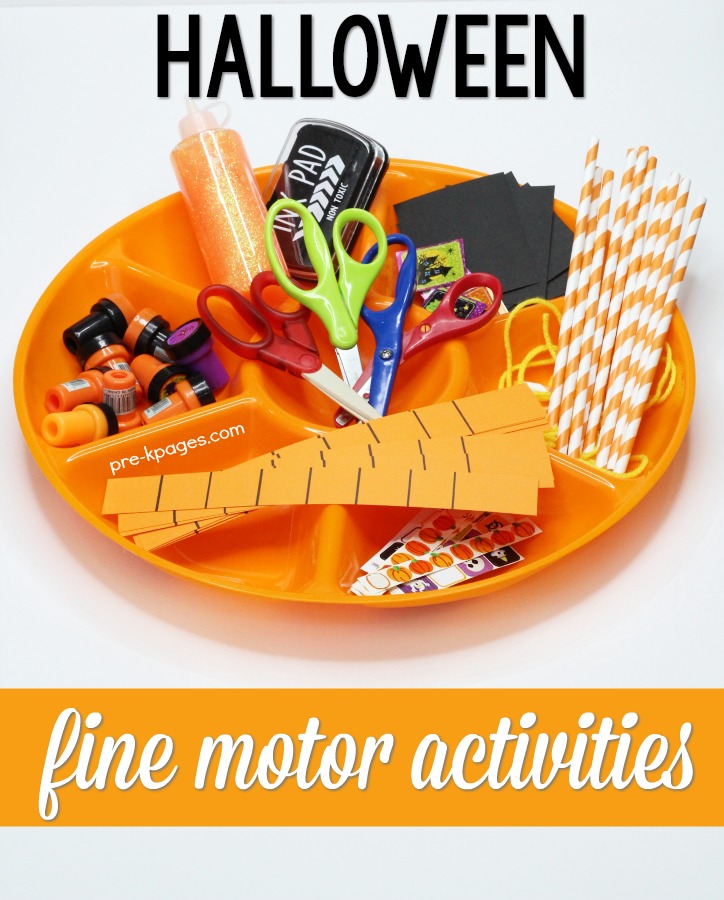 Halloween Fine Motor
When we refer to fine motor skills, we mean the small muscles in the hand and fingers. These muscles are used for writing, for tying shoes, and for delicate manipulation of objects. Regular practice in using these muscles is important for their development. Before children can begin to grasp a pencil properly and write with control, they must develop strength and dexterity in their fingers and hands. Fun, engaging activities that encourage using the hands and fingers are the ways to keep kids interested and in continuing to develop fine motor skills.
Halloween Fine Motor Tray
Assembling a fine motor tray is easy to do. I like to use a chip-and-dip tray. I purchased several from the dollar store in a variety of colors. Why different colors? When different colored materials appear on a different colored tray, the children say, "A new activity!" They are immediately more engaged, even if we are still doing similar activities, because it seems new.
Basics for my fine motor tray: small stampers, paper straws, stickers in different sizes, ink pads, colored glue or glitter glue, scissors, and colored paper. You could encourage children to explore the materials independently. However, I do introduce materials and some ways to use them. (Check out details of activities below.)
After introducing the materials to preschoolers, I put the fine motor tray on a table in the morning as part of morning work. After all the children are familiar with the materials, I move the tray to a center for regular use.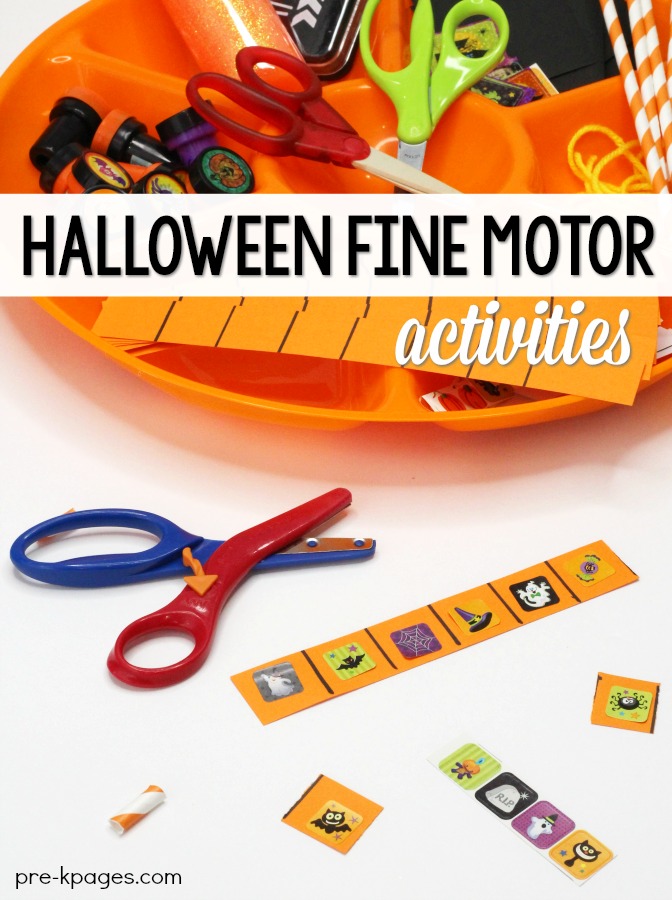 Halloween Cutting
Draw lines on orange construction paper; make lines about one apart. The space between the lines should be wide enough to fit a small sticker or one of the stamped images. Cut the paper across the lines into strips (also about one inch wide). Your strips will have segments marked with the lines. A preschooler can place small stickers between the lines on a paper strip. Then she can cut on the lines. The strips should be about one snip wide.
Preschoolers can also cut apart strips of stickers.
Draw thematic shapes onto construction paper squares. (I trace stencils.) Older preschoolers can cut out these more challenging shapes.
Scissors I like to use:



Halloween Stickers and Stamps


Just using stampers helps a child develop more control over his small hand muscles. Develop more control by inviting a preschooler to stamp shapes in between the lines on an orange lined strip.

Cut black construction paper into squares. A preschooler can peel and stick a large sticker on the paper square. Challenge him to cut out the sticker, too.

Children can place small stickers on the lines of the thematic shapes you drew.




Halloween Threading


Invite preschoolers to cut paper straws into short lengths. They will enjoy cutting the straws and making small pieces. Add lengths of yarn; children can string the straw pieces onto the yarn. (Chenille craft stems are also good for stringing straw pieces.)

For more fine motor practice, add pony beads to the fine motor tray. Preschoolers can string the beads on chenille craft stems.

Watch the Video

More Halloween Activities