Everybody loves a good children's book, especially teachers and parents! But when it comes to Halloween season selecting the right books can be a bit "tricky."  Here are some of my favorite Halloween books for kids in preschool and kindergarten that are full of opportunities for teaching and learning. And your kids will love them!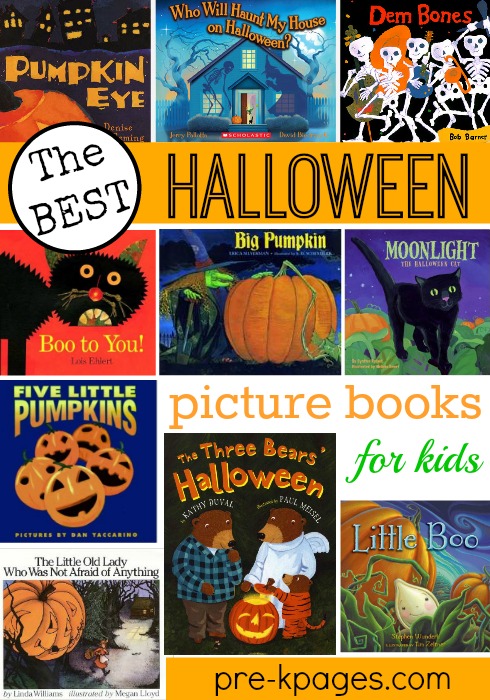 The Best Halloween Books for Kids
A good, high-quality read-aloud not only captures the attention of the audience through the illustrations and text, but also provides a variety of opportunities for young children to develop important emergent literacy skills such as rhyming, concepts of print, alliteration and many more.
All too often, books are chosen because of the character on the cover instead of the content on the pages.  Some of these Halloween books for kids on this list were written by notable children's authors known for their high-quality content.
Check out these Halloween books for kids!
Big Pumpkin
A Halloween version of the cumulative Russian folktale, The Turnip, Big Pumpkin by Erica Silverman is big fun! The characters in this story work together to pull a pumpkin off the vine. This book would make a wonderful addition to any classroom library. After reading the story, make pumpkin pie with your children.
Skills: Rhythm, Repetition, Sharing, Teamwork
Boo to You!
Lois Ehlert is the author and illustrator of many bestselling children's books. In Boo to You! Ehlert's signature mixed-media collage style art work utilizes items found in nature and helps to capture the attention of the reader.
Skills: Rhyming, Point of View (mice vs. cat)
Dem Bones
Bob Barner, renowned children's author and artist has taken the classic African American spiritual Dem Bones and turned it into a fabulous book by the same name. Dem Bones combines the rhythmic song with Barner's signature torn paper collages. If the lesson about the bones of the skeleton are beyond your kids the illustrations and the rhythm of the main text is more than enough to keep them engaged.
Skills: Rhyme/Rhythm, Fluency, Vocabulary, Oral Language Development, Author's Purpose (entertain and teach), Science (anatomy)
Five Little Pumpkins
Five Little Pumpkins by Dan Yaccarino is the traditional version of this classic early childhood rhyme. Invite your children to act out the rhyme using their hands and fingers and you've got their attention for sure!
Skills: Rhyming, Fine Motor Skills, Oral Language Development, Vocabulary
Little Boo
Young children will definitely relate to the sweet story of Little Boo by Stephen Wunderli. This gentle tale recounts the life cycle of a seed and also serves as a metaphor for growing up.
Skills: Life Cycles, Patience
The Little Old Lady Who Was Not Afraid of Anything
The Little Old Lady Who Was Not Afraid of Anything by Linda Williams is a classic tale with many opportunities for learning. Young children love to retell this favorite and sequence the events in order. This is one book your kids will beg you to read over and over again!
Skills: Predictions, Sequencing, Retelling, Vocabulary, Oral Language Development
Moonlight the Halloween Cat
Moonlight the Halloween Cat by Cynthia Rylant offers a cat's eye view of Halloween. An award winning author, Cynthia Rylant's Midnight the Halloween Cat is sure to be a big hit with young children everywhere!
Skills: Rhyming, Vocabulary, Inferences, Perspective
Pumpkin Eye
Award winning children's author and illustrator, Denise Fleming pairs rhyming verse with creative images hand crafted from paper in her book Pumpkin Eye. Told from the perspective of the pumpkin, the author uses carefully crafted rhymes that encourage the reader to make inferences throughout the story.
Skills: Rhyming, Vocabulary, Inferences, Perspective
The Three Bears Halloween
This Halloween twist on the classic tale of Goldilocks is absolutely adorable! The Three Bears Halloween by Kathy Duval follows the bear family as they go trick-or-treating on Halloween. They discover an empty house and decide to go inside. No spoiler alerts here, you will have to read it on your own to find out what happens next! This is a must-read for anybody who loves Goldilocks or Fairy Tales in general.
Skills: Sequencing, Sizes
Who Will Haunt My House on Halloween?
Who Will Haunt My House on Halloween? is part of the popular "Who Will…" series by Jerry Pallotta. The vibrant, detailed illustrations that fill the pages completely are captivating. Your kids will love searching for the mouse and cat hiding within the book on certain pages.
Skills: Sequencing (who rings the doorbell first, second etc.)
More Halloween Ideas