Play dough is a great exploration for creativity. Your preschoolers will enjoy rolling, squeezing, and pressing with the materials on this Halloween playdough tray.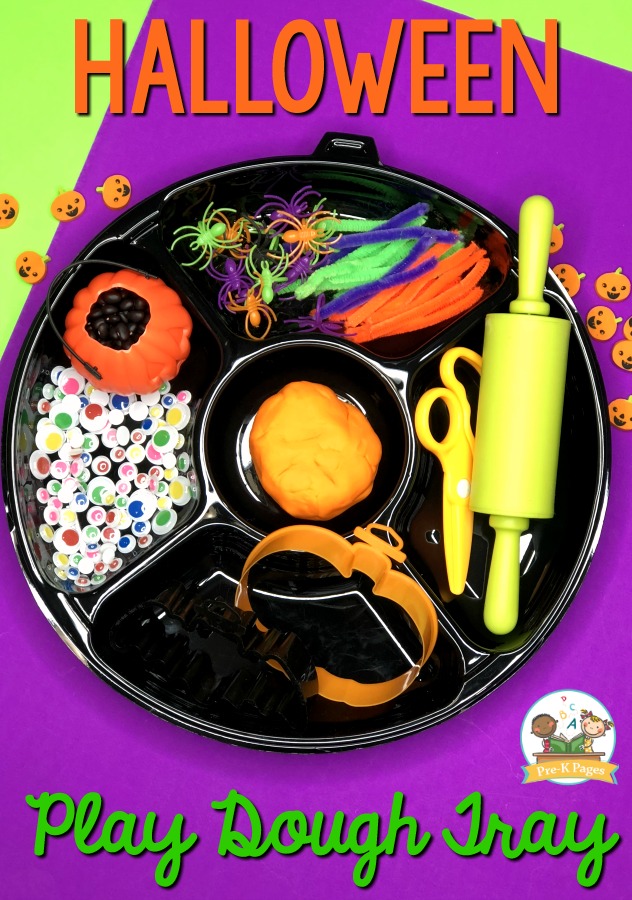 Halloween Play Dough Supplies
Here are some supplies to help you get started with a Halloween play dough experience in your classroom. These are just suggestions, you can use whatever you have on hand.
Arrange items on a tray. I used a chip and dip tray from the dollar store. But there are other types of divided trays available. Or use a few cafeteria trays with items arranged on them.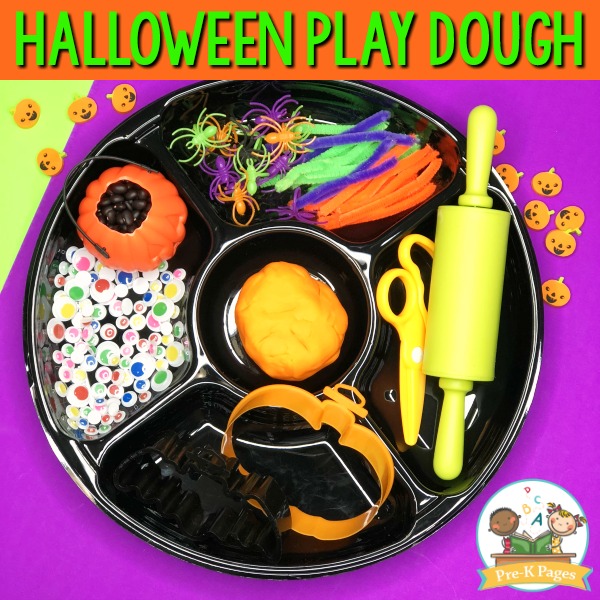 Halloween Play Dough Activity
Set up the activity for preschoolers to explore and use their own ideas. Open-ended play yields many different results and encourages children to learn from one another or try different ideas.
This type of exploration is easily adaptable to different ages, interests, and abilities. Each child can explore as he chooses and can experiment with what he knows and wants to know. Some children like to pound and flatten the play dough. Others will make balls and snakes. Others will create a specific object or will name their completed creations.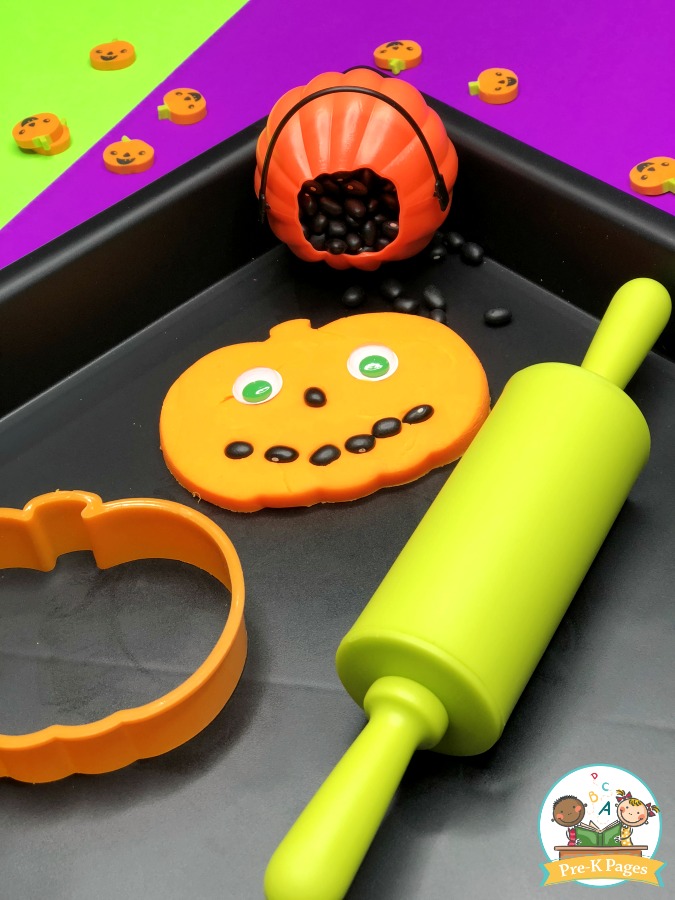 Halloween Play Dough Exploration
Add jack-o-lantern erasers or photographs of different types of jack-o-lanterns. Suggest the children explore how to make jack-o-lanterns with the playdough and other items. Cutting pumpkin shapes with a cookie cutter and decorating the shapes is one way to make jack-o-lanterns. Making a ball of dough as a pumpkin and decorating it is another way. Encourage your preschoolers to use their own ideas and skills to create halloween shapes and objects.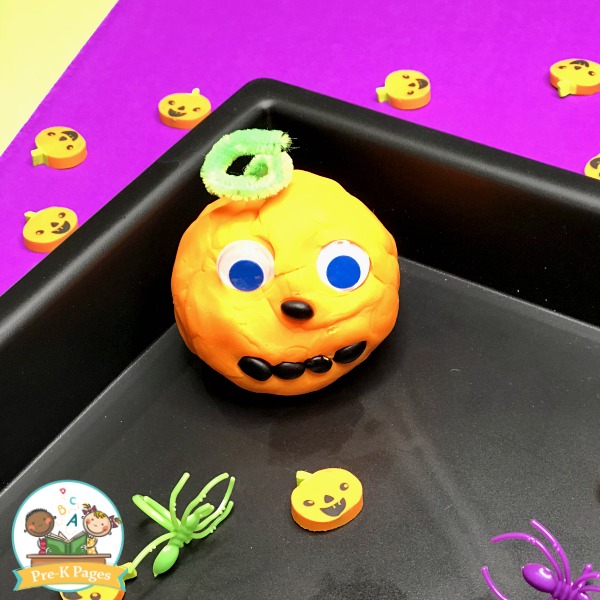 Help children expand their thinking without telling them what to do. Ask questions or make "I wonder" statements to stimulate thinking. "I wonder what we could use to make a mouth." "What do you think we could do now?"
However, allow the children to lead the exploration. If they are working (or ignoring your input), pull back and let them go. This type of activity can stimulate thinking and creativity as well as build those fine motor skills with the manipulation of the playdough and other small objects.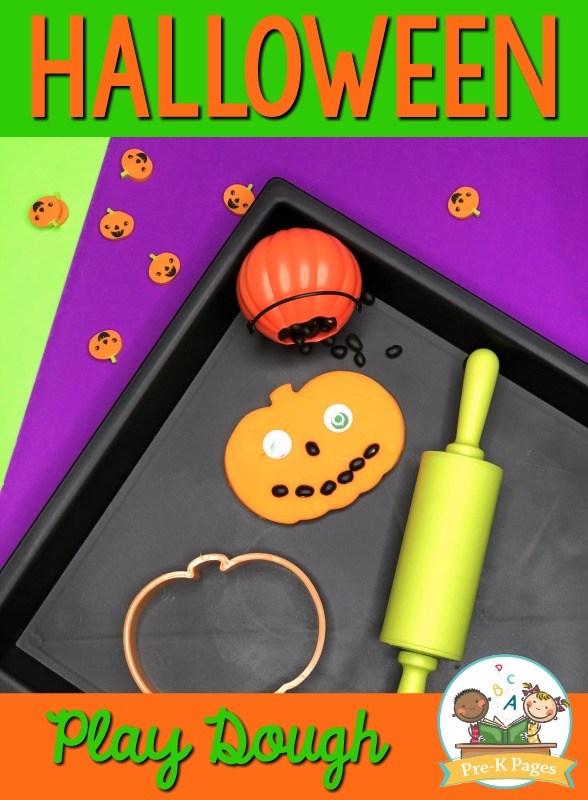 Other Play Dough Ideas
Whether or not your classroom celebrates Halloween, you can use these ideas.
Spider Play Dough Exploration – a tray that encourage preschoolers to make spiders; use following a spider study or in conjunction with Halloween.
Play Dough Pumpkins – This exploration uses gems and other types of decorations for pumpkin play dough.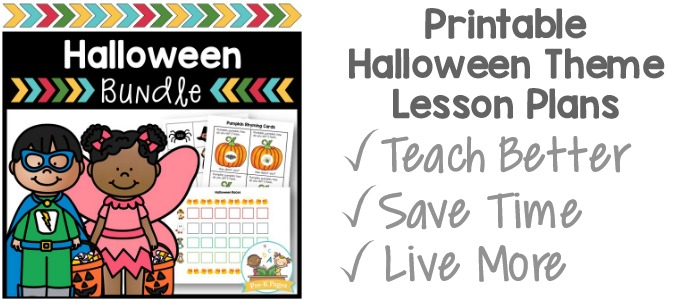 More Halloween Activities