Are you looking for a super cute DIY Valentine's Day mailbox? I don't know when it became a "thing" to have parents and kids (let's be honest, mostly parents) make mailboxes for the school Valentine's Day party, but I do know that coming up with creative and crafty ideas at the last minute can be stressful and time consuming.
This rainbow mailbox is sure to be the envy of any Valentine's Day card exchange at school. I've also included a free printable cloud template to make things easier for you, keep reading to grab your copy.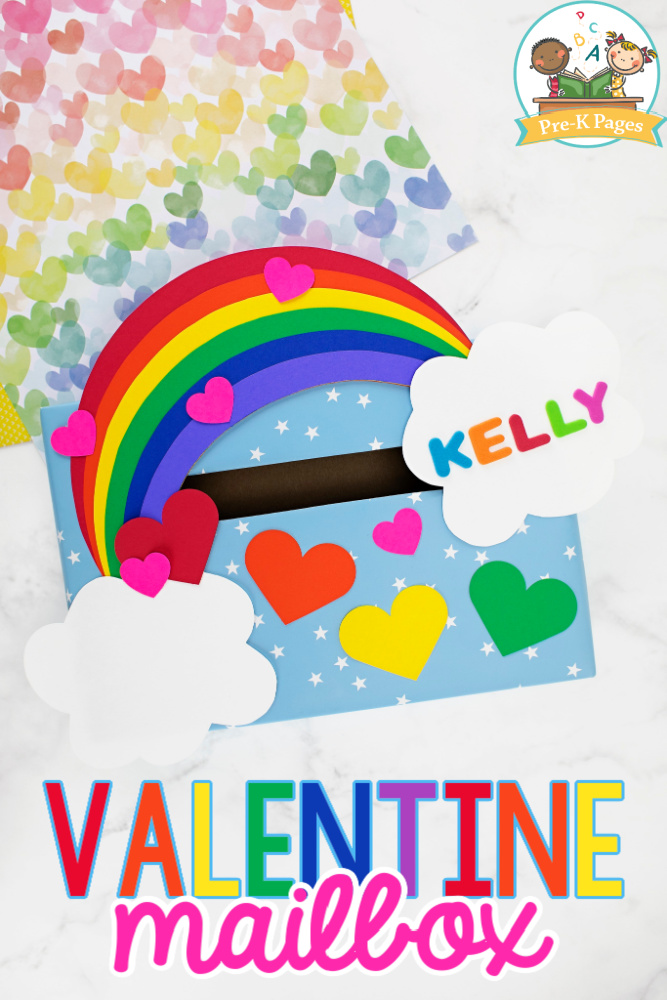 DIY Valentine's Day Mailbox for Kids
Deciding on a theme for your Valentine mailbox is often the first hurdle you need to overcome. You can spend hours scouring the Internet for the most adorable mailboxes, but who has time for that? You can't go wrong with this bright, cheerful, and very colorful rainbow themed mailbox!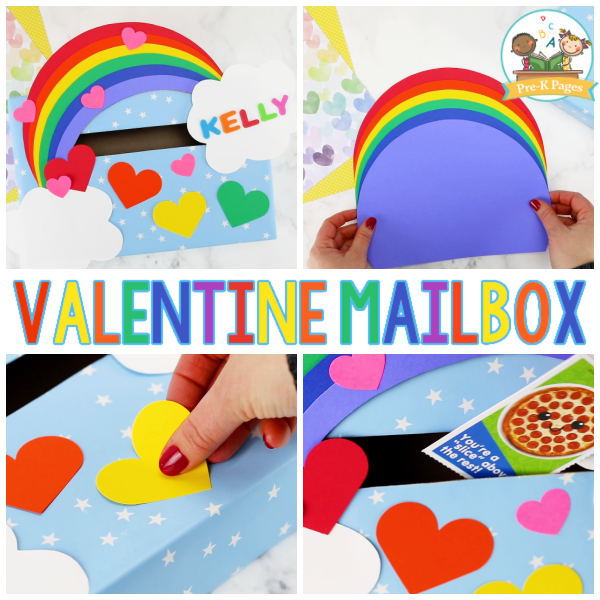 Valentine's Day Mailbox Supplies
Here are the supplies you'll need to make your very own rainbow Valentine mailbox.
Cereal Box, Shoe Box (or similar)
Blue Wrapping Paper, Construction Paper, or Butcher Paper
Scissors
Craft Knife (keep away from children)
Tape
Ruler
Markers or Alphabet Letter Stickers
Glue Stick
Paper Plate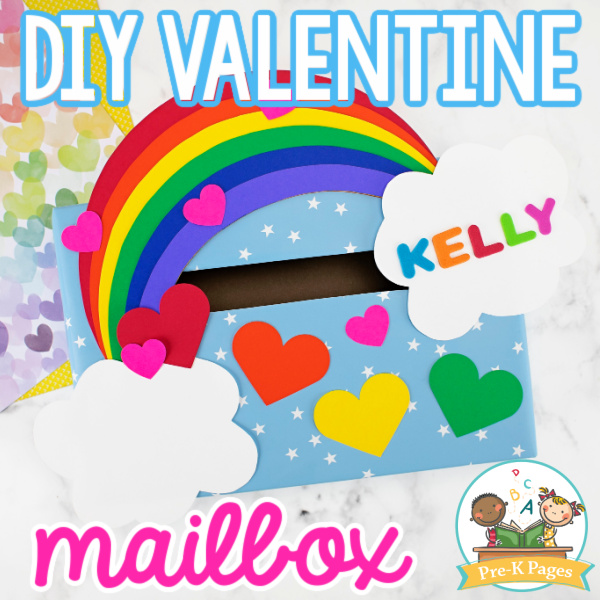 How Do You Make a Valentine Mailbox?
After you've gathered your supplies, now it's time to start assembling your masterpiece!
First, you'll want to wrap your empty box with blue paper to cover the text, wrap the box like a gift.
Invite your kids to help you wrap the box, if they're too young they can at least hold the tape for you.
You could also paint the box with blue paint if you prefer.
Rainbow Heart Valentine Mailbox
Next, use your scissors or craft knife to cut a slot in the mailbox to receive Valentine cards. Be sure to keep the craft knife and sharp scissors out of your child's reach.
Then, invite your kids to help with the hearts – they'll love using paper punches! Invite them to choose their favorite colored paper and let them make as many paper hearts as they want. You could also use foam heart stickers if you prefer.
While the kids are punching out the hearts, you can start tracing the edge of your paper plate on construction paper to make the different colors of the rainbow. After you've traced the plate on each piece of paper, you can cut out the shapes. Invite your kids to help you glue the layers together to create the rainbow.
How to Decorate a Valentine's Day Box
Now it's time to cut the clouds out of white paper, you can download the free cloud template I've included below.
Don't forget to add your child's name to the cloud with alphabet stickers so everybody will know who this amazing Valentine mailbox belongs to! Of course, you can always write your child's name on the cloud with markers if you don't have letter stickers.
After your hearts, clouds, and rainbow are ready, now it's time to glue everything to your mailbox. This is the part of the craft that your kids can help with the most. Invite your kids to attach the rainbow, clouds, and hearts to the front of the box with glue.
Your little one is sure to have a blast exchanging cards with their friends at their Valentine's Day party!

More Valentine's Day Ideas