Looking for a fun Valentine activity that's also educational? You're in the right place! This activity is perfect for helping young children learn how to sequence. You can use this Valentine's Day Cookie Decorating activity at home or in your preschool classroom for a Valentine's Day party.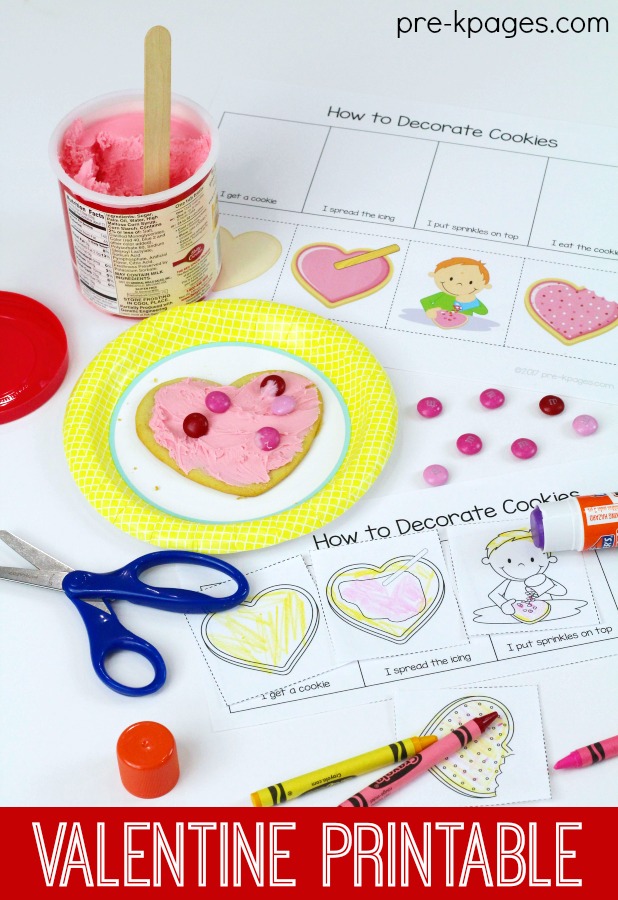 Why Is Sequencing Important For Preschoolers?
Sequencing skills are important because they help children make sense of the world around them. When kids practice putting things or events in order they are also practicing ordinal numbers. The act of following a series of steps in order also helps children practice following directions.
In addition to those skills already listed, this activity will also provide your students with opportunities to practice fine motor skills and hand-eye coordination. They will be able to practice their skills when they spread the icing on top of the cookie and add sprinkles.
For more practice with their fine motor skills, then you may also want to try this Valentine Heart Puzzle activity in your classroom!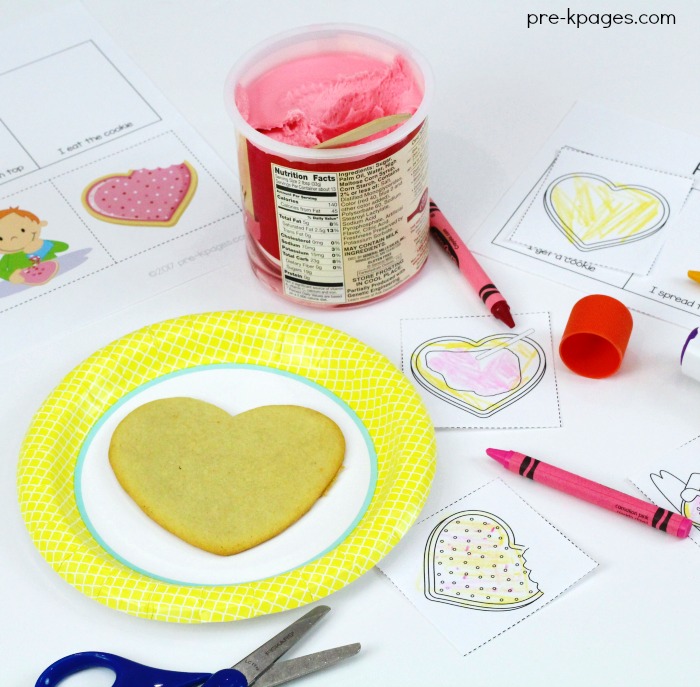 How to Decorate Valentine's Day Cookies Printable
To prepare this activity you will need the following ingredients and supplies:
Craft sticks
Frosting
Sugar cookies
Sprinkles or small candies
Paper plates
Printable cookie sequence sheet (located below)
Scissors
Glue sticks
Crayons
If you don't have a budget for this activity you might consider asking the parents to donate the ingredients.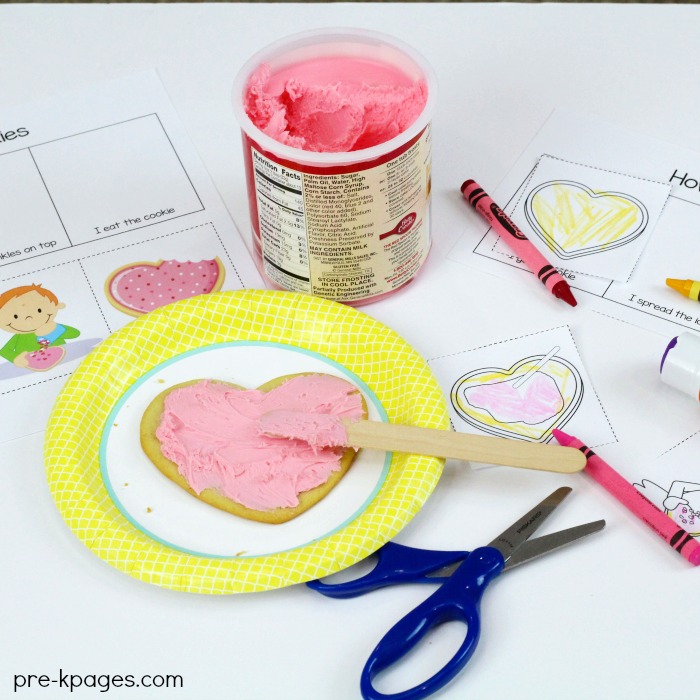 Decorating Cookies for Valentine's Day
First, print one cookie sequence sheet for each child in your small group.
Next, set up the ingredients and supplies so everything is located in one place and easy for the kids to reach.
I have also included a set of printable cards if you would like to use them to demonstrate the sequence in a pocket chart for your small group.
You could also print the cards on cardstock and place them in a pocket chart center for independent practice.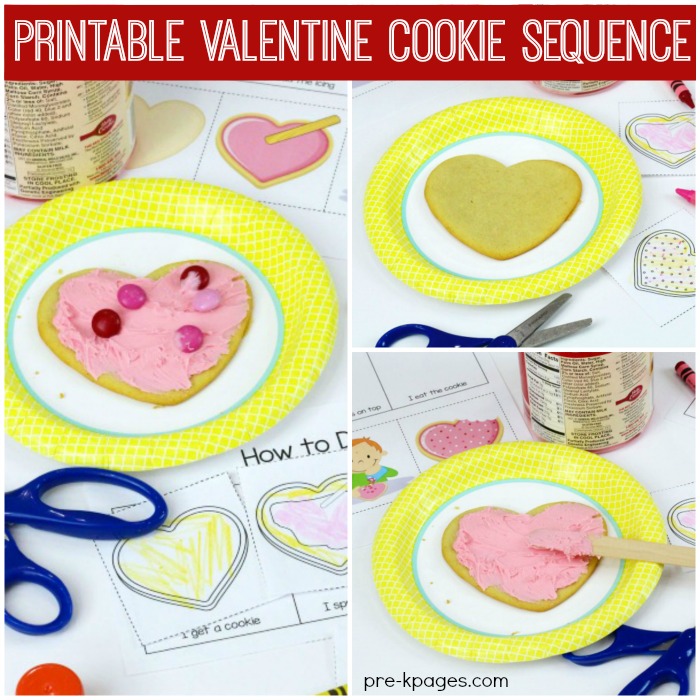 Valentine Cookie Decorating Sequence Skills
Finally, introduce the children to all of the ingredients and demonstrate the cookie decorating process for them using both the picture cards and a real cookie.
Explain how much frosting each child can use and how many sprinkles or candies they can put on top. You may want to put individual portions of frosting and sprinkles on each child's plate to avoid running out of supplies too soon.
Introduce the children to the sequencing sheet and demonstrate how to color, cut, and glue the pictures of the process in order.
Valentine Cookie Sequence Printable

Valentine's Day Activities For Pre-K
There are so many activities that you can incorporate into your classroom for Valentine's Day! You can incorporate the holiday into your math activity literacy activity or use books to celebrate Valentine's Day!
A light table activity is also a great way to center the lesson around Valentine's Day. When your kids are picking up and manipulating the plastic hearts on the light table they'll be engaging in sensory play and developing those important fine motor skills too!
And no preschool Valentine's Day theme would be complete without a Valentine play dough activity. Playing with play dough is a great way for kids to practice their fine motor skills in a fun, hands-on way. The simple act of pressing chenille stems, beads, cookie cutters into dough has so many benefits for young children.
Your pre-K or kindergarten students could also work on their sight words during the holiday as well.  Using Valentine card sight words is a  highly engaging and fun activity can help your pre-k or kindergarten students get even more excited to practice their sight words.
You could also incorporate songs into the holiday. You can sing Valentine songs during circle time, transitions, or whenever your kids just need to refocus and get their wiggles out!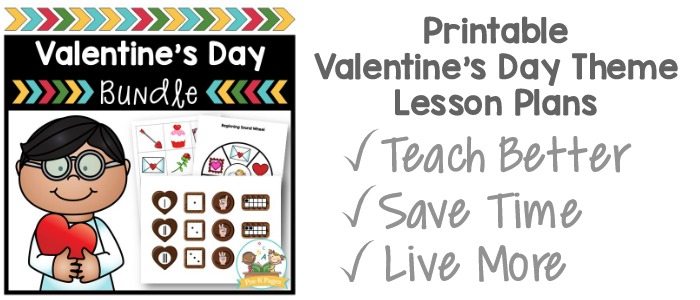 More Valentine's Day Activities