The listening center is a must have center in every early childhood classroom, but not all listening centers were created equal. In the past, the listening center has been a source of frustration for many teachers and young children. From tangled headphones, to frequent changing of the CDs or cassettes, and constant fast forwarding and rewinding – the listening center can quickly lead to problems.
But did you know that there's an easier way? A way to have a listening center that is not only easy to set-up but one that your kids can use independently?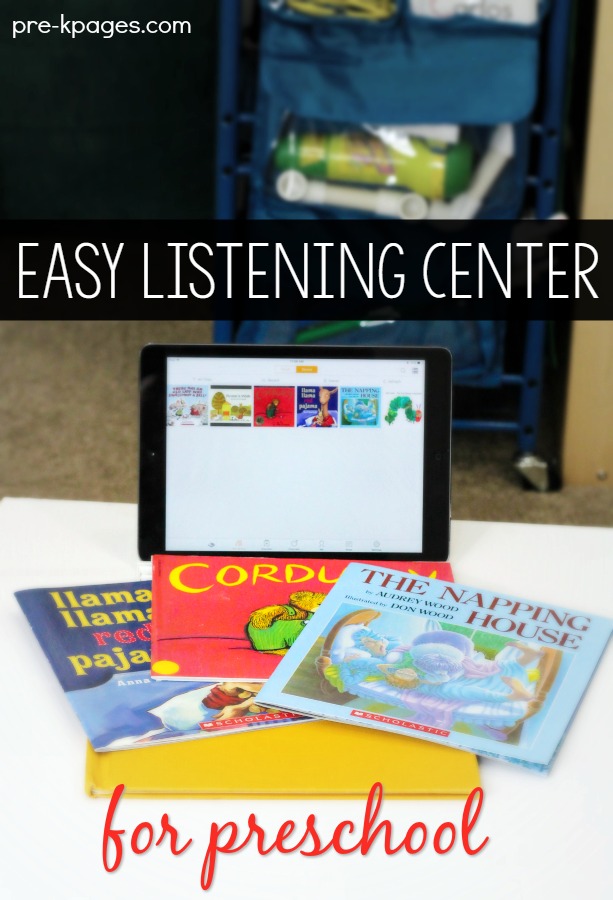 iPad Listening Center
The quickest and easiest way to create a listening center your kids can use independently is to use a device, like an iPad. Using an iPad is so much easier than the old fashioned cassette tape players, CD players, or even iPods. Young children can easily use the iPad by tapping on the pictures, there is no need to rewind, fast forward, eject, or switch CDs or cassette tapes.
When your students use an iPad as a listening center you will have more time for teaching because less time will be spent helping students use the listening center.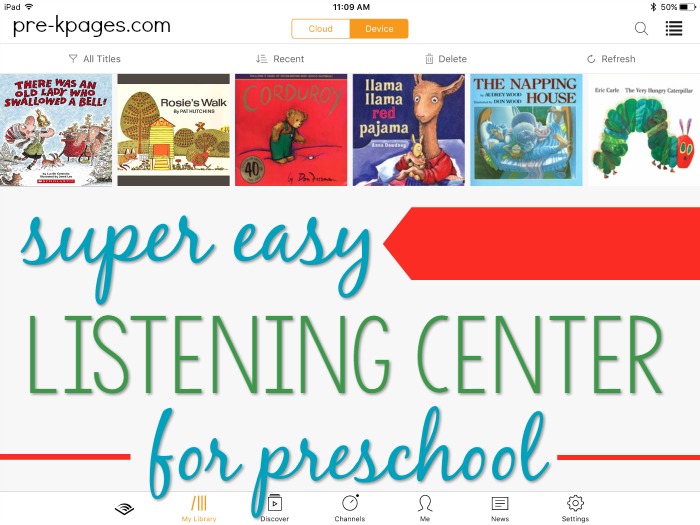 How to get started using an iPad as a listening center in your classroom:
STEP 1: Download the free Audible app to your device and log-in with your Amazon credentials.
STEP 2: On a desktop computer, go to Amazon and search for Audible versions of children's books and purchase. Don't forget to order headphones and a headphone splitter so multiple children can listen to a story on one device.
STEP 3: Open the Audible app on your device with Wi-Fi enabled and go to "my library", then tap "refresh". Your Audible purchases will now be visible within the app. Tap the arrow to download the books directly to the app.
STEP 4: Gather the books that match the Audible versions you purchased.
STEP 5: Turn Wi-Fi OFF on your device.
STEP 6: Now your students can listen to the audio versions of the books on the device while following along in a real book. No Wi-Fi is necessary in the classroom.
Here are some of my favorite children's books available on Audible: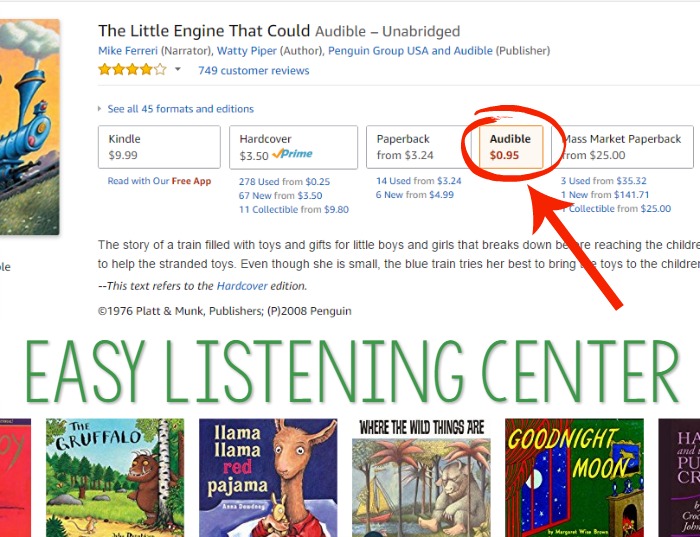 Audible Listening Center
Here are the most frequently asked questions about using Audible in the classroom:
Do I need to purchase a subscription to Audible? No, you can buy the books a-la-carte on Amazon.
Does listening to Audible books use data on my device? When you download a book to your device it will use some data. But, when you listen to a book you have already downloaded on your device it will not use data.
Do I need to have Wi-Fi in my classroom? No, you can purchase the books and load them to your device at home, or in a location where you have access to Wi-Fi. Then, use the device with Wi-Fi OFF to listen to books at school.
More Center Ideas from Pre-K Pages