Mini erasers are small, rubber erasers that are often used in preschool or kindergarten classrooms. These little erasers make perfect math manipulatives because they are inexpensive and available in a wide variety of different styles.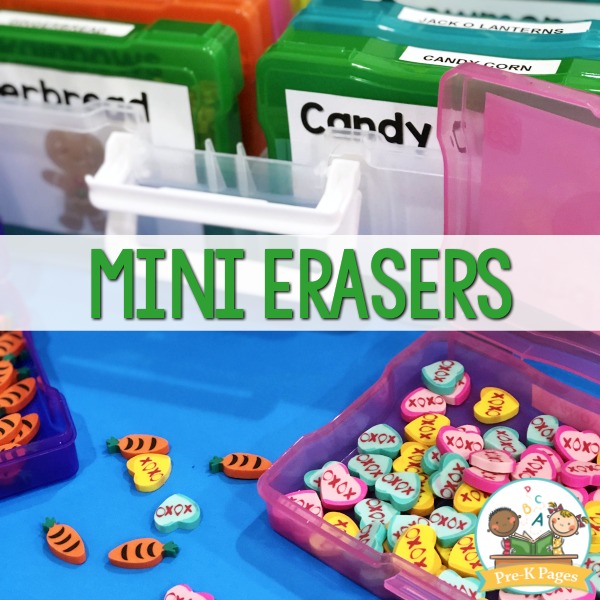 Some of the most popular erasers include candy corn, candy canes, pumpkins, emojis, pineapples, rabbits, Easter Eggs, Christmas trees, mermaids and more. Keep reading to find out how I use mini-erasers to teach basic math skills and grab your set of complimentary printables to use in your classroom!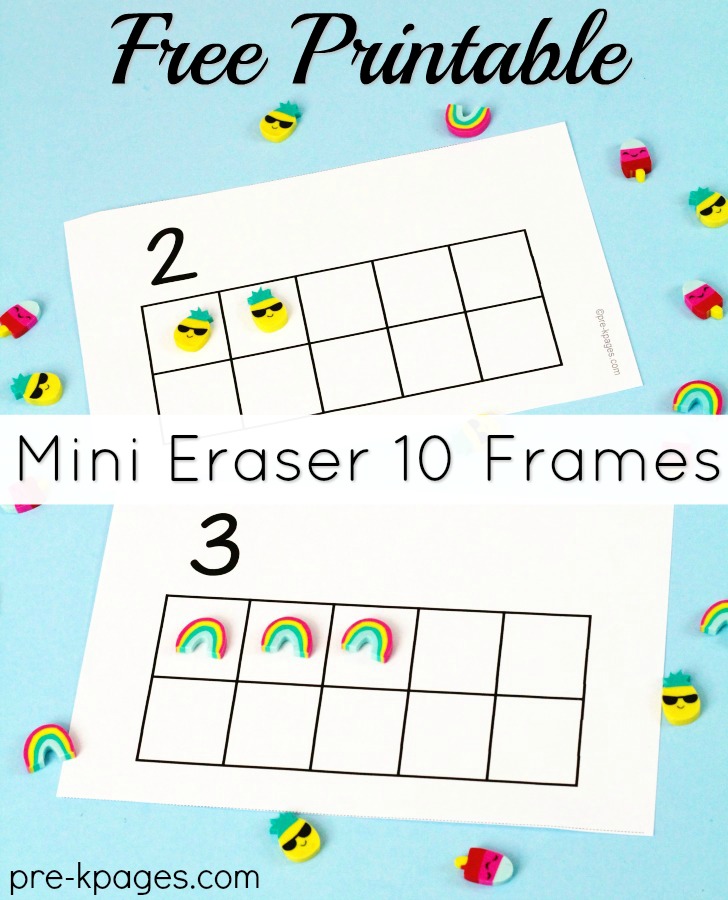 Teach Math Skills with Mini Erasers
Mini erasers are perfect for teaching basic math skills like counting, patterning, sorting, graphing and more. The pineapples, popsicles, and rainbows pictured above are from Target.
I first started using mini erasers in my classroom in the late 90's when I discovered the website Oriental.com. Children love using mini erasers because they are unique and can be changed out often to keep learning fun and exciting.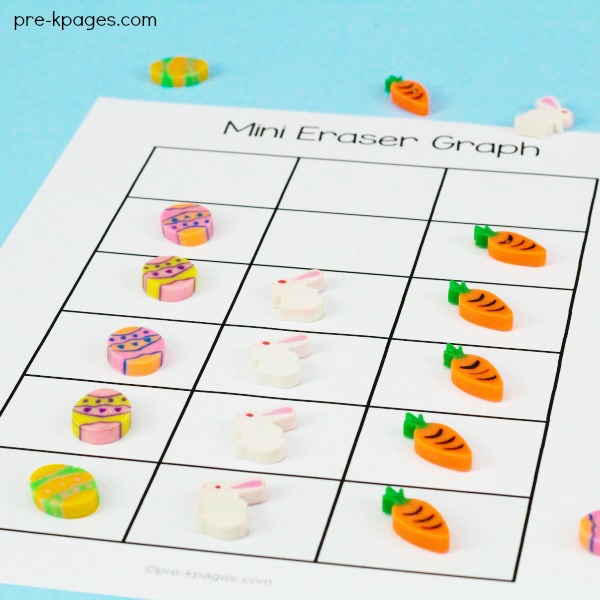 Mini Eraser Graphing
I found these erasers at Oriental.com several years ago. But Target often stocks their Bullseye Playground (formerly the Dollar Spot) with these types of mini erasers, making them readily available to teachers throughout the US. This widespread availability has increased the popularity of mini erasers for teaching math skills and more in the classroom.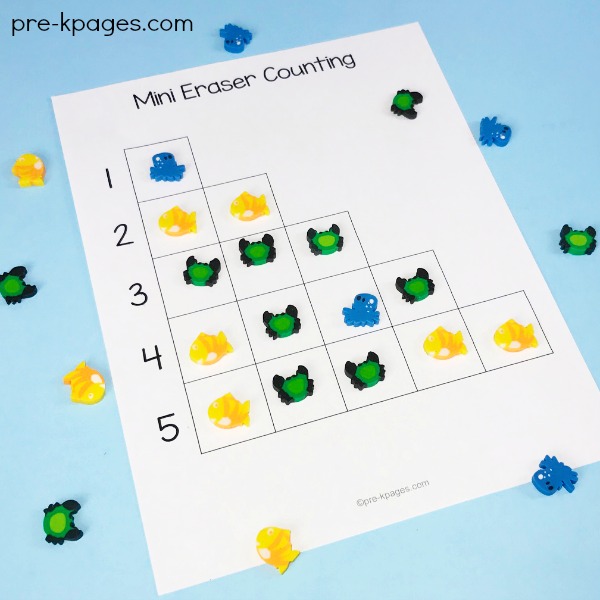 Mini Eraser Counting
I found these ocean theme erasers at the Dollar Tree. Your students can practice counting and recognizing numerals 1-5 with this printable. I have also included a printable for numbers 1-10 for those students who are more advanced.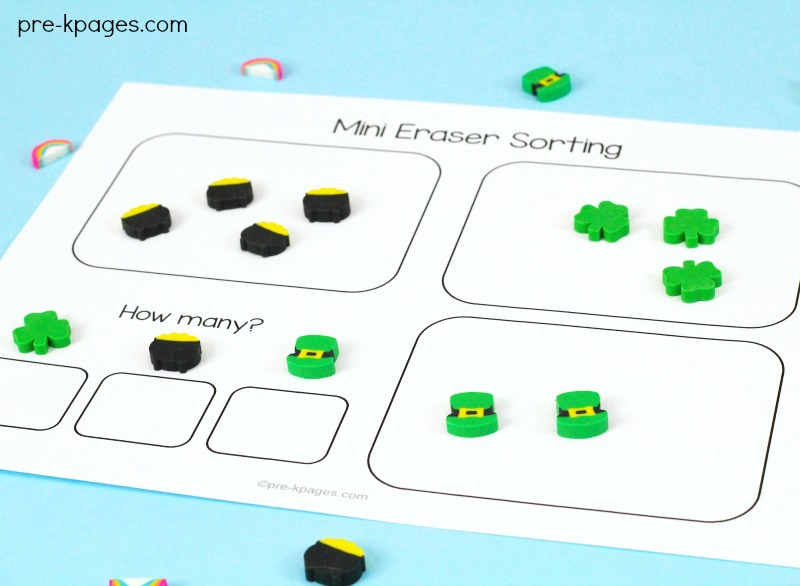 Mini Eraser Sorting
I found these St. Patrick's Day mini erasers at Party City. With this printable, your students will take a handful of erasers and sort them into the appropriate rectangles, then record how many of each eraser they counted in the boxes provided.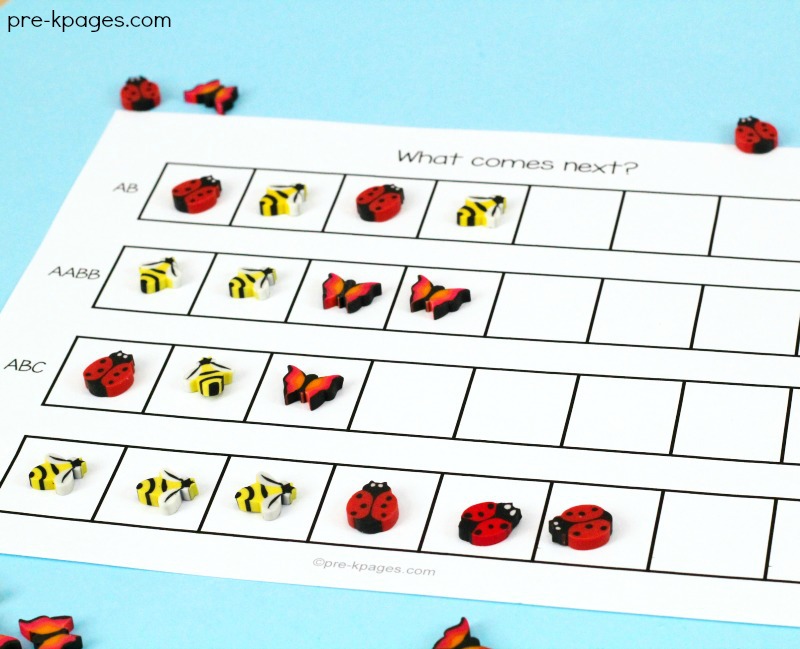 Mini Eraser Patterns
I found these
insect erasers on Amazon
. Your students can use the mini erasers to make different types of patterns with this printable.
Watch the Video
You can download these free, blank mini eraser printables HERE. If you like these, check out my bundle of mini eraser activities with pictures for specific themes.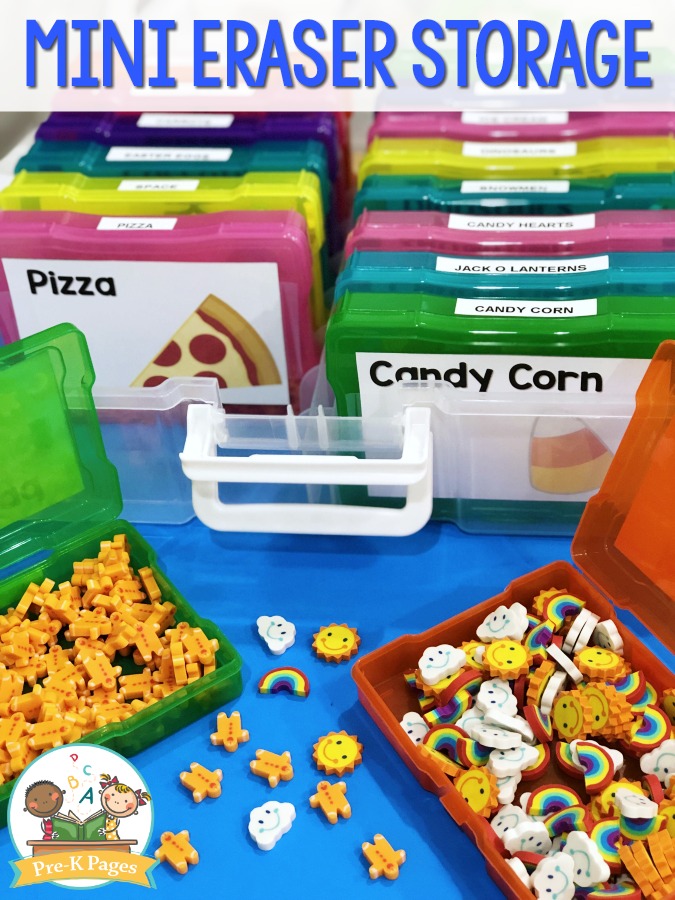 Once you start collecting mini erasers you'll want to find an easy storage solution as quickly as possible. Pictured above you can see mini erasers stored in Iris containers. These storage boxes are perfect for holding your mini eraser collection!
More Math Resources:
5 Little Monkeys Printable
Developing Number Sense in Preschool
Math Picture Books for Preschool