Today's guest post is written by Shannon Samulski of Strategic Intervention Solutions
Have you ever wondered how you can help your pre-k or kindergarten children develop a deeper understanding of number sense?
As I look down the math section of our son's kindergarten report card, I notice the following are checked off noting he has successfully mastered:
Counting to 100
Skip counting by 10s
Skip counting by 5s
Recognizes the digits 0-20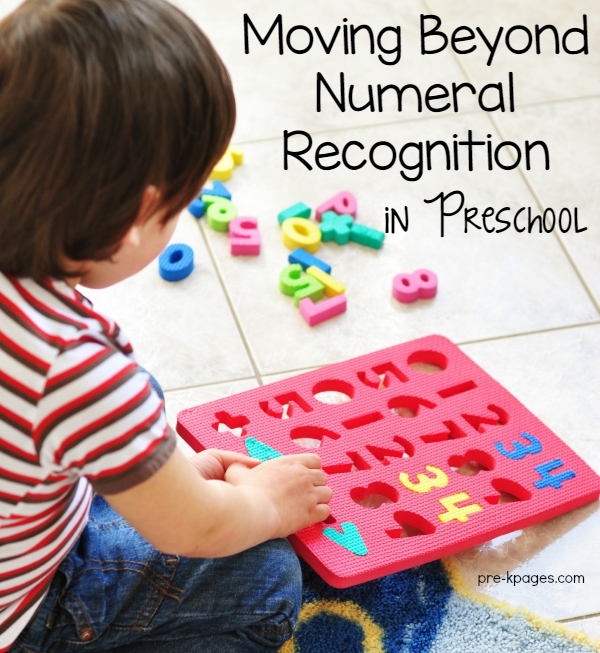 Developing Number Sense
I started to ask myself does any of this really have anything to do with numeracy and number sense? Why do we focus so much in pre-k and kindergarten on rote counting and numeral recognition? Although these are important concepts, isn't time better spent developing true number sense? If a child can recognize the numeral 8, they may recognize the symbol, but they may not truly understand what that numeral represents without counting each object one-to-one. When you ask a child how they knew what the amount was, they may tell you they knew there were eight because they counted or because they just "knowed it".
Let's look at the numeral 13 vs. the quantity for example:
When asked what "13" is, some children will say 13 is a "1" and a "3" or will recognize and name it as the numeral 13. However, when a child is flashed (aka subitize = tell me quickly without counting) the quantity of 13 (in this example with a full ten frame and a ten frame with 3) they often will not know how many they saw or will count the dots one-to-one.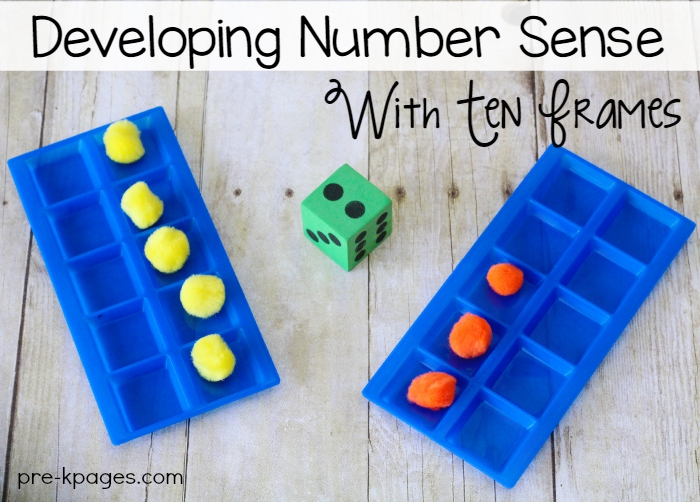 What would happen if a child said he knew how many because there were three at the top and 7 empty spaces and 10-7=3." You would think, "Wow, that child has great numeracy skills!"
How do we get children to move from just rote identification of numerals to actually understanding number quantity and having reason for why they know what they know? How will these skills help them as they learn to add and subtract?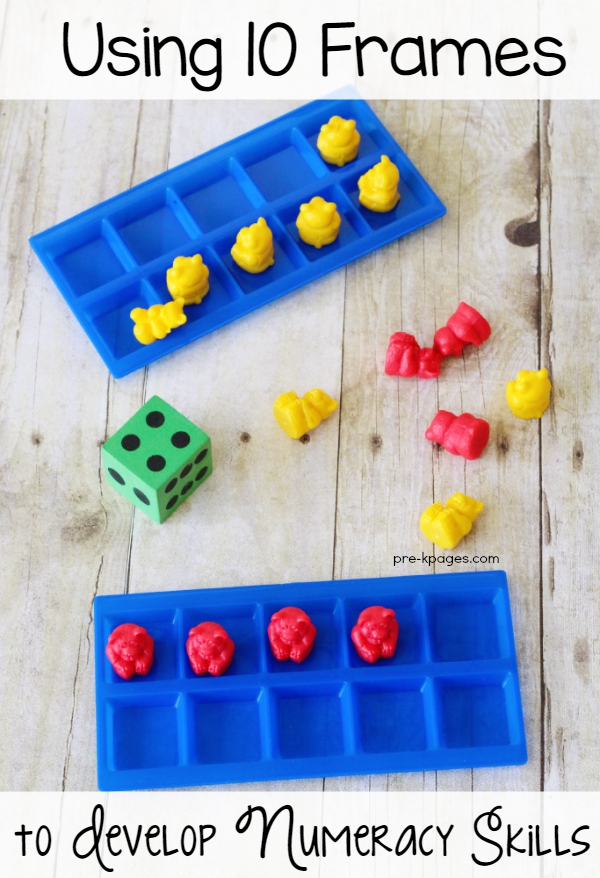 First, children need to understand this concept using a consistent arrangement such as five frame or ten frame. Many children who are familiar with board games may also recognize dice or domino patterns and be able to tell you "how many" without counting.
As children develop these skills over time using five and ten frames as a scaffold, they will begin to recognize scattered arrangements by telling how they "decomposed" parts of the number to recognize the whole.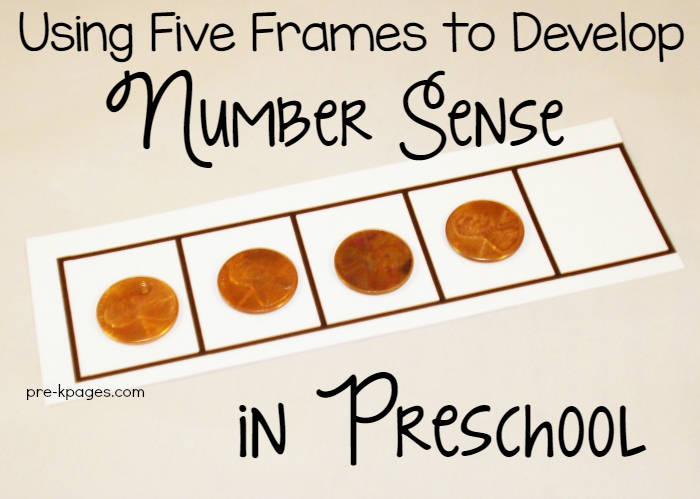 Five Frame
Responses might be:
"Four because one is empty and 5-4 is 1"
"Four because 2 and 2 is 4"
"Four because 3 and 1 is 4"
Deck O' Dots
There are many fun games children can play while working on these skills. Let's take a look at a simple game- similar to war, called Deck o' Dots Duel where two children use Deck O' Dots cards to show their reasoning.
We can easily build on this concept as children begin to understand combinations by playing the same game using a double flip of the cards.
The cards used in this video are Deck O' Dots created by Strategic Intervention Solutions.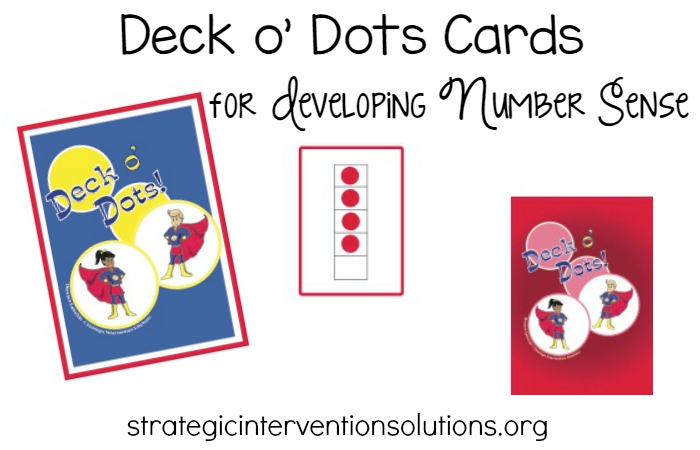 Introducing Deck O' Dots!
Meet Sally and Sam, the Subitizing Super Heroes! This unique deck of cards will provide hours of fun while building essential numeracy skills to promote mathematical thinking.
Deck O' Dots is a deck of cards specifically designed without numerals to help children to subitize (instantly recognize number quantity) in order to develop higher order thinking skills in mathematics and build a strong foundation for future success.
There are three distinct levels within the deck to help differentiate and meet the needs of all learners:
Red Cards: For children learning how to subitize (instantly recognize) arranged quantities to 5 within the five frame structure.
Yellow Cards: For children learning how to subitize (instantly recognize) arranged quantities to 10 within the ten frame structure.
Green Cards: For children learning how to subitize (instantly recognize) scattered quantities through 10.
The cards with quantities 6-10 have a star on Sam's cape, look for
 the stars to help you sort the deck easily from 0-5 or 6-10.
Check out all the fun games you can play with Deck o Dots. Deck o dots is available in the Strategic Intervention Solutions store.
Playing a variety of games such as these can help children better understand number quantity and will help them as they begin to add and subtract. The best part is they are having fun while building basic math skills that will promote lifelong mathematical thinking.
BIO: Shannon Samulski is the founder of Strategic Intervention Solutions and is an international educational consultant and author. She has
 over 15 years of teaching experience and is well known for her practical information and enthusiastic style! Shannon works with 1000s of teacher each year within her "Making the Shift Math Initiative and Coaching Series", which embeds numeracy concepts within 21 century teaching and reasoning in mathematics. She is the creator of the My Counting Buddy math manipulative and Deck o' Dots.
More Math Ideas from Pre-K Pages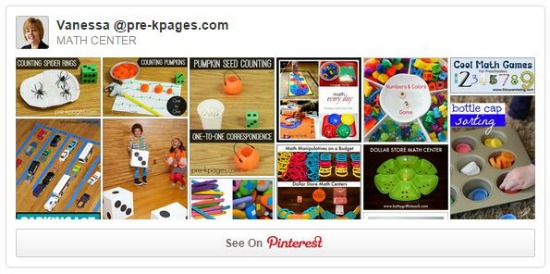 Follow my Math Center Pinterest Board for great activity ideas!