Are you looking for an easy gift your kids can make for Mother's Day? One that doesn't require tons of prep work but every mom will adore and cherish forever? Then you're in the right place! This  is a Mother's Day thumbprint keepsake kids can make!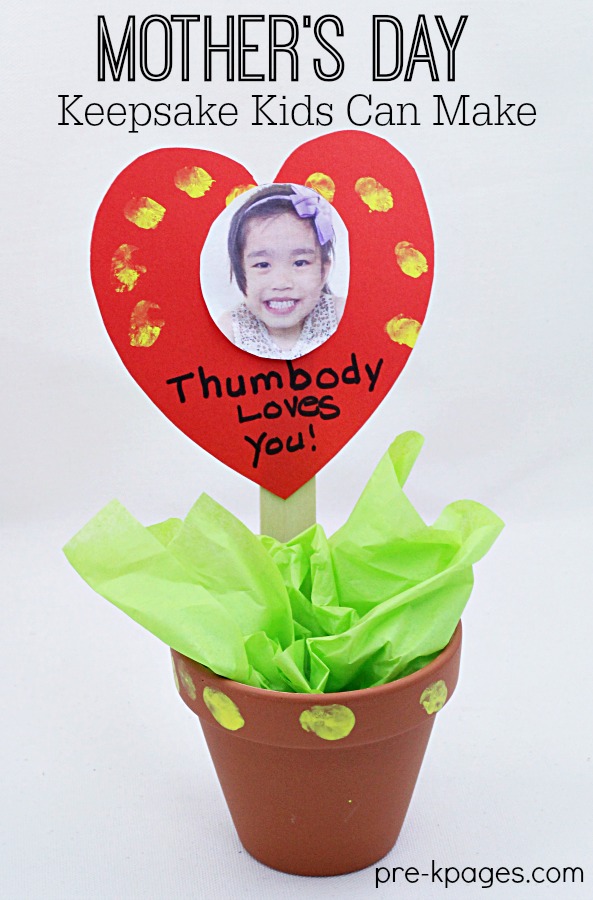 Mother's Day Keepsake Kids Can Make
After years of making Mother's Day gifts with kids in the classroom I have learned that what parents appreciate and like the most are keepsake gifts that incorporate any or all of the following: their child's picture, and their child's handprints or fingerprint art projects.
Keep reading to learn how to make this super easy  kids craft that you can use for Mother's Day or any special occasion. This is an easy keepsake kids can make and the parents will love!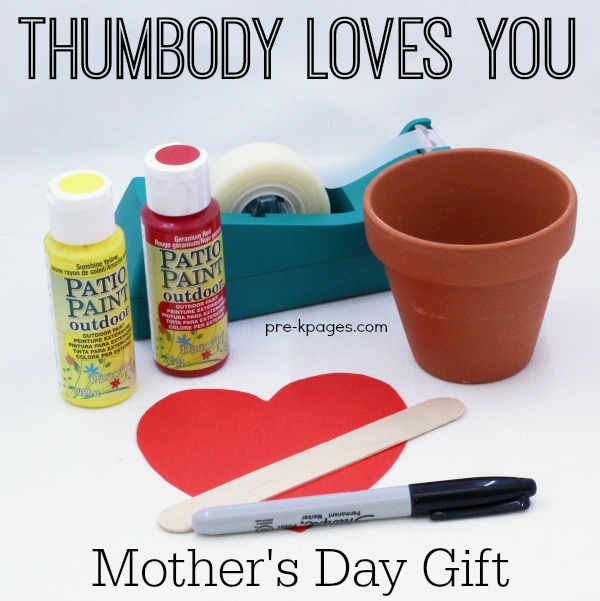 Mother's Day Thumbprint Keepsake Supplies
Here are the supplies you need to make this thumbprint keepsake craft for kids:
Green tissue paper
1 craft stick per child
1 pot or cup per child (whatever your budget allows)
Photo of each child
Glue stick
Scissors
Tape
Paint (I used patio paint, but you could use acrylic if you prefer)
Construction paper
Marker or pencil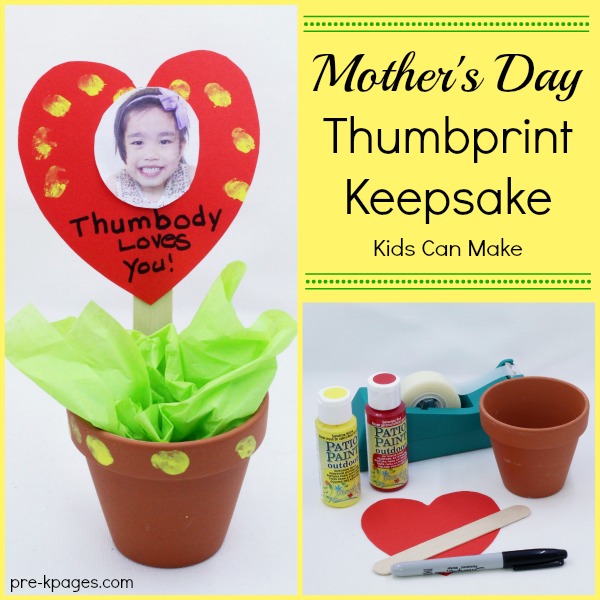 Thumbprint Keepsake Set-Up
First, trace and cut out hearts from a variety of different colors of construction paper. If you have a die-cut machine and a heart shape, you can use that instead to save time or you can invite the kids to cut out the hearts.
Next, print one photograph of each child in your class. This will look best on glossy photograph paper, but it will be fine if you use regular paper or cardstock.
Now you're ready to invite a group of children to gather at a table and start making their keepsakes for Mom.
How to Make a Thumbprint Keepsake for Mother's Day
Start by inviting kids to select a heart in the color of their choice, then use their thumbs to paint thumbprints on the front of the heart and their pots (or cups) with paint. You may want to do this project over two days to allow the paint to dry.
After the thumbprints are dry, write the words "Thumbody Loves You" on each heart with your marker. If you prefer, you could print the phrase on your computer and cut and paste the phrases on the hearts OR you could write the phrase directly on the pot or cup itself.
Now kids can glue their picture to the front of their heart. Next, have them tape a craft stick to the back of the heart. Invite them to crumple up a sheet of green tissue paper and place it in their cup or pot. Finally, have kids place their heart "flower" into the pot or cup.
More Mother's Day Resources
Mother's Day Gifts Kids Can Make
Mother's Day Gifts with Sticky Paper
Homemade Sugar Scrub Gift for Mom

Follow my Mother's Day board on Pinterest for more great ideas!