Good physical science books are hard to find, especially books that explain things in a way that is easy for young children to understand.
Here's a list of the best age-appropriate books to help you teach physical science concepts to your preschool or kindergarten kids.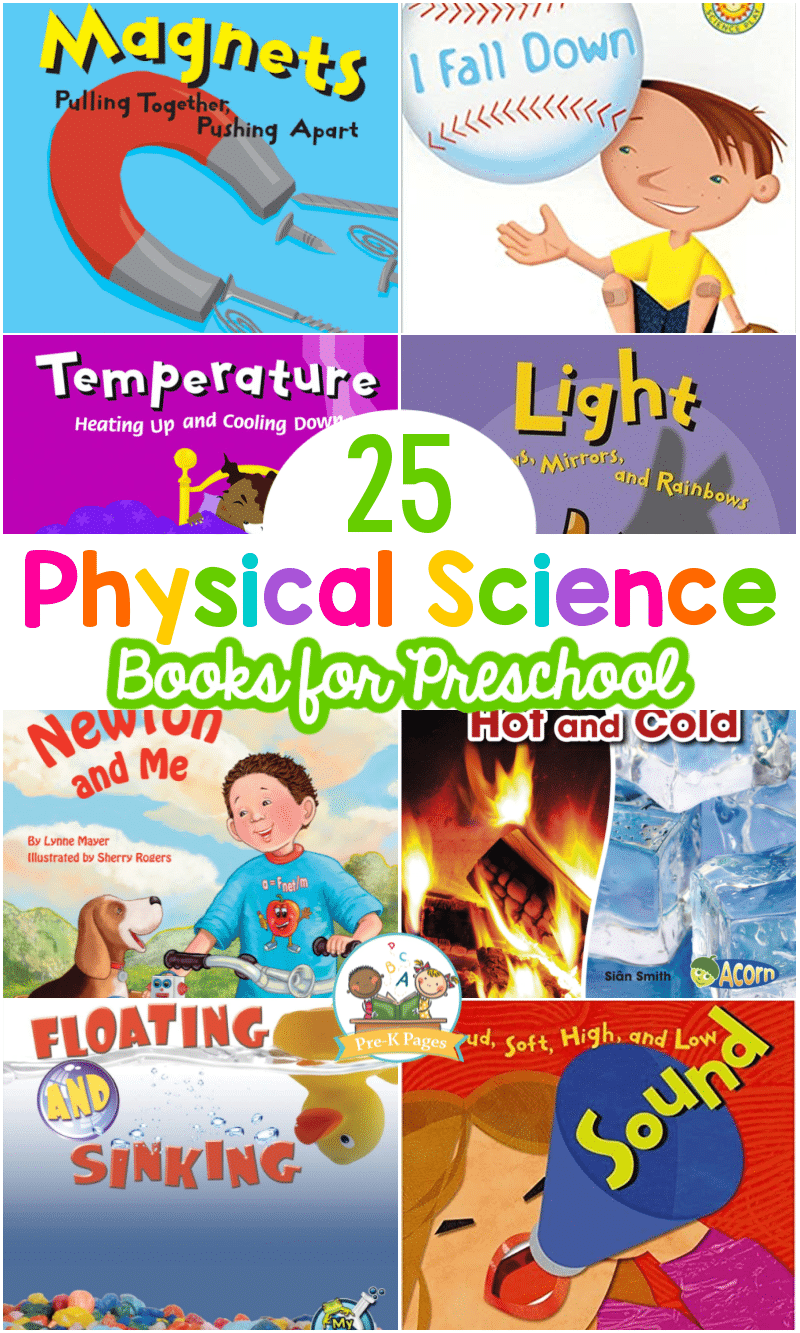 Physical Science Books for Preschoolers
1.
I Fall Down
, by Vicki Cobb – If you've ever wondered how on earth to teach the concept of gravity to young children, look no further! Clever author Vicki Cobb uses kid-friendly examples and language with a focus on inquiry and play to explain gravity in a way even preschoolers can understand.
2.
A Look at Magnets
by Barbara Alpert – Magnets stick to your refrigerator. Magnets make paperclips jump. Find out the facts on magnets.
3.
A Nest Is Noisy
by Dianna Hutts Aston – From tiny bee hummingbird nests to orangutan nests high in the rainforest canopy, an incredible variety of nests are showcased here in all their splendor.
4.
All about Matter
by Mari Schuh – It's everywhere. It's a solid, a liquid, or a gas.
5.
Floating and Sinking
by Amy Hansen – Examines factors, such as density and shape, that determine whether a material will float or sink in water.
6.
Newton and Me
by Lynne Mayer – A rhyming book about Newton for littles? Yes, please! A boy and his dog have a fun day throwing a ball, pulling a wagon, riding a bike, and much more.
7.
Guess Whose Shadow?
by Stephen R. Swinburne – Introduces children to the basics of shadows. Go on a shadow hunt, playing a game called "Guess Whose Shadow?," in which young ones will discover there's more to shadows than first meets the eye.
8.
Hot and Cold
, by Sian Smith – Young readers are shown fun and familiar examples of hot and cold things and quized on their ability to identify things that are hot or cold.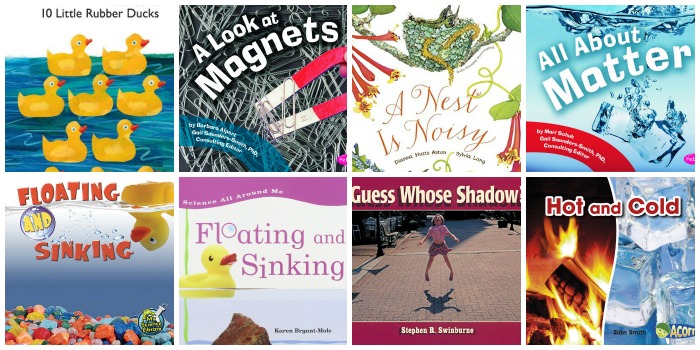 The Best Physical science Books for Preschool
9.
Light: Shadows, Mirrors, and Rainbows
by Natalie Rosinsky – Learn about light, and discover how to make reflections, shadows, and rainbows.
10.
Magnet Max
by Monica Lozano Hughes – Magnet Max loves experimenting with magnets. He knows all about how they work and loves using them to attract new types of things. But when he shows them to his friend Nick, the other boy is baffled. Will magnets stick to a paperclip? A refrigerator? A horse? How do they work, anyway? It must be magic!
11.
Magnets Push, Magnets Pull
by Mark Weakland – Can a magnet really crush a car? How do magnets stick to the fridge without tape or glue? Discover the wonder and science of magnets.
12.
Magnets: Pulling Together, Pushing Apart
by Natalie Rosinsky – Compasses and magnetite, magnetic poles and motors – learn about how magnets affect our lives.
13.
Matter: See It, Touch It, Taste It, Smell It
, by Darlene Stille – The states of matter (solids, liquids, and gases) are explained and demonstrated. Includes an experiment to try.
14.
A Look at Magnets
, by Barbara Susan Alpert – Your little learners will be eager to experiment with magnets after reading this age-appropriate book filled with full color photographs and easy to understand examples.
15.
Moonbear's Shadow
by Frank Asch – One sunny day Bear decides to go fishing, but his shadow keeps scaring the fish away, time and time again. Bear tries everything he can think of to get rid of this pesky nuisance. And at last he succeeds—or so he thinks!
16.
Shadows and Reflections
by Tana Hoban – Shadows and reflections are all around us — under our feet, over our heads, directly in front of us.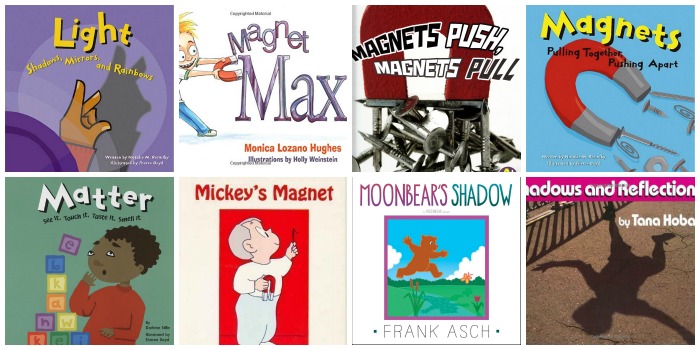 Physical Science Picture Books for Kids
17.
Solids, Liquids, and Gases
by Carol K. Lindeen – Text and photographs introduce matter, solids, liquids, and gases.
18.
Sound: Loud, Soft, High, and Low
by Natalie Rosinsky – Sound is created through vibrations that vary in pitch and volume. This creates sound-waves that you can hear. Includes experiments.
19.
Sounds All Around
by Wendy Pfeffer – Sounds are all around us. Clap your hands, snap your fingers: You're making sounds. Read and find out how people and animals use different kinds of sounds to communicate.
20.
Temperature: Heating Up and Cooling Down
by Darlene Stille – A temperature can be hot or cold, and can be measured by a thermometer. Use Fahrenheit or Celsius to take the temperature of items.
21.
What Can Magnets Do?
by Allan Fowler
22.
All About Sound
by Lisa Trumbauer – Car horns and train whistles, sounds are all around us. Your little learners will enjoy learning all about how sounds are created, how they travel, and how they are heard by the human ear.
23.
What Makes a Magnet?
by Franklyn M. Branley – Will a magnet pick up a paper clip or a feather? The answer is, just the paper clip. Magnets only pick up things that contain bits of iron. Hands-on activities include making a magnet and compass.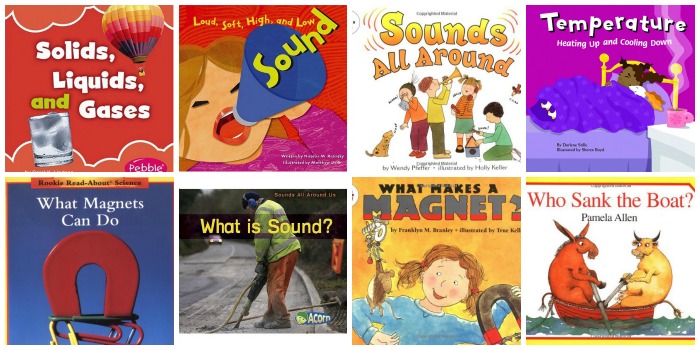 24.
Who Sank the Boat?
by Pamela Allen – Beside the sea, there once lived a cow, a donkey, a sheep, a pig, and a tiny little mouse. One warm, sunny morning–for no particular reason–they decided to go for a row in the bay. Do you know who sank the boat?
25.
What Sinks? What Floats?
by Rozanne Williams – The predictable text and bright illustrations will support your little learners as they learn about things that sink and things that don't.
More Science Ideas