Your young learners will love these age-appropriate dinosaur books. The topic of dinosaurs is very popular with the preschool and kindergarten crowd.
Kids love to dig them up, examine their teeth (or lack of teeth) and they especially love reading dinosaur books full of colorful dinosaur names and pictures. With illustrations depicting their beloved dinosaurs up to all sorts of mischief.
These dinosaur picture books for preschoolers will have your kids stomping and roaring for more!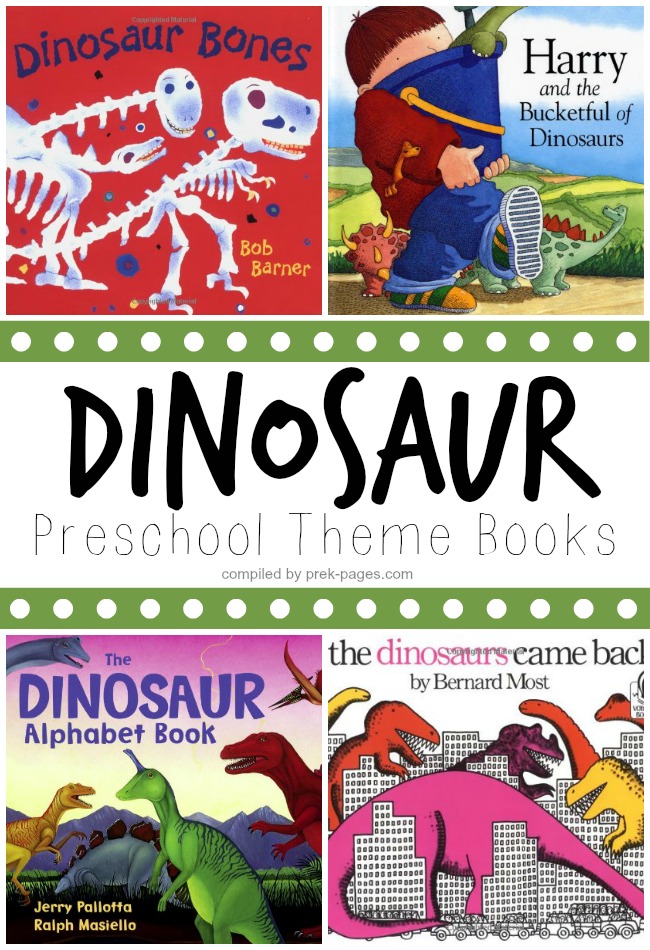 Dinosaur Books for Preschoolers
Here are some of the most fun and engaging dinosaur books for kids to read aloud in your classroom.


Dinosaurs, Dinosaurs by Byron Barton – Dinosaurs lived a long time ago. Big dinosaurs and small dinosaurs. Dinosaurs with horns on their heads or spikes down their backs. Dinosaurs with long, long necks and long, long tails. Your little ones will amaze you with their ability to pronounce the impossibly long dinosaur names.

Bones, Bones, Dinosaur Bones by Byron Barton – With simple text and vibrant illustrations, young readers explore the process of finding and assembling dinosaur fossils.

Dinosaur Bones by Bob Barner – Filled with fun dinosaur facts (a T. Rex skull can weigh up to 750 pounds!) and an informational "Dinometer," Dinosaur Bones is sure to make your young dinosaur enthusiasts roar with delight.

The Dinosaur Alphabet Book by Jerry Pallotta – The perfect way to introduce children to the fascinating world of dinosaurs. Full of interesting facts–did you know some dinosaurs had sharp front teeth while others had no front teeth at all? This alphabet book explores both the known and the not-so-well known dinosaurs, a challenge for your biggest dinosaur buffs!

Ten Terrible Dinosaurs by Paul Stickland – Join this wild bunch of stomping, romping dinosaurs as they dance and roar across the pages. One by one they leave the scene until there is only one sleepy dinosaur left.

Dinosaur Roar! by Henrietta Strickland – all kinds of dinosaurs, including ones that are sweet, grumpy, spiky, or lumpy. A good introduction to opposites for preschoolers. This is the perfect opportunity for creating a class book with your kids!

Dinosaurs Galore! by Giles Andreae – Filled with clever rhymes and brimming with vivid, bold illustrations about every child's favorite: Dinosaurs!
Dinosaur Books for Kids

If the Dinosaurs Came Back by Bernard Most – In this delightful book, a small boy imagines a world where dinosaurs perform public services. The perfect choice for creative and imaginative little ones!

Harry and the Bucketful of Dinosaurs by Ian Whybrow – Harry finds some old dinosaurs in his Grandma's attic. He cleans them up and makes them his own, carefully (and accurately) naming each one. Harry and his dinosaurs go everywhere together. Every child can relate to this sweet tale of lost and found; a must read!

Dinosaurumpus! by Tony Mitton – Shake, shake, shudder … near the sludgy old swamp. The dinosaurs are coming. Get ready to romp! The catchy beat just oozes out of the pages of this one, need I say more?

Dinosaur A-Z: For kids who really love dinosaurs! by Roger Priddy – Features 26 unique dinosaur models, from Allosaurus to Zephrosaurus specially commissioned from experts in the field.

Chalk by Bill Thomson – Three children discover a magical bag of chalk on a rainy day. A delightful, wordless picture book that invites the reader to tell the story.

Saturday Night at the Dinosaur Stomp by Carol Diggory Shields – A rollicking, rhyming dinosaur picture book your kids will be begging you to read again and again. Have you ever wondered what the dinosaurs did for fun?

National Geographic Little Kids First Big Book of Dinosaurs by Catherine D. Hughes – Bursting with fun facts and age appropriate non-fiction information, each spread features a different dinosaur, along with simple text in big type that is perfect for little kids.
You can check your local library or purchase used picture books online to supplement your classroom library affordably.
More Dinosaur Ideas