Are you looking for fun ways to teach shapes to your preschool kids? Try these short and sweet shape songs! These songs about shapes are a simple way to teach shapes in your early childhood classroom in a fun and interactive way. Using music as a teaching tool creates an atmosphere that will help motivate your kids to learn! Once your kids learn that shapes are all around them in the natural world, they'll start to notice and recognize shapes without even realizing it! Use these shape songs as an easy way to help them love to learn and be excited about recognizing shapes!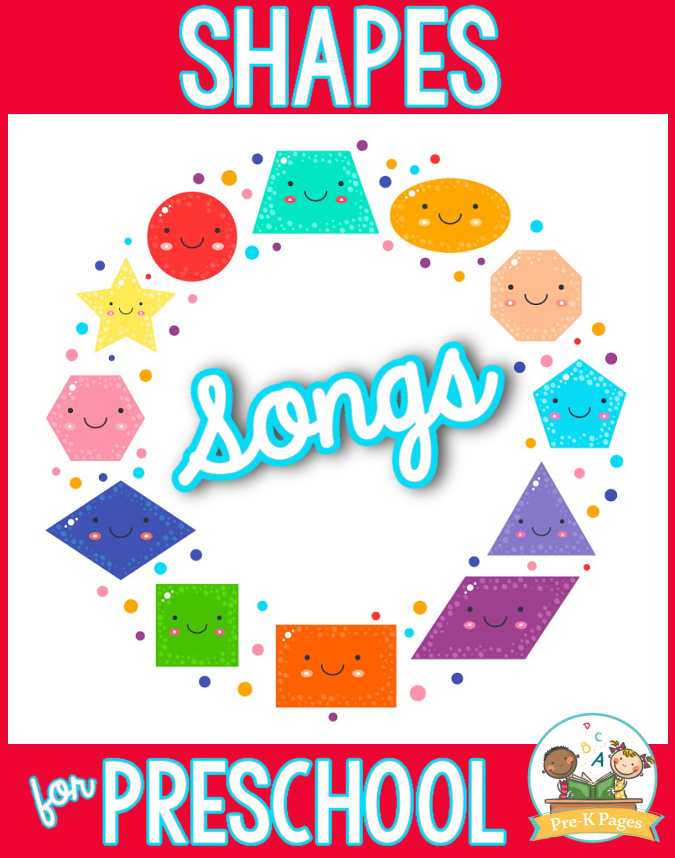 Shape Songs for Preschool
Preschool children are often motivated by music, which is what makes it such a wonderful learning tool to use. While music and hearing the notes can be a fun experience, adding videos as a visual to go along with the songs can really help children retain information in their long term memory.
You can easily add music and songs to your circle time routine, classroom transitions or other downtimes during the day when you want your children to focus, while still having fun and learning.
This list of shape songs for preschoolers is perfect for helping them identify shapes and get out their giggles and wiggles at the same time!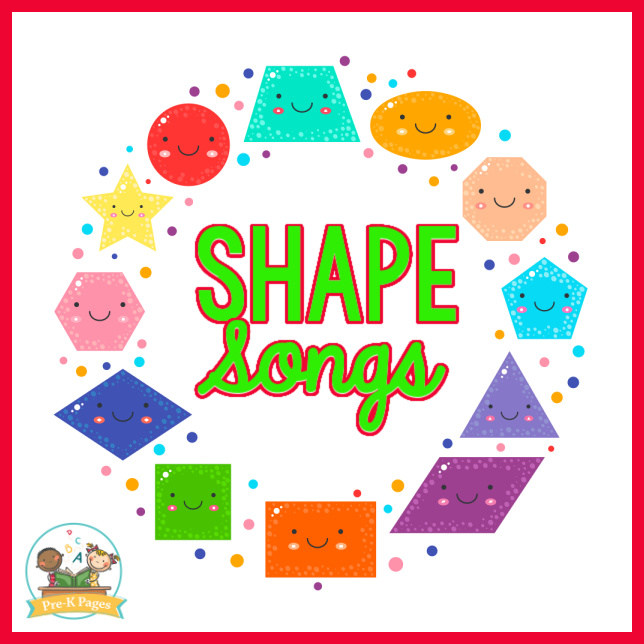 Shape Songs for Preschoolers
YouTube can be a very helpful tool for finding that "just right" music for your little ones. I know you're super busy, so I've taken the time to gather up some of the best Shape Songs for Preschoolers that will get your little learners excited about recognizing and identifying shapes!
You have the option to view these songs online or just press play and listen to the music as well. It's always a good idea to mix and match the sensory activities as that can help with listening skills and visual learning skills, too.
Shapes Song for Kids, by The Singing Walrus

Shape Song, by The Kiboomers

Shapes Are All Around, by Pinkfong

The Shape Song #1, by Super Simple Songs

Finger Shapes, by Nancy Kopman

I'm a Circle, by Jack Hartmann

I'm a Square, by Jack Hartmann

Square Robot, by Pinkfong

Triangle Under the Sea, by Pinkfong

Shapes Song, by The Learning Station

The Shape Song #2, by Super Simple Songs

Triangle, Circle, Square, and Rectangle, by Patty Shukla

2D Shapes
2D Shapes I Know, by Harry Kindergarten

2D Shapes, by Jack Hartmann

3D Shapes
3D Shapes Song, by The Singing Walrus

3D Shapes, by Jack Hartmann

3D Shapes I Know, by Harry Kindergarten

More Math Ideas