Have you ever played the game Simon Says? This snowman listening game is just like Simon Says with a fun, winter twist.
The best part of the snowman listening game is that it can be used all winter in both public and faith based programs, or in your own home.
I also created a set of free printable cards to go along with this game to serve as visual cues for non-readers and second language learners, keep reading to download your copy.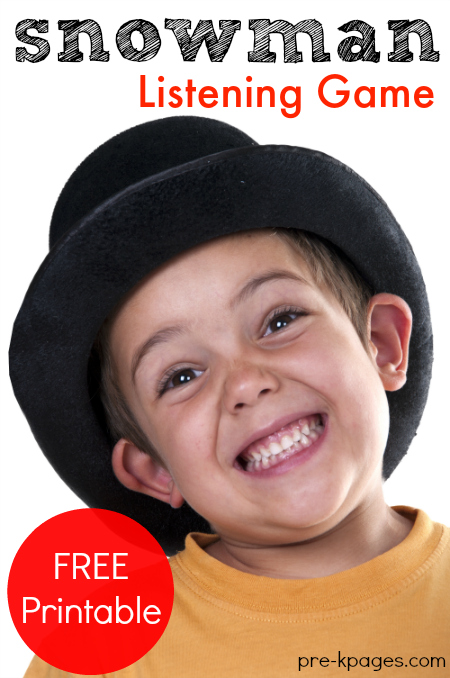 Snowman Listening Game
While it may seem like just another fun game, kids are actually developing listening and self-regulation skills as they play this game.
As the snowman tells them what to do, kids have to listen carefully and follow the directions given. If you've ever played this game with kids you know how much more difficult it is than it sounds.
Kids have to wait to make certain movements until the snowman says; the waiting helps them develop self-regulation skills which are the key to future success in school.
Snowman Supplies
Black Top Hat
Snowman Says game cards (free printable included below)
Cardstock
Scissors
They usually have back top hats at party supply stores or even at Target in the Dollar Spot.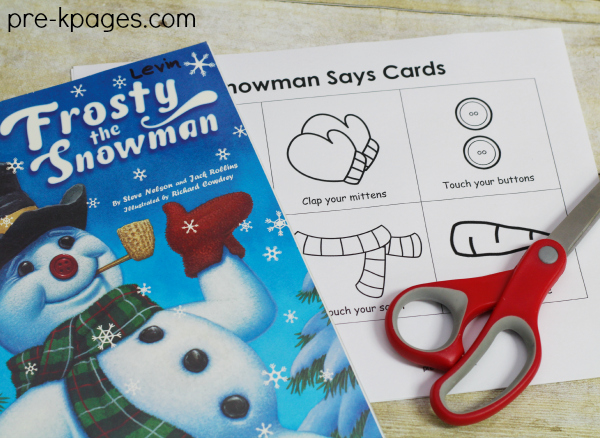 Snowman Listening Game Directions
Choose one child to be the snowman. Then, give the child a black top hat with the picture cards inside. You can also use a brown paper lunch bag instead of a hat and the game will still be fun.
Invite the snowman to stand in front of the class and select one card at a time to "read" aloud.
The students will listen to the snowman and perform the action he or she says. If the snowman does not say "Snowman says" and the students do the action they are "out."
I created a set of free printable cards for you below; the cards have pictures to serve as visual cues for non-readers.
You can print the pictures on cardstock or glue them on index cards and laminate. I have created the cards in black and white to save your ink.
Snowman Listening Game Video
Language Development
Encourage the child who is playing the role of the snowman to use complete sentences to support oral language development. For example, "Snowman says, clap your mittens!"
Extension Activities
I have to admit, my kids have never really called this "The Snowman Listening Game", what they actually call it is "Frosty Says" probably because I always read the book
Frosty the Snowman
in December.
Read Frosty the Snowman to your class and call this game Frosty Says for a great literacy extension!
Another way to play this game is to print out six of the cards and place them in a pocket cube or die. Children can take turns rolling the cube and doing the action rolled.
This game is also great fun for a winter theme party or celebration in your classroom.
Click on the image below to download the Snowman Listening game cards.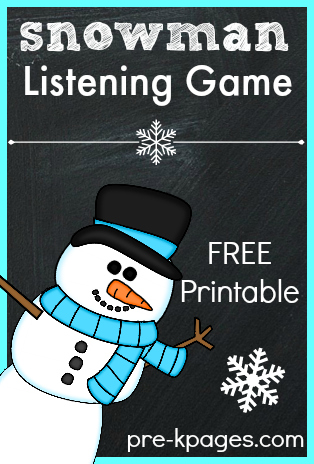 More Winter Ideas