Most teachers look forward to their summer vacations with great anticipation. However, the packing up and storing of all of our teaching supplies and materials at the end of the school year can often be overwhelming.
Does your home become a dumping ground for all of your teacher "stuff" during the summer? Here are a few tips for ditching those summer storage and organization blues!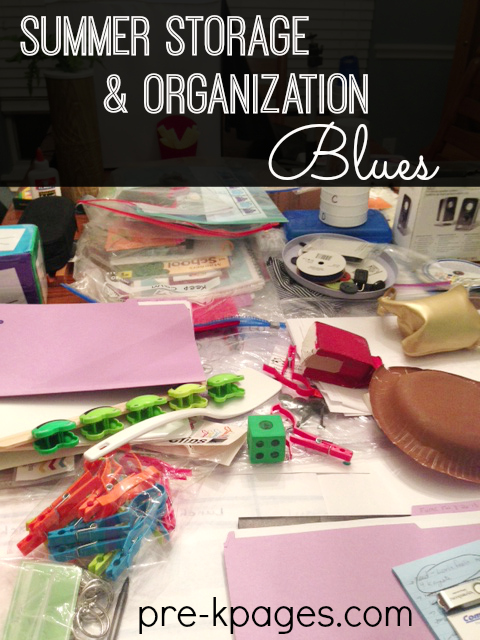 Summer Storage and Organization Blues
The more teacher stuff you have piled around your house during the summer the less productive you are. You sit down to get some much needed planning done and catch a glimpse of something that needs to be put away. The next thing you know you're trying to move or re-organize the piles of junk that you know you can't get rid of until the fall.
Don't let your teacher stuff take over your home this summer!
Teacher Storage and Organization
I store and organize all my teaching stuff with this
PVC shelf unit
. Now nothing comes in the house- ever! I'm so much more productive when I'm not stressing out over a mess in the house.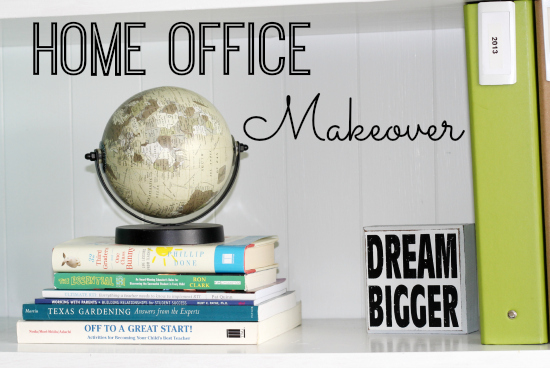 Home Office Makeover
You know what else was slowing me down and making me less productive? My home office! It was drab and full of cast off furniture from my college days. Seriously, I had two ugly black file cabinets, a big brown desk and two ugly printers- blah!
When everything is tidy and organized I can get so much more work done. I started a big home office makeover project that I'm excited to share with you today.
Globe: Tuesday Morning
Dream Bigger Wood Block: Michael's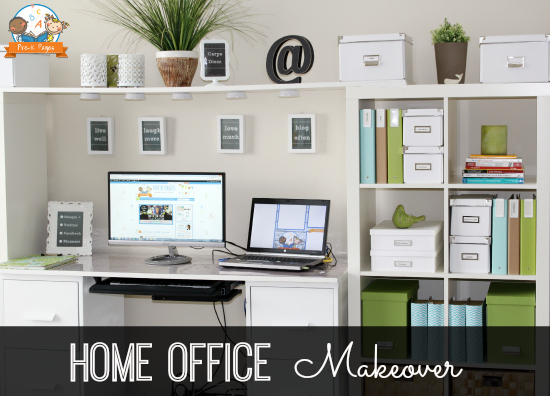 I desperately needed a home office makeover but didn't have big bucks to pull it off. So I did what everybody does these days and created a home office makeover board on Pinterest!
I spray painted the two black file cabinets white and had a piece of shelf material cut at my local home improvement store to serve as the top of the desk. I had another, longer piece of the same board cut to serve as the shelf on top. I just laid the shelves on top of the cabinets, no tools necessary.
File cabinet desk Pinspired by Homeology Modern Vintage.
Expedit shelf idea Pinspired by I Heart Organizing.
White Boxes: IKEA
Picture Frames on Wall: IKEA
Bookcases: Expedit by IKEA (now Kallax)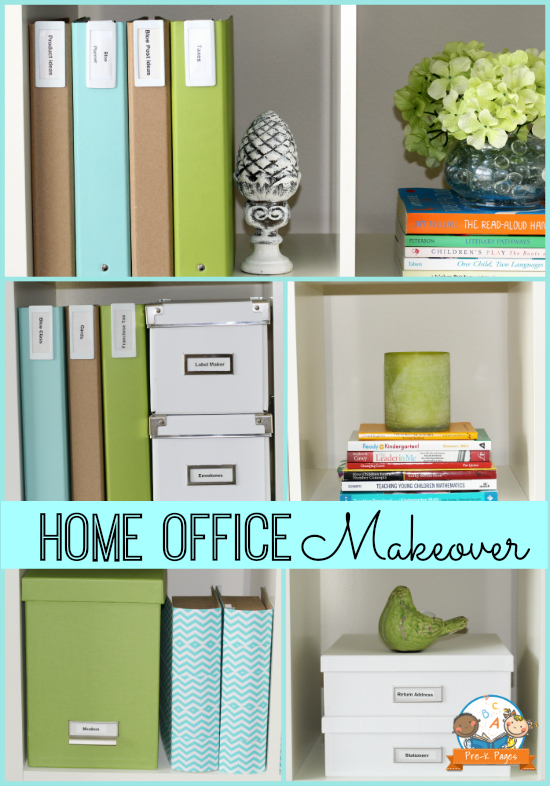 Slowly, over an entire year, I transformed my home office into a tranquil oasis where I can now (hopefully) be more productive- and I did it all on a shoestring budget.
Blue and Green Binders: Office Depot online with coupons
Natural Binders: Target clearance
Flowers, Vase, and Floral Gems: Dollar store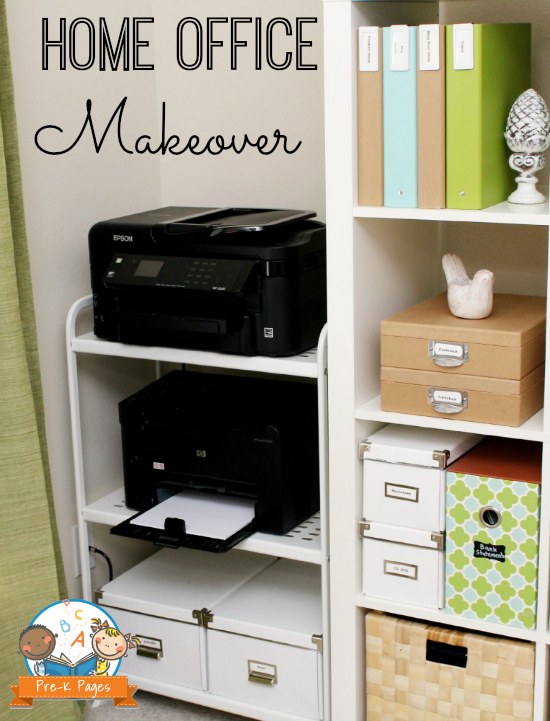 Inexpensive Printer Stand
I desperately wanted to hide my two gigantic, ugly printers. I found the perfect stand at IKEA for $19.99. The printer stand sits in the corner of my home office between a bookcase and a window.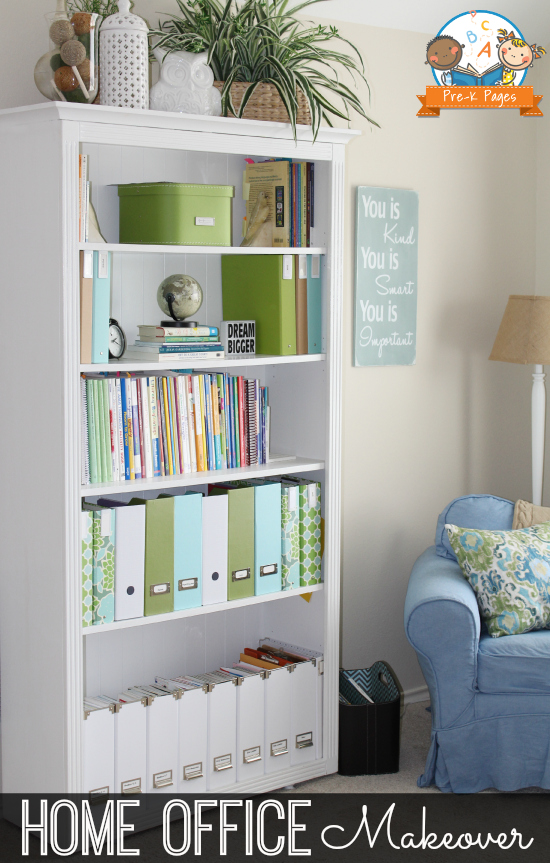 Home Office Bookcase
I already had the bookcase, chair and lamp in my office. I just styled them and added a few small pieces to match the colors in the office.
White Magazine Boxes: IKEA
Blue and Green Magazine Boxes: Office Depot online with coupon
Patterned Binders: Target clearance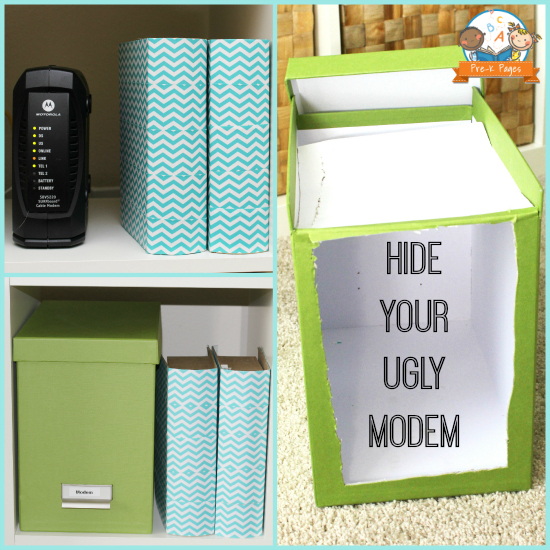 How to Hide Your Modem
You know what else I don't like? The ugly modem that sits on top of my desk! I fixed my modem problem by cutting out the back of a file box and sliding the modem inside. Bye bye ugly modem!
How to Hide Your Router
Speaking of ugly modems, how about that router? This one was totally pinspired and it's awesome!
I didn't have a hardcover book lying around so I bought a hollow, cardboard book at my local craft store. I covered the fake book with designer duct tape and cut out the back.
All other pieces pictured here are from various stores, I have listed some of my favorites for you below:
Home Goods
Hobby Lobby
World Market
Pier One
So what do you think? I would love to hear your thoughts on this home office makeover in the comments below or on Facebook!
More Organization Ideas