These hands-on activities with a Thanksgiving twist will make learning how to count fun for all young children.
Simple math activities such as these will provide opportunities for your kids to develop strong one to one correspondence skills.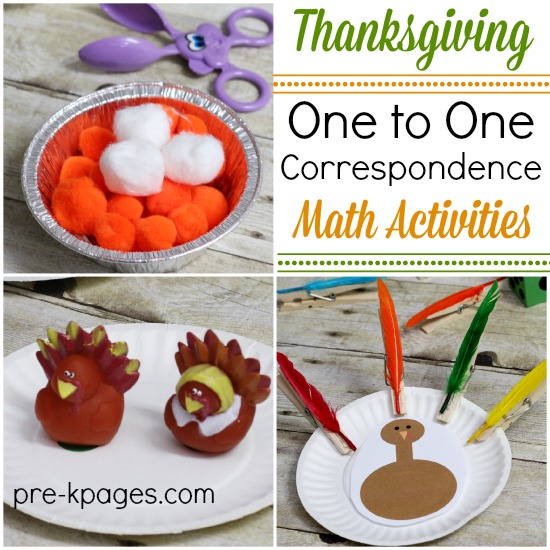 Thanksgiving One to One Correspondence Activities
Learning how to count can be difficult for some young children. There's a big difference between simply reciting the numbers in order from memory (rote counting) and developing a deeper understanding of numbers and their quantities.
One to one correspondence is the act of counting each object once and is a crucial part of developing strong number sense skills.
Using hands-on activities to develop one-ton-correspondence skills is highly effective because kids enjoy touching and manipulating the objects, they are learning through play.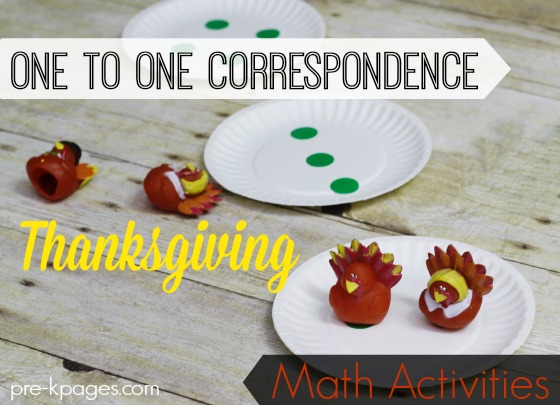 Turkey Dot Plates
Kids love to play with these little turkeys!
Supplies:
6 Paper plates (dollar store)
To prepare, place sticker dots on each plate following the configuration of dots on a die. For example, you would have one plate with only one dot in the middle, another plate with two dots etc.
To play, place all the plates face up on the floor or table in front of your children. Invite the children to match the turkeys to the dots on each plate.
Children can also practice counting the turkeys by touching each one after they have been placed on the plates and saying each number name aloud as they count.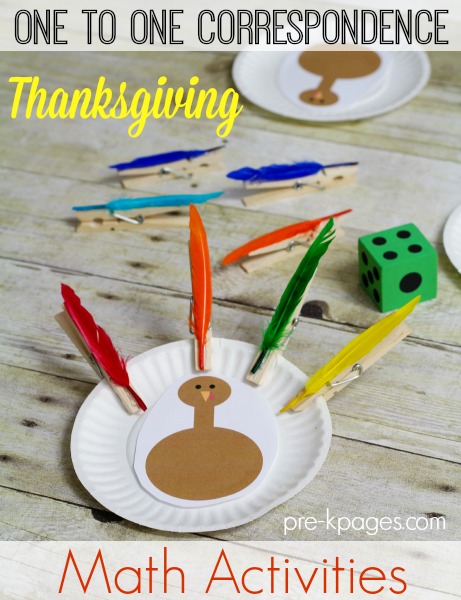 Counting Turkey Feathers
Adding clothespins to this
one-to-one correspondence
activity is a great way for kids to develop fine motor skills too.
Supplies:
Turkey body (free printable HERE)
Paper plates (dollar store)
Start by using your hot glue gun to attach one feather to each clothespin.
Next, print out one turkey body for each child and cut out. You can find the turkey body printable on my turkey math game post.
Then, glue one turkey body to each paper plate and give one to each child.
To play, the children will roll the die, and then clip the corresponding number of clothespins to their turkey.
For more advanced children, you can ask questions like who has more feathers, less etc.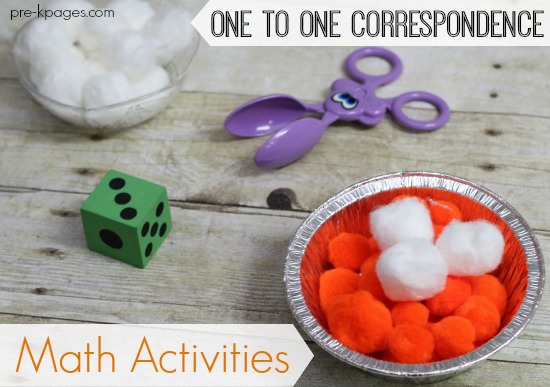 Pumpkin Pie Whipped Topping Activity
You may remember these pom-pom pumpkin pies from my
pumpkin activities
post. Why not use them again for even more learning and fun?
The addition of the tongs provides more fine motor practice too! The tongs in the picture are left over from an Easter egg dying kit.
Supplies:
To prepare, give each child a small pie pan filled with orange pom-poms. Place a bowl of cotton balls in the middle of the table.
Children will take turns rolling the die and using the tongs to place the corresponding number of cotton balls (scoops of whipped topping) on top of their pies.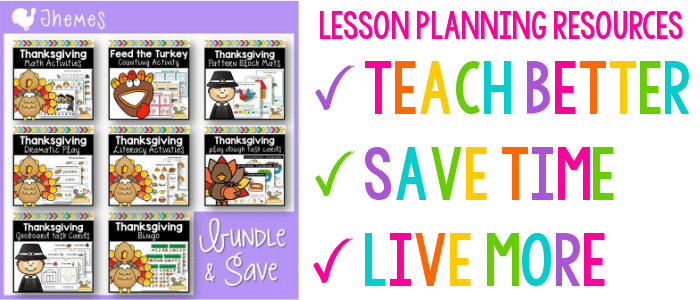 More Thanksgiving Activities