If it's fall it must mean Pumpkin Spice Latte time, right? Pumpkins are everywhere at this time of year and they provide lots of ways for us to make meaningful learning connections for our kids. Here are some of my favorite pumpkin activities for preschool to add a little fun into your pumpkin themed learning activities this fall.
To go along with these pumpkin activiteis for kids, I also created some printable Pumpkin Spice labels you can use in your pretend play center, keep reading to get yours!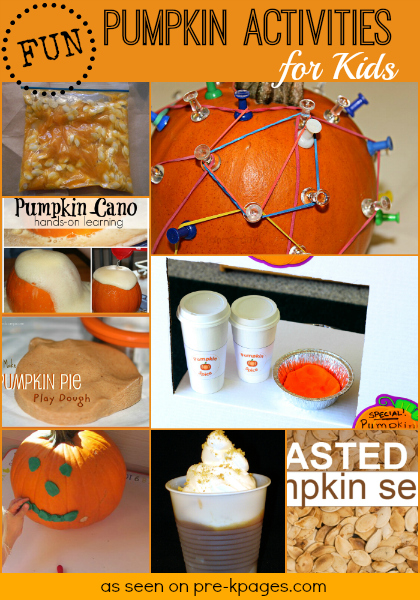 Pretend Pumpkin Patch
I made the walk up pumpkin treat stand pictured below using the exact same method I used to create the ice cream stand.
Since pumpkin spice is so popular I made a set of free labels you can print out and place around disposable coffee cups. Your kids will have a blast placing orders for their very own pumpkin spice drinks at the walk-up window of the Pumpkin Cafe.
They can "drink" their pumpkin spice as they wait in line for a pretend hay ride!
Supplies
Tri-fold display board
Orange duct tape
Box cutter
Tape
Orange pom-poms
Disposable coffee cups
Disposable mini pie pans
Brown felt
Scissors
Orange play dough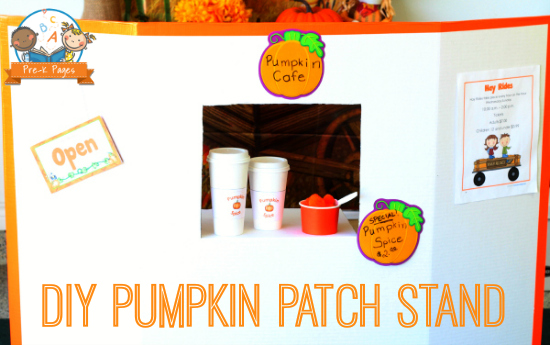 DIY Pumpkin Cafe Walk Up Window
Your little ones will have a blast playing in their pretend pumpkin patch and selling yummy pumpkin treats to customers from the window of their very own Pumpkin Cafe!
There are also plenty of opportunities for learning at the Pumpkin Cafe! Add a pretend cash register and money for math practice. Placing orders will support the development of oral language skills. Waiting in line for their turn to order supports the development of self-regulation skills.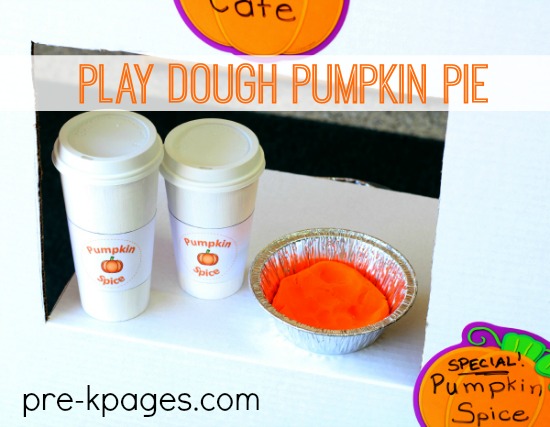 Pumpkin Pie Play Dough Recipe
Your kids will love using pumpkin pie play dough to create pretend pies and other pumpkin goodies! Check out this fantastic pumpkin pie play dough recipe from Crystal and Comp.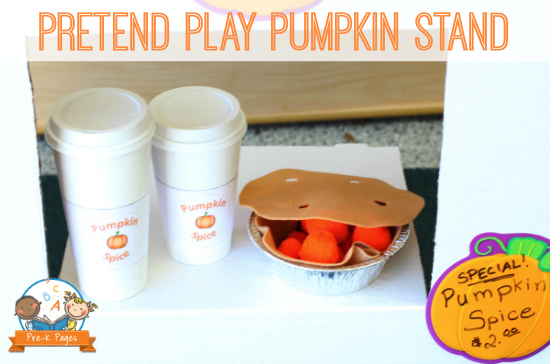 Pom Pom Pumpkin Pie
I made a pumpkin pie the same way I made the apple pie in a recent post- with pom-poms and felt!
To create your own pumpkin pies, just cut some circles out of brown felt to fit in your mini pie pans. Place one of the brown circles in the bottom of the pie pan for the crust, fill the pie pan with orange pom-poms and place another crust on the top.
Now you have the perfect pretend play pumpkin pie for your kids to sell in their Pumpkin Cafe!
More Fun Pumpkin Activities for Preschool
Here are a few more pumpkin activities for kids to enjoy with a pumpkin theme in the classroom for Fall!
Printable Pumpkin Spice Labels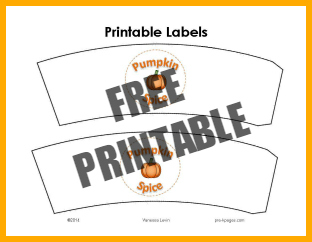 Click on the picture above to download your printable pumpkin spice labels!
More Halloween Ideas
Halloween Sensory Bin with Spaghetti – Need Halloween sensory play ideas for your preschool classroom? You can make this easy colored spaghetti for a super fun Halloween themed sensory bin. This squishy Halloween sensory spaghetti is sure to be a big hit with your kids!
Halloween Sensory Bottle – Halloween can be loads of fun in the classroom with all the cute crafts and activities. Here's a super quick and easy Halloween sensory bottle you can make to help kids who may become overstimulated by all the activity in the classroom during this time of year.
Halloween Fine Motor Activities for Preschool – Kids can use fine motor skills all day, but doing the same thing over and over can cause children to lose interest. These activities are fun experiences for October that will help build fine motor skills. These are perfect for a fall theme or Halloween theme. And, since many of the items are from the dollar store, you can stock up your morning work baskets or centers.