The science center and science experiments provide opportunities for preschoolers to learn more about the world around them. Use the interest in Thanksgiving this time of year to explore vegetables, pumpkins, cranberries, butter, and other fun explorations. Here are over 20 science activities for the preschoolers in your classroom to explore this particular season.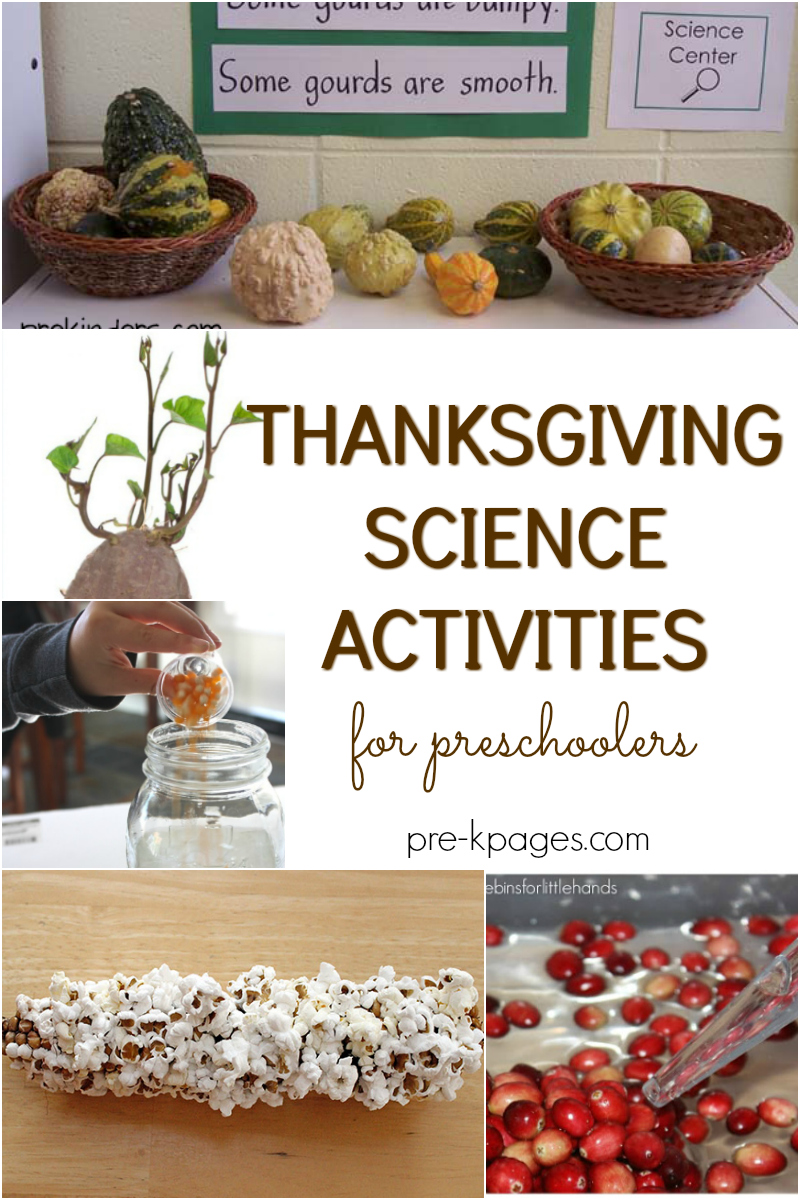 Thanksgiving Science Activities
Sprouting Sweet Potatoes (Pre-K Pages) – Have you ever sprouted sweet potatoes indoors with your kids? It's a super easy, almost foolproof science experiment that your kids can enjoy for many weeks; they get so excited when the roots and sprouts start to appear!
Dancing Corn (Little Bins for Little Hands) – Can you make corn dance? You will with this Thanksgiving inspired science activity the kids will love this fall. This dancing corn experiment can be done any time of the year, but it's particularly fun during the Fall.
Pumpkin Volcano (Little Bins for Little Hands) – The amazement of a fizzy reaction is the perfect way to capture a kid's love of science, so why not encourage it with this fun pumpkin science activity with a volcano theme. This activity is a great way to show a chemical reaction!
Dancing Cranberries (STEM Lab) – This easy science experiment is perfect for Fall when you use dried cranberries!
Turkey Baster Relay (Inspired Treehouse) – Who says the turkey baster should be kept in the kitchen? This gross motor activity is a perfect Turkey day activity!
Fluffy Turkey Slime (Little Bins for Little Hands) – Make your own fluffy slime and then have forming and playing with these Turkeys!
Cranberry Slime (Schooling Active Monkeys) – This taste safe cranberry slime is perfect to play around during Thanksgiving!
Cranberry Science and Sensory Play (Little Bins for Little Hands) – Create a fun sensory bin using fresh cranberries! And also an idea of how you can use them for a STEM activity as well.
Thanksgiving Science Experiments (From ABCs to ACTs) – Explore 3 different science experiments with a Thanksgiving theme.
Mayflower Floating Activity (Fantastic Fun and Learning) – Have fun creating and sailing your own Mayflower boats!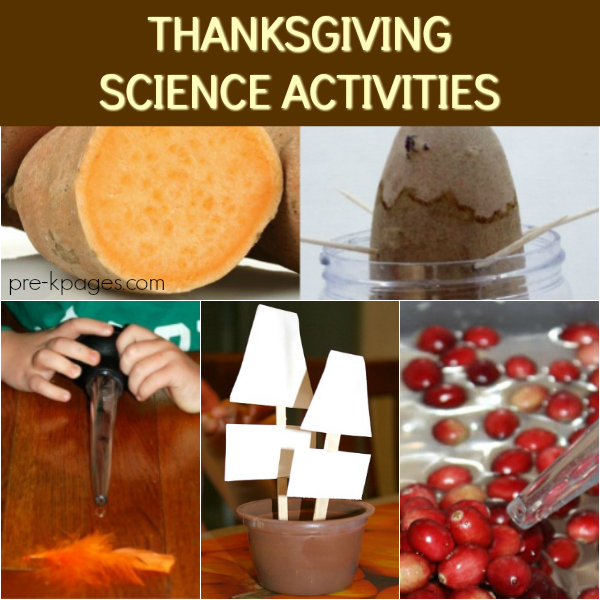 Science Center Activities for November
Growing Indian Corn (Preschool Powol Packs) – Grab an ear of Indian corn and take part in this fun preschool science experiment for Thanksgiving.
Make Butter (Lemon Lime Adventures) – Have your preschoolers learn how easy it to make a staple used for most Thanksgiving meals.
Yeast and Balloon Experiment (Lemon Lime Adventures) – Before they get too old to enjoy, have your pre-K and kindergarten students experiment with yeast and balloons to see a a classic scientific reaction take place.
Comparing Squash (Teach Beside Me) – After reading Mrs. McNosh and the Great Big Squash, have fun comparing and identifying different types of squash.
Secret Messages Revealed with Cranberries (Rosie Research) – Make secret spy messages and draw secret maps and then reveal using cranberry juice!
Pumpkin Clock (Little Bins for Little Hands) – You may have heard of a potato clock, but what about a pumpkin clock? This fun Thanksgiving STEM activity will delight your little ones.
Foil Boat Challenge (JDaniel4's Mom) – Build a foil boat and test it in this fun STEM challenge to see whether it can not only float but also carry the Pilgrims and supplies!
Corn vs Popcorn Science Activity (Little Pinch of Perfect) – Grab some popcorn and Indian corn and have fun with this inexpensive science activity.
Indian Corn Popcorn in the Microwave (Gift of Curiosity) – Your preschoolers will love watching (and eating!) the before and after of their Indian corn.
Sprouting Fresh Corn Kernels (Gift of Curiosity) – This super simple Fall science activity will amaze and educate your preschoolers on a staple in most people's diets and food that is common on the Thanksgiving menu.
Gourds Science Center (Prekinders) – Set up a gourd science center in your classroom to have your little scientists explore them. And then have them engage in a painting activity as well!
Non-science ideas for Thanksgiving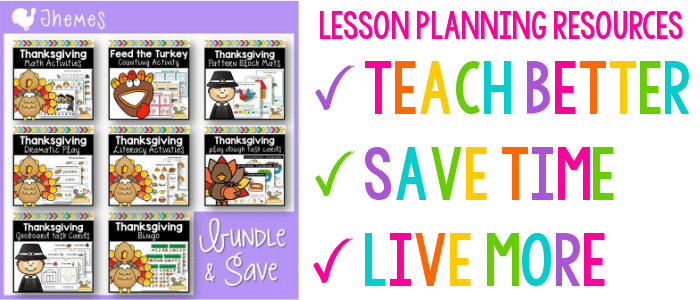 More Thanksgiving Activities