Holidays provide a natural time for preschoolers to learn. Children can think about their own family traditions and explore traditions of others. They can form ideas about how people celebrate and understand that some do not celebrate at times. Thanksgiving also provides a time to lead preschoolers to think about gratitude. These Thanksgiving ideas for kids are activities that can help you create some learning experiences for preschoolers at this time of year.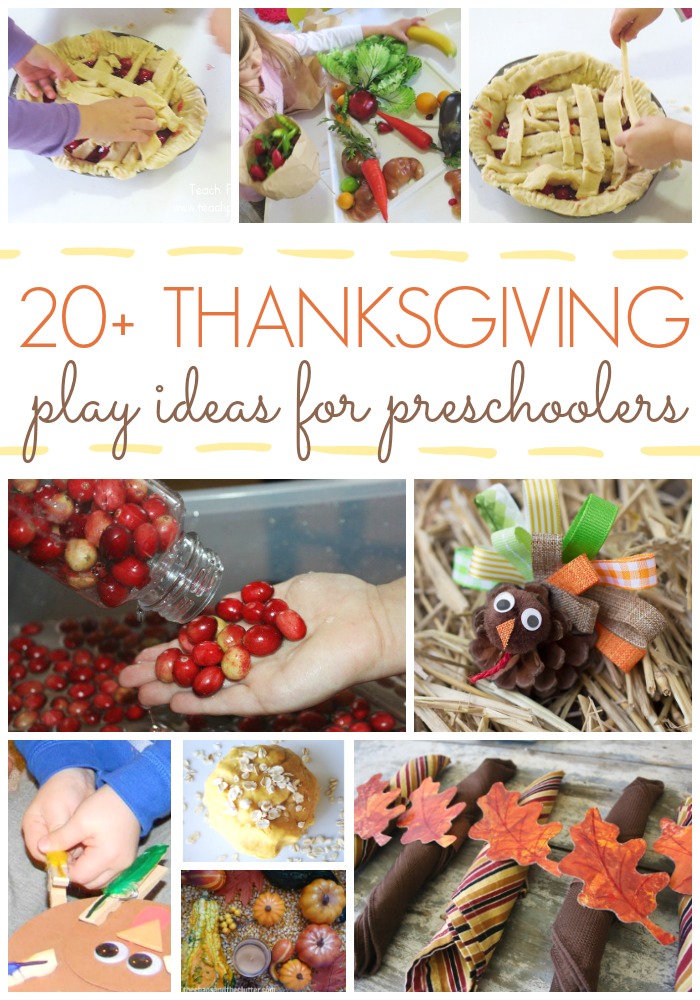 Thanksgiving Ideas for Preschoolers
These Thanksgiving activities for preschoolers are perfect to teach around the holiday and the month of November. From fun games like Thanksgiving Bingo, to exploring Thanksgiving themed music, and even snacks to serve! There are so many easy ways to incorporate Thanksgiving into your classroom.
1. Thanksgiving Bingo (Pre-K Pages) -Free printable bingo game for a Thanksgiving theme or party in your preschool, pre-k, or kindergarten classroom. Includes both a black and white and a color version!
2. Thanksgiving Music for Preschoolers (Pre-K Pages) – Need some fun Thanksgiving songs for kids? You can use YouTube to find fun music to use in your preschool or kindergarten classroom.
3. Thanksgiving Counting Mats (Pre-K Pages) – A set of free Thanksgiving play dough mats to help your kids develop number sense and fluency within ten. Includes 11 printable color mats for you to use in your play dough center with prompts, and 11 without prompts.
4. Turkey Snacks (Pre-K Pages) – When it comes to celebrating Thanksgiving with kids I prefer the KISS method- Keep It Simple Silly. That's why I love these two easy Thanksgiving snacks (featuring turkeys) that kids can make with very little help.
5. One-to-One Correspondence Activities (Pre-K Pages) – These hands-on activities with a Thanksgiving twist will make learning how to count fun for all young children.
6. Best Thanksgiving Books (Pre-K Pages) – Thanksgiving is just around the corner! I have compiled a list of my favorite Thanksgiving books to read aloud during the month of November.
7. Free Printable: Old Lady Who Swallowed a Pie (Pre-K Pages) – This printable game goes along with the story and is great fun for children in your preschool, pre-k, or kindergarten classroom.
8. Turkey Beanbag Toss (Pre-K Pages) – This fun turkey gross motor beanbag tossing game could be used during a Thanksgiving or other holiday celebration, as a center, or as a large group activity. The turkey is fun to make and fun to use.
9. Turkey Fine Motor Math Game (Pre-K Pages) – I was inspired to create a fine motor Thanksgiving math game by Teach Preschool. I love the simplicity of using items like cups and pipe cleaners to create a game.
10. Classroom Feast (Teach Preschool) – From table setting to making the food, your preschoolers will love this Classroom Thanksgiving feast.
11. Exploring Cornucopias (Teach Preschool) Your kids will love learning and making their own cornucopias.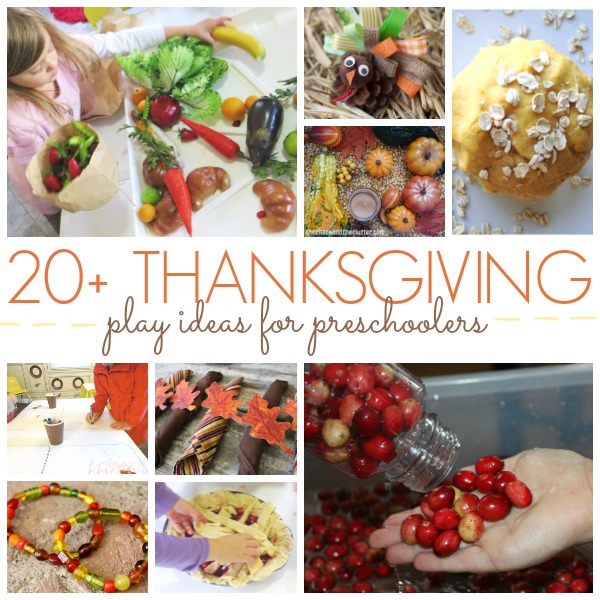 More Thanksgiving Ideas for Toddlers
These Thanksgiving ideas and activities are wonderful ways to teach your toddlers about Thanksgiving. Even the older kids, such as kindergartners will also enjoy these activities!
12. Making Pies (Teach Preschool) – Have fun making a playdough pie with your preschoolers in this Thanksgiving lesson.
13. Thankfulness Tree (Coffee Cups and Crayons) – Your kids will love creating this Thankfulness tree and writing down their blessings.
14. Thanksgiving Candy Sort (Smart Schoolhouse) – Your preschoolers will love sorting this Thanksgiving colored candy.
15. Fall Napkin Rings (Happy Hooligans) – These Fall napkin rings are easy to make and your toddlers will love that they can help make these for the Thanksgiving table.
16. Cranberry Sensory Play (LIttle Bins for Little Hands) -It's always fun pairing science and sensory play for hands on learning. Science activities you can really dig your hands into are perfect for your youngest scientists. Turning simple science into sensory bins is a great way to explore how things work too.  You can also build Cranberry Structures for STEM and fine motor play or check out a taste safe cranberry slime as well.
17. Thanksgiving No Cook Sensory Dough (Little Bins for Little Hands) – When the holiday season gets to be busy here is a simple and fun activity to do with the kids! This harvest or Thanksgiving no cook dough for sensory play is perfect for an indoor afternoon, a pie baking session, or even Thanksgiving morning to keep all the kids happy.
18. Thanksgiving Sensory Bin (The Chaos and the Clutter)- Gather up some pine cones, fall leaves, Indian corn, and plastic gourds to make this Thanksgiving sensory bin.
19. Beaded Napkin Rings (Buggy and Buddy) – Thanksgiving crafts for kids provide a great way for children to be involved in all the Thanksgiving preparations. This beaded napkin ring is such an easy craft for kids and turns out beautiful!
20. Clothespin Feathers Turkey (Stir the Wonder) – These clothespin feather turkeys are easy to make and will allow your preschoolers to work on their fine motor skills.
21. Scrap Ribbon Pinecone Turkeys (Fireflies and Mudpies) -If you have some scrap ribbon lying around, then gather up some pinecones and make these adorable turkey pinecone craft for Thanksgiving.
22. Gratitude Stones (Fireflies and Mudpies) –  In this post, learn how to make a simple nature craft for kids, Gratitude Stones, that can be used to cultivate an attitude of gratitude from an early age.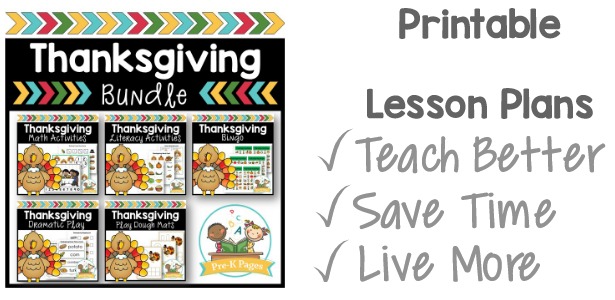 More Thanksgiving Ideas