Have you ever sprouted sweet potatoes indoors with your kids? It's a super easy, almost foolproof science experiment that your kids can enjoy for many weeks; they get so excited when the roots and  sweet potato sprouts start to appear! No potting soil required!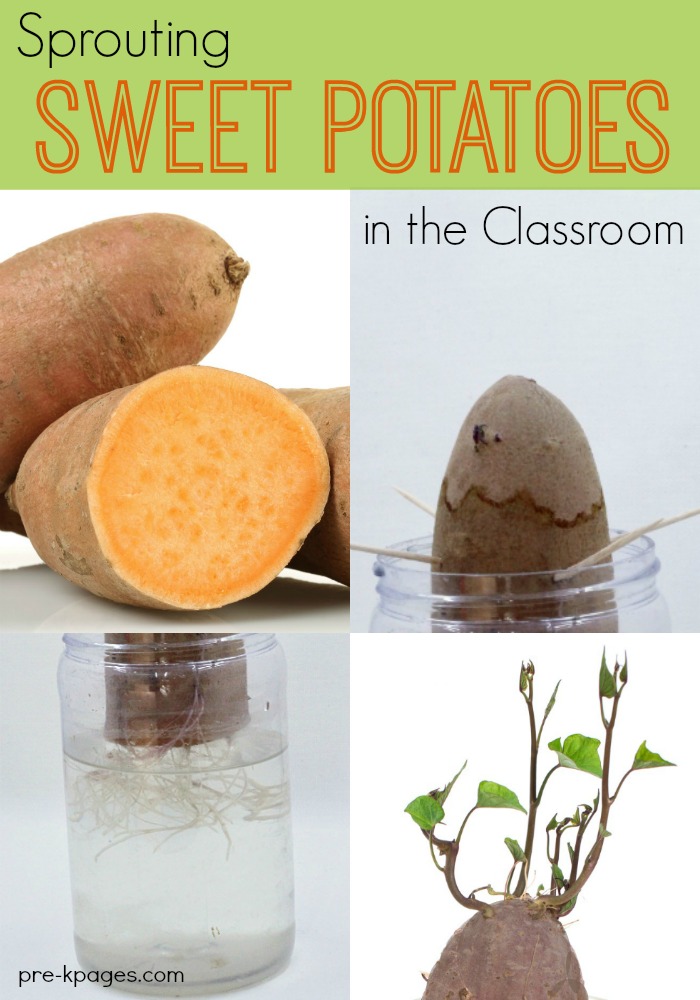 Sprouting Sweet Potatoes with Kids
Young children are naturally inquisitive and curious. Growing plants and inviting kids to observe the changes that occur is a great way to engage them.
A strong foundation in science learning is rooted in making observations, questioning, and exploring. Growing things, like sweet potatoes, in your science center will naturally lead to many opportunities to exercise these skills.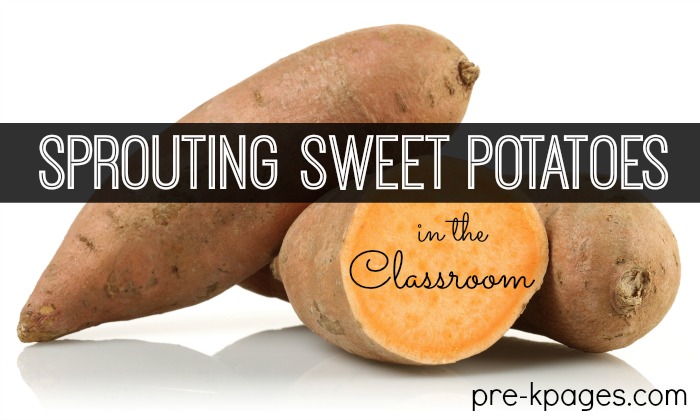 Supplies for Growing Sweet Potatoes In Water
Here are the supplies you need to get started sprouting sweet potatoes with kids.
Clear container
Water
Toothpicks
Knife
Sweet potato
Sunlight
I just love science projects that don't require a lot of expensive supplies or fancy equipment, don't you?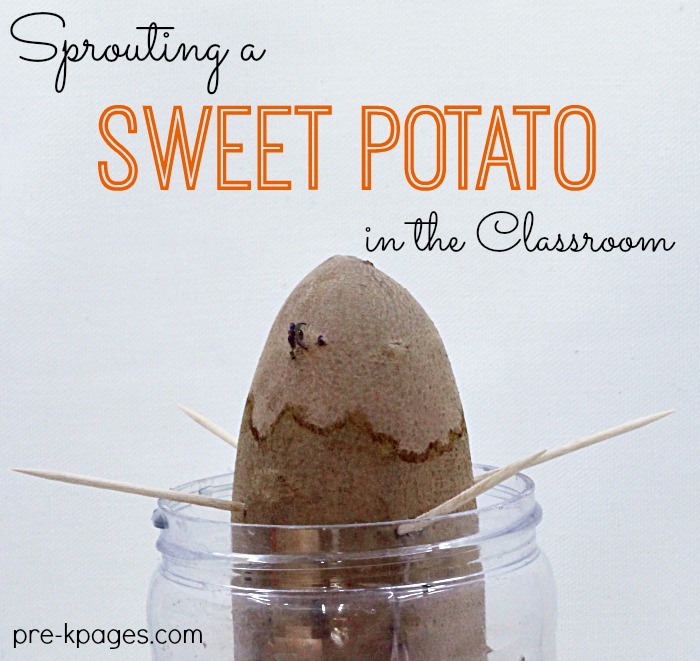 Sweet Potato Sprouts Science Experiment For Kids
You're not going to believe how easy to grow these sweet potato sprouts are.
First, use your knife to chop the sweet potato in half.
Next, fill the clear container with water. The clear container will allow kids to observe the growth of the roots. I used a plastic condiment jar, you can use whatever you feel most comfortable with or have on-hand.
Then, insert 4 toothpicks into the middle of your sweet potato half. You will want to position your toothpicks so that 1-2 inches of the cut portion of the sweet potato is submerged in water when placed in your container. The toothpicks will hold your sweet potato upright in the container and allow water to circulate under the bottom.
Be sure to check your water levels and add more water when necessary. As you can see here, my sweet potato needed some more water to cover the bottom!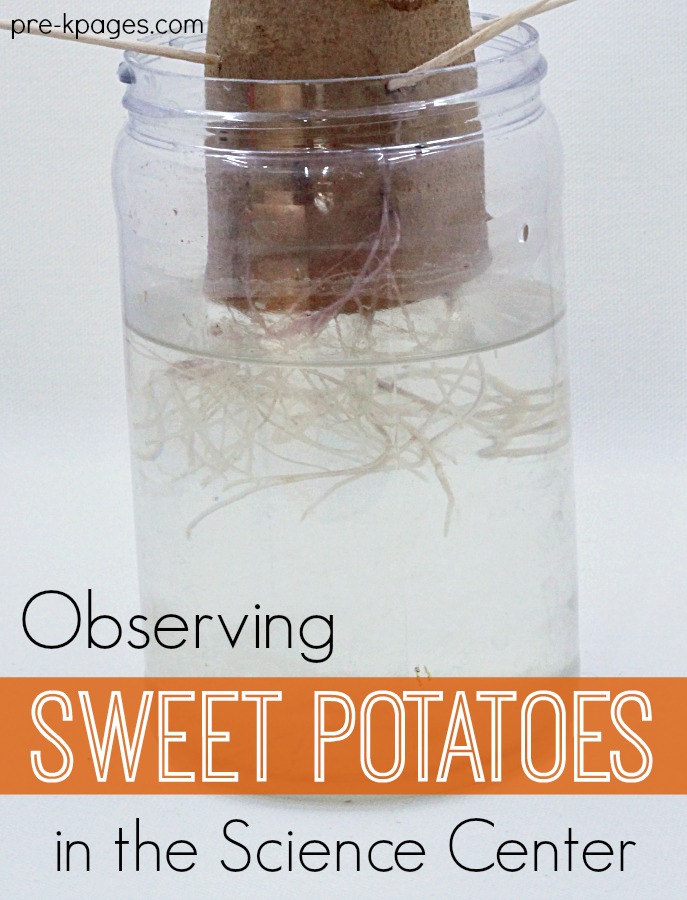 How This Sweet Potato Sprouting Experiment Works
When the bottom, cut portion of the sweet potato is partially covered with water and the upper portion is exposed to air and sunlight, roots will begin to grow from the bottom and stems from the top.
Place your sweet potato in a location (ideally a sunny window) where it can receive sunlight. I have sprouted sweet potatoes in areas that received limited, indirect sunlight before with success so don't worry too much about how much sunlight you need.
Unlike other kitchen scraps such as lettuce, sweet potatoes do not sprout quickly. Patience grasshopper!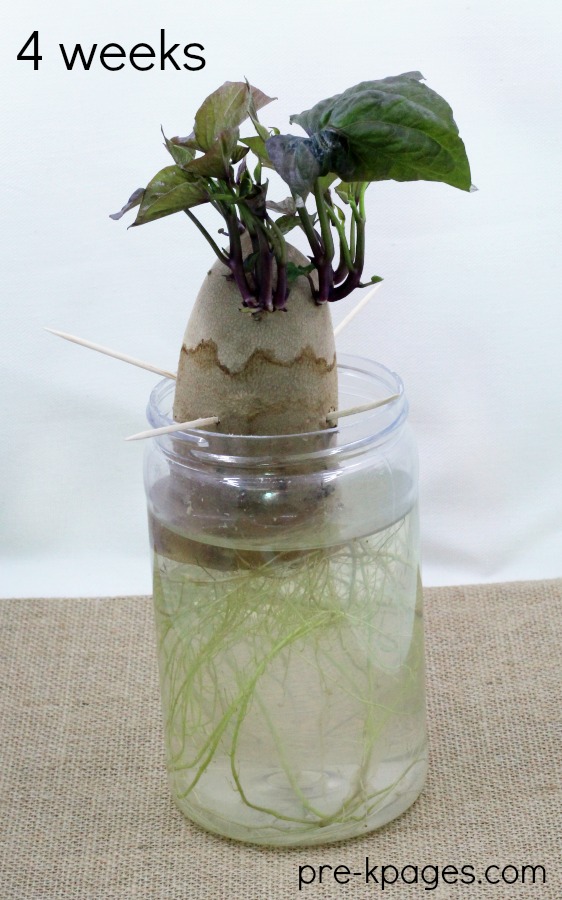 When your sweet potato plants start to sprout or grow roots, provide paper, clipboards, and pencils in your science center to encourage kids to record their observations about the changes they notice taking place. Ask them to tell you about the changes they see.
If you want to take it one step further with this science project, invite your kids to help you plant the sprouts in the dirt outside!
More Science For Kids Ideas
More Science Ideas