Writing trays are an excellent way to practice handwriting with preschoolers. Instead of having the child use a pencil and paper to write, the student practices forming letters in a tray with various materials. This is my favorite way to practice writing letters with preschoolers and it's also a great sensory-rich experience!
Here's a fun Valentine writing tray activity you can use at home or in the classroom!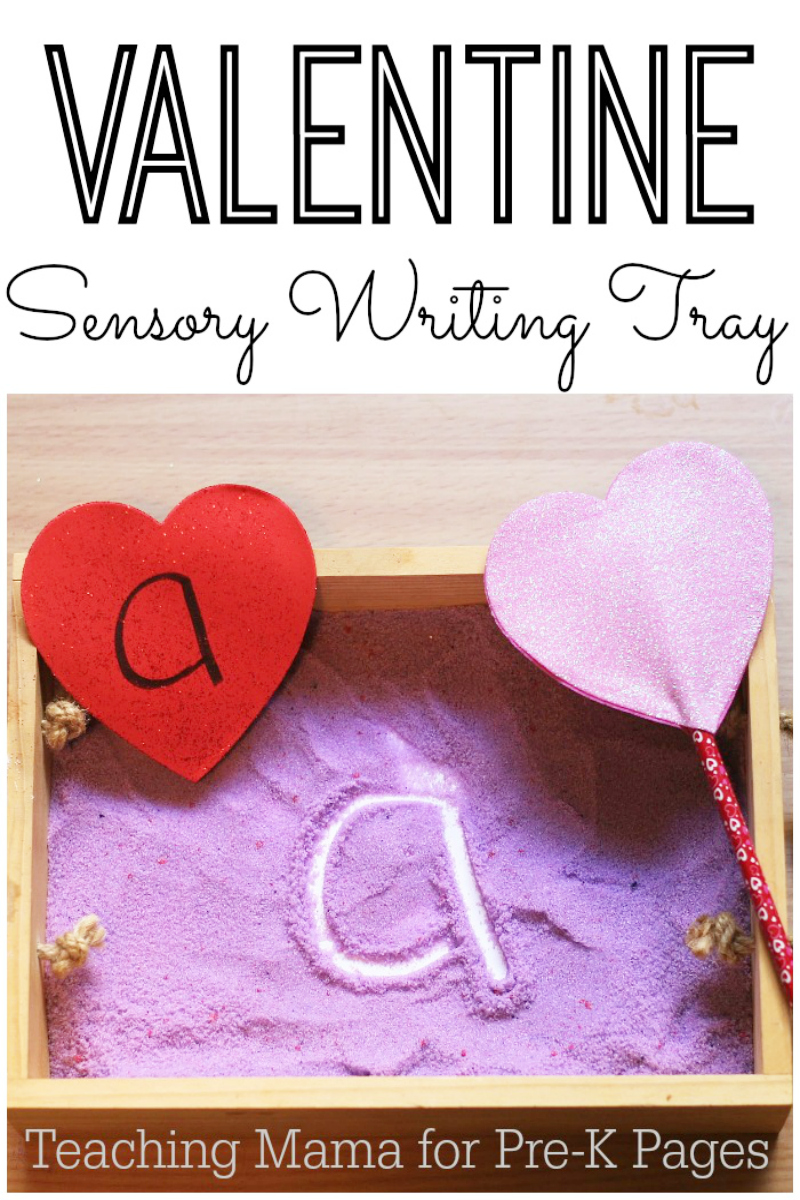 Valentine Writing Tray
Since Valentine's Day is around the corner, I am sharing with you our heart-themed writing tray.
This tray is a fun way to spark excitement in young children as they learn letters in a hands-on way. It also has a sweet strawberry smell, which makes this a great sensory activity.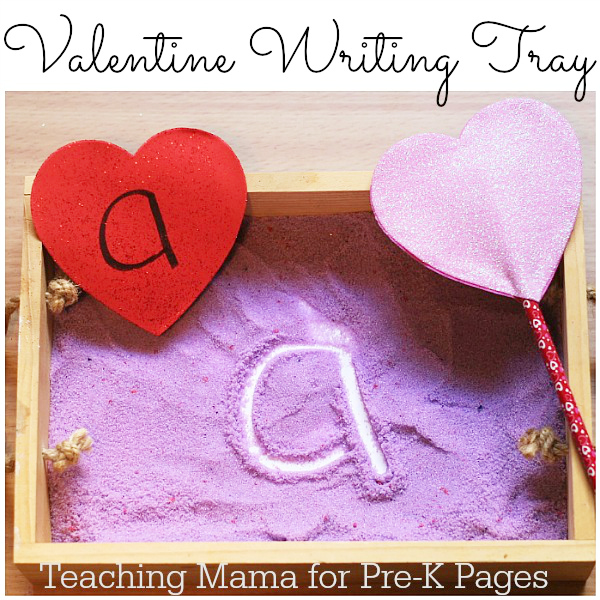 Here are the materials we used:
1 container of salt
3 drops of gel food coloring
Strawberry flavoring (1 container – .125 fl oz )
Gallon-sized ziplock bag
Tray
Heart shapes
Pencil
To make the writing tray, start by pouring the container of salt into a ziplock bag. Drop about 3 drops of gel food coloring into the bag. Close the bag and shake the bag until the color has mixed into the salt.
Next, pour in the strawberry flavoring and mix it around until the clumps are gone. Pour the colored and scented salt onto a tray. Make sure you just put a thin layer of the salt on the tray, otherwise it will make it difficult to see the letters.
Before inviting children to use the tray, write alphabet letters onto foam hearts. Children can look at these letters before writing them in the tray. Place them next to the tray along with an unsharpened pencil.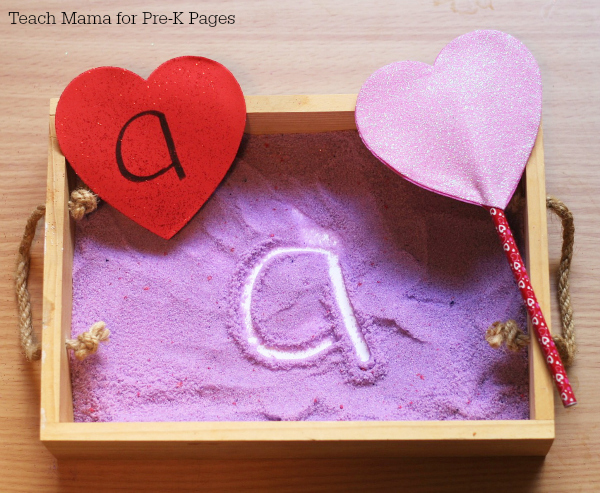 When introducing a writing tray to a preschooler, have them first make the letters with their fingers.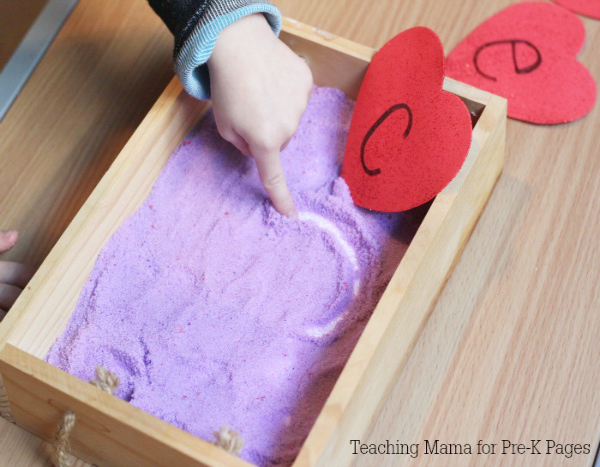 As they start to understand the letter formations, introduce using an unsharpened pencil or a thin paintbrush. This is a great way to work on proper pencil grip.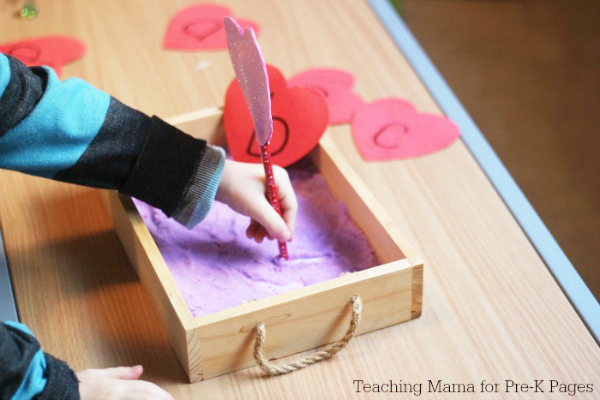 It's also a good idea to let preschoolers have time to explore this sensory tray and let them draw or create whatever letters they want. They'll love smelling the strawberry scent as they write.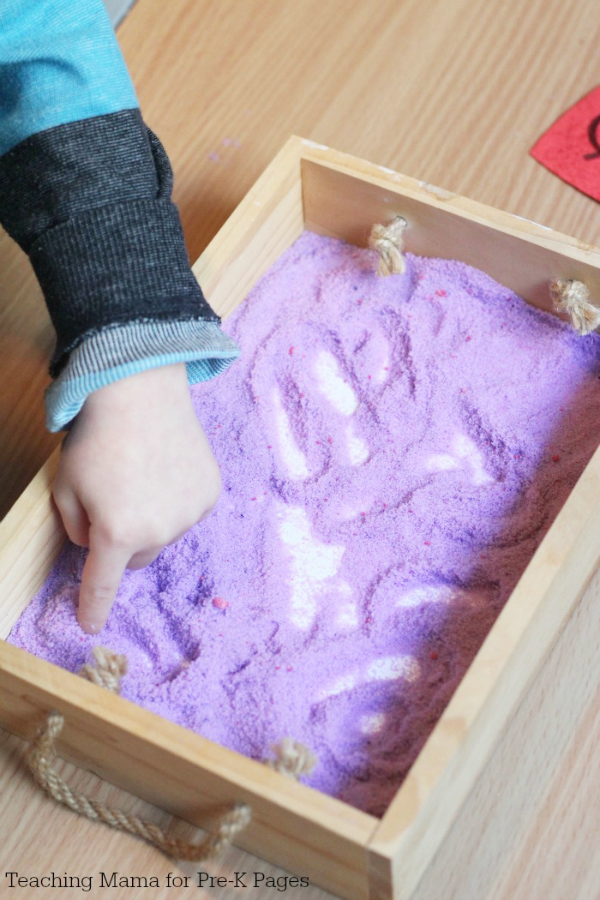 When you're done with the activity, you can simply store the colored salt in a ziplock bag to use again at a later date. Hope you will enjoy this activity as much as we did!
Please Note: If you feel your children will be tempted to taste the salt choose a different activity.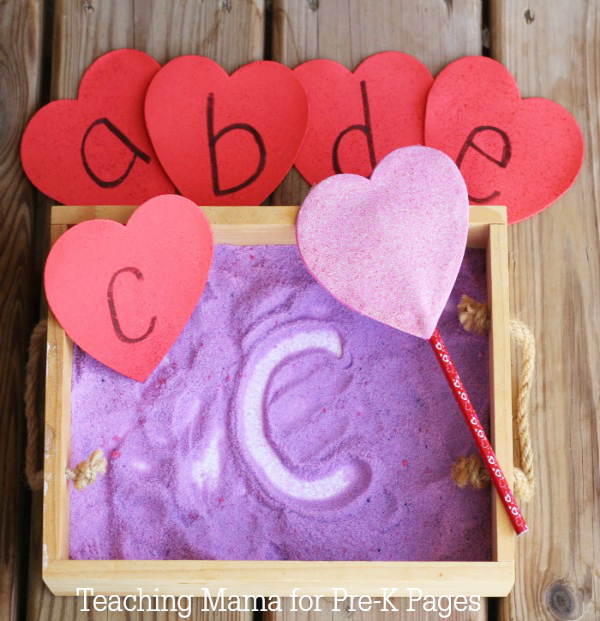 BIO: Angela is the writer and creator at Teaching Mama, where she shares hands-on learning activities for babies, toddlers, and preschoolers. She is a former teacher, turned stay-at-home-mom to 3 wonderful boys. Angela is the author of the Alphabet Formation Rhymes, which are a great way for teaching correct letter formation. You can connect with her on Facebook, Pinterest, or Instagram.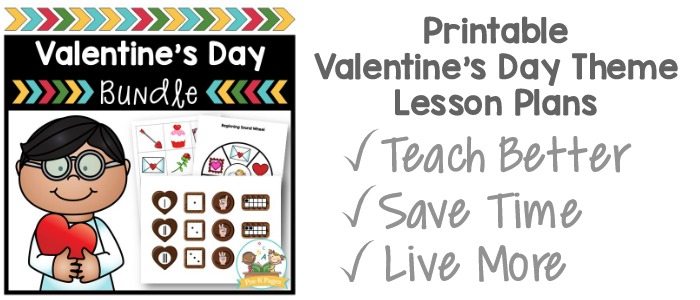 More Valentine's Day Ideas