Do your kids need more practice with writing? Do they like to write? One of the very best ways for preschoolers practice handwriting is with sensory writing trays. This super easy Valentine sensory writing tray will entice your little learners to practice their writing skills in a fun and playful way – and they won't even know they're learning!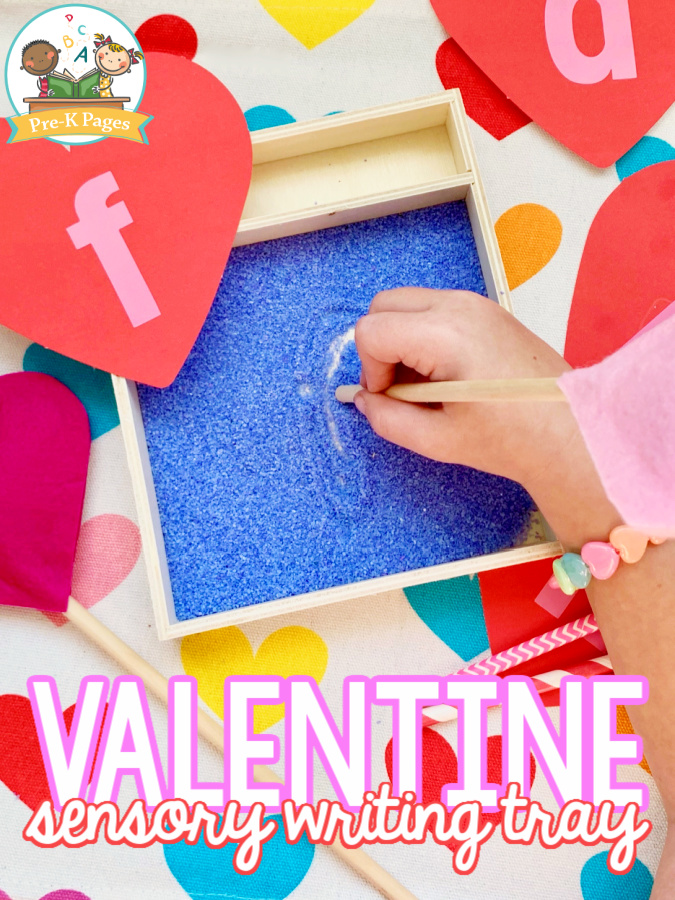 Valentine Sensory Writing Tray
Presenting young children with pencil and paper writing activities too early can turn them off to writing entirely. Writing can seem very overwhelming and difficult when presented on paper because it involves so many different skills, such as fine motor and visual discrimination.
When you offer sensory writing trays as a choice during center time, writing becomes much more appealing than boring old worksheets.
Sensory writing trays work because they get kids excited about writing in a very fun and playful way.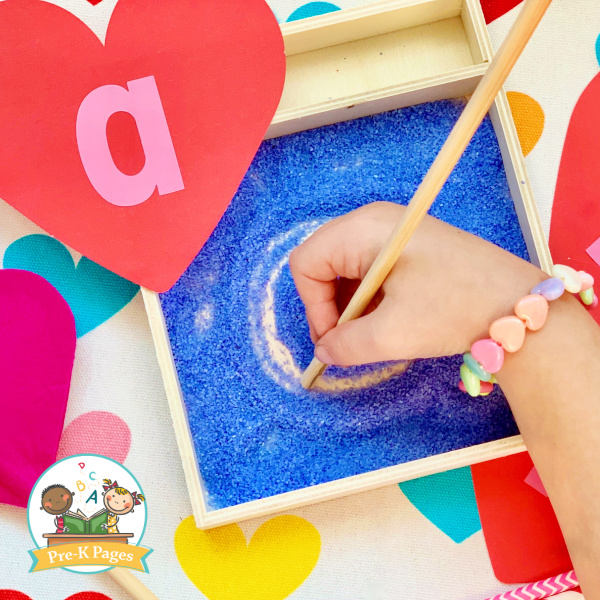 Valentine Sensory Writing Tray Materials
1 container of salt
3 drops of gel food coloring or liquid watercolor
Gallon-sized ziplock bag
Tray
Heart shapes
Unsharpened pencil or other dull writing implement
You could also add a few drops of liquid scent to the salt for an additional sensory experience.
How to Make a Sensory Writing Tray
First, pour the container of salt into a zip top bag. Squeeze 3 drops of gel food coloring into the bag. If you'll be adding scent to your salt, place a few drops in the bag.
Seal the bag and shake until the color has mixed evenly into the salt.
Pour the contents of your bag onto a tray and allow it to dry.
When the salt is completely dry, pour a thin layer into the bottom of your writing tray. If you pour too much salt into the tray, it will be difficult to see the letters.
Then, write alphabet letters on paper hearts, or glue pre-cut letters to the hearts. Children can use these letters as a visual model while writing them in the tray. Place the hearts next to the tray along with an unsharpened pencil or other dull writing implement.
You can place your sensory writing trays in your writing center, or use them as a small group activity.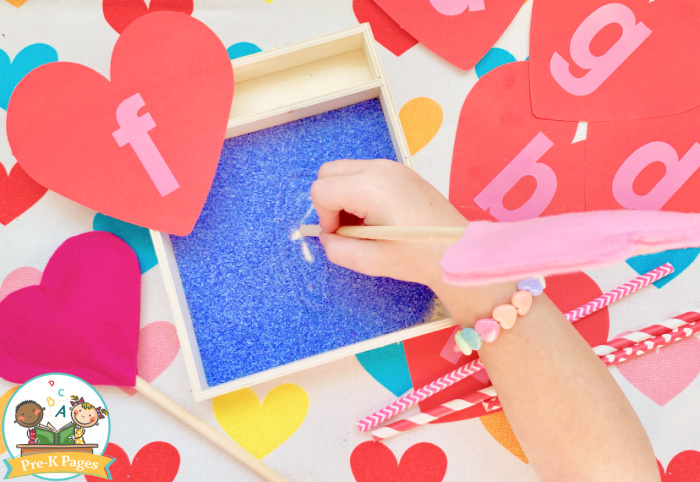 How to Introduce Sensory Writing Trays
Start by introducing the writing tray to your class. Demonstrate how to use the index finger of your dominant hand to write the letter in your tray.
As your students become more accustomed to using sensory writing trays, you can introduce writing implements like unsharpened pencils to work on proper pencil grasp.
It's also a good idea to let your preschoolers have ample time to explore the sensory trays. Invite them to draw or create whatever letters or shapes they want in their sensory trays. If you added a scent to your salt, they'll love smelling it as they write.
When not in use, you can store the colored salt in a zip top bag to use again. Hope you will enjoy this activity as much as we did!
Please Note: If you feel your children will be tempted to taste the salt choose a different activity.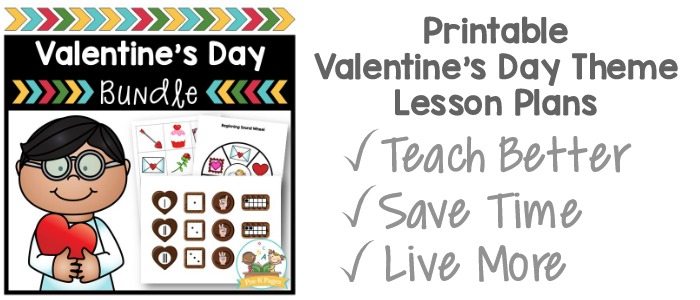 More Valentine's Day Ideas