A classic picture book related to winter is The Snowy Day by Ezra Jack Keats. For many years, children and teachers have been delighted to read about Peter's snowy adventures. It's one of our favorites here at Pre-K Pages. Reading this book aloud is just the first activity that can be done. Use these snowy day activities to guide your preschoolers on their own winter adventures.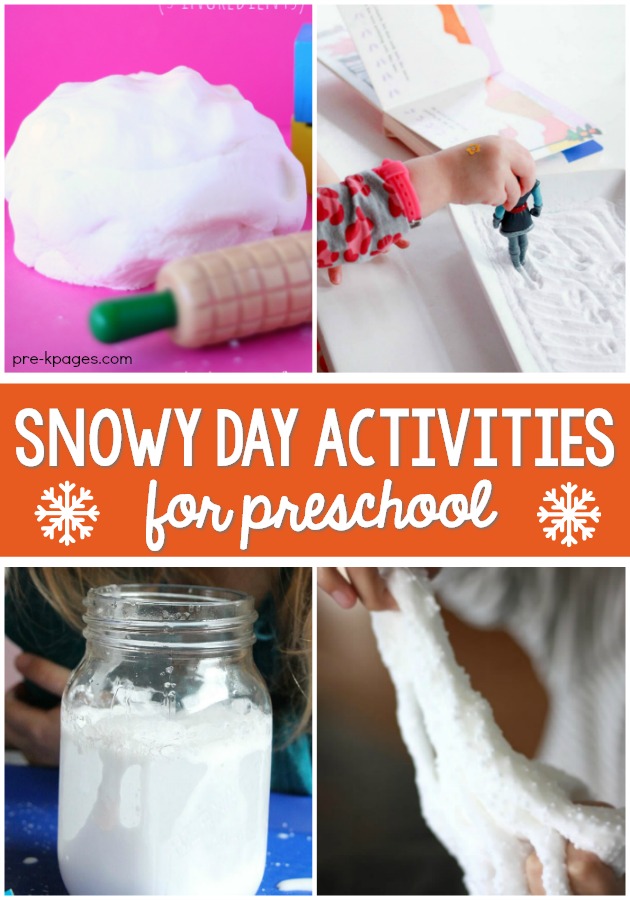 Activities for The Snowy Day
The Snowy Day Sensory Writing Tray (Pre-K Pages) – Every preschooler will want to get their hands in the snow, just like Peter – and they can with this quick and easy winter sensory writing tray.
Snowy Day Pocket Chart Activity (Pre-K Pages) – One of my favorite books to read aloud as winter continues through January is The Snowy Day by Ezra Jack Keats. It's such a fun book that leads to great discussions and questions in pre-k and kindergarten classrooms. I created this pocket chart activity to go along with the book.
Snow Play Dough (Pre-K Pages) – If you're looking for an easy play dough recipe this one is perfect! This snow white play dough recipe uses just three simple ingredients and your little learners will love helping you make it.
Peter Doll (Wildflower Ramblings) – Learn how to make  simple Peter doll from the book.
Snowy Day Scenes (Creative Family Fun) – Get out the construction paper and have fun creating these Snowy Day scenes from the book!
Snow Globe Sensory Play (Teach Preschool) – This is a great sensory bin idea for your preschoolers to create their own snow globes.
Instant Snow Science with Recording Sheet (Prekinders) – Every preschooler loves working with Instant Snow and  this activity comes with a printable recording sheet you can use along with the experiment.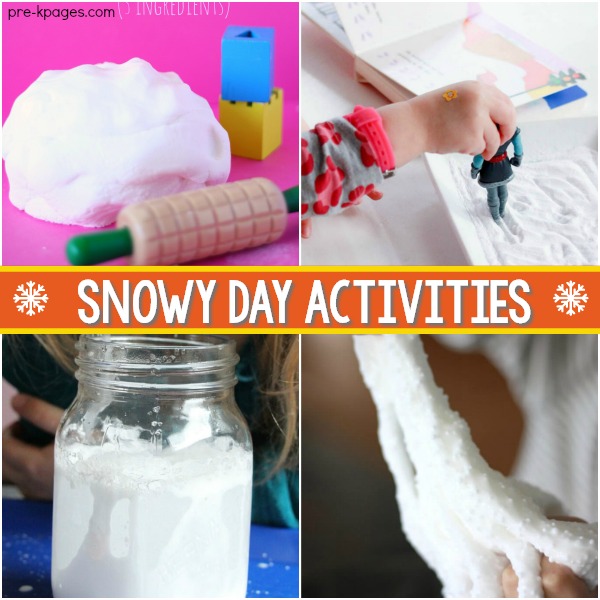 More Activities For The Snowy Day
Winter Art/Snowy Scenes (A Little Pinch of Perfect) – This is a great process art activity to let your little ones free explore winter and snowy scenes.
Snowy Day Shadow Box (Pink Stripey Socks) – Create a shadow box to recapture the magic from the book!
Snowy Alpine Tree Watercolor Resist Art (Rhythms of Play) – Alpine tree watercolor resist art is an art project for kids and adults of all ages.
The Snowy Day Sensory Tub (Along the Way) – To go along with the book we are reading this week, Snowy Day, Aiden helped me put together a Snowy Day sensory tub.
Making Our Mark in the Snow (Teach Preschool) – Build pre-writing skills in this multi-sensory experience.
Fake Snow Slime (Little Bins for Little Hands) – Make your own winter fun with our super easy homemade fake snow slime recipe.
Snow Storm in a Jar (Lemon Lime Adventures) – Explore weather science for kids, and this Snow Storm in a Jar is a great way to do that!
Which Do You Prefer? Weather Graph (Prekinders) – Here's a Weather Graph you can print and cut for a simple and quick large group activity. You could use this with a Weather Theme or Winter Theme.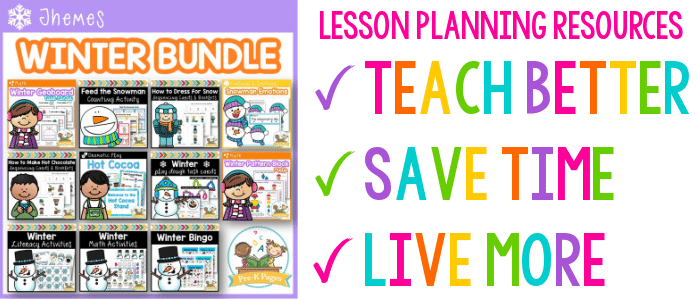 More Winter Ideas