Preschoolers are discovering numbers and learning to count. Understanding math concepts like "how much" and the relationships between numbers takes lots of practice.
This hands-on bear counting activity, based on the book Bear Counts, can lead kids to practice counting and adding one more.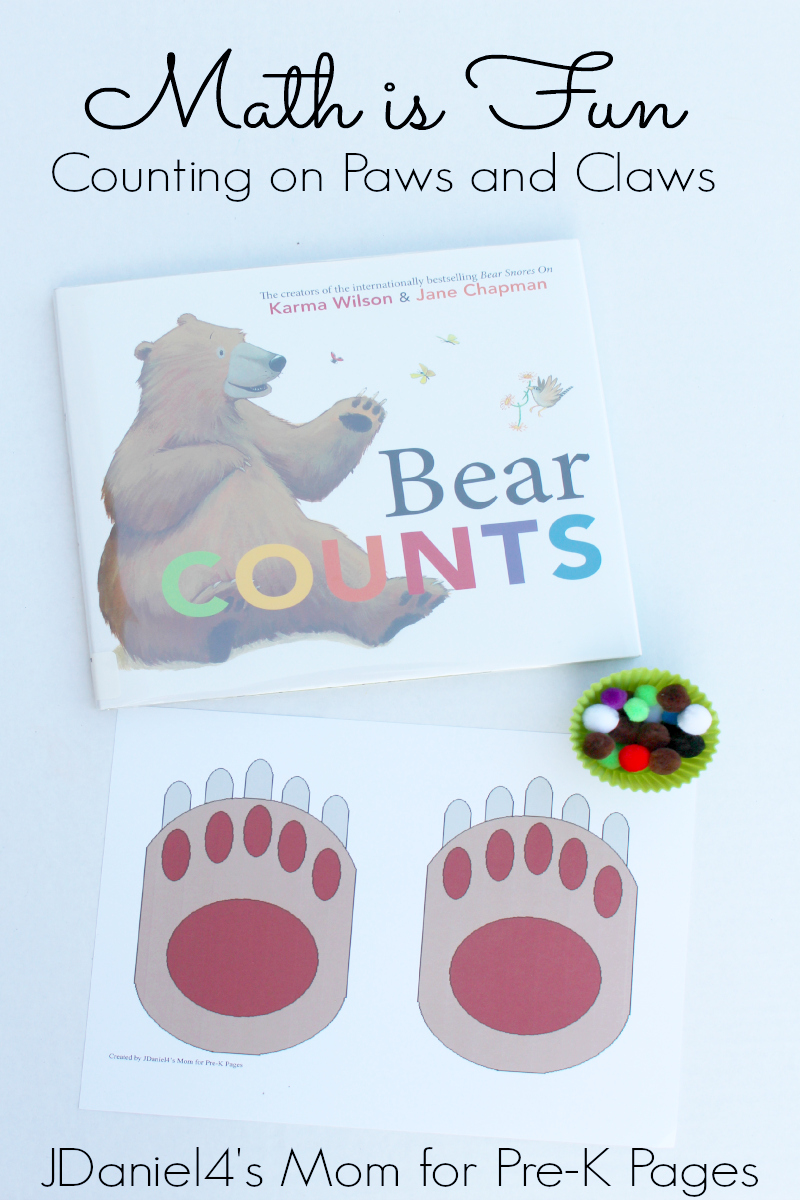 Read the Bear Counts Book
In the book Bear Counts by Karma Wilson and Jane Chapman, Bear starts his day by counting to one. Along with his friends Mouse and Hare, Bear counts everything they can find that makes the numbers two through five. Bear and his friends discover math is fun. They love counting.
This is a great book to invite your children to count. Using the Bear Counts Counting Paws and Claws I created, they can do just that. They will discover that math is fun, too.
Start by reading Bear Counts to your children. The first time I read a book to children, I just read it. I want them to enjoy the pictures and the text in the book. The children can get a clear idea of the content of the book when they are focusing on listening and looking only.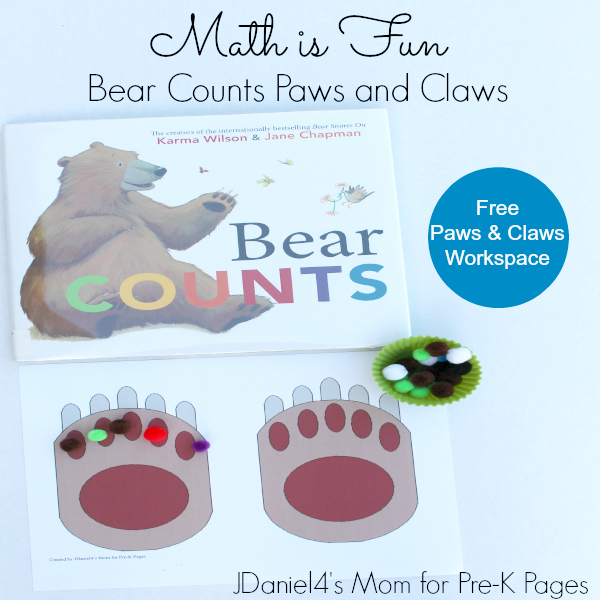 How To Do This Bear Counting Activity
Each child will need a copy of Bear Counts Counting Paws and Claws and some counters. Use whatever counters you have. We used pompoms. (A small container like a cupcake liner can keep the counters in one place.)
Invite children to sit with their workspace and counters in front of them. Read the book a second time. As the bear counts to a number, your children can place and count the counters onto the bears paws.
You can lead children to clear off all the counters or add one to their workspaces when it's time to count to the next number. I like the idea of starting with a cleared space, but you can decide what is best for your kids. Starting with a clear space emphasizes counting skills. Adding to existing quantity helps kids practice "counting on." ("We have 2 counters here. Adding one makes 3.")
The book only counts to five. I made the workspace to give you the opportunity to count up to ten. Or cut the workspace in half and use with two kids.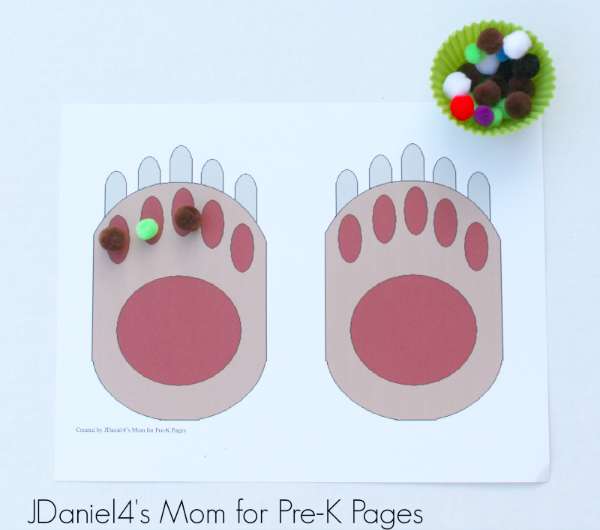 To Count Up To Ten
If you want to count up to ten, there are several ways you can do it using the book. Go back through the book and count the animals are on the page where Bear and Mouse run into Hare. There are seven including bear and mouse. Children can count up to eight on the fish and geese page. Counting the total number of animals on a page or specific animal groups will take you up to ten. Warning! Some pages have a lot of animals. Those pages will take you beyond ten.
You can also use plastic animals or animal counters you have on hand to count to ten. Show a collection of objects that equal a number between one and ten and invite children to count them.
No matter how you decide to use these workspaces with your children I think they will find that math concepts like counting are fun when you use the pictures and numbers found in Bear Counts.
BIO: Deirdre is the author of JDaniel4's Mom where she shares other learning activities, printables, crafts, and food creations. She loves growing and learning beside her son. You can find her on Pinterest, Facebook, and Instagram.
More Bear Ideas