Do you love to sing with your kids? We have a bear themed song that will also build phonemic awareness with our young preschoolers.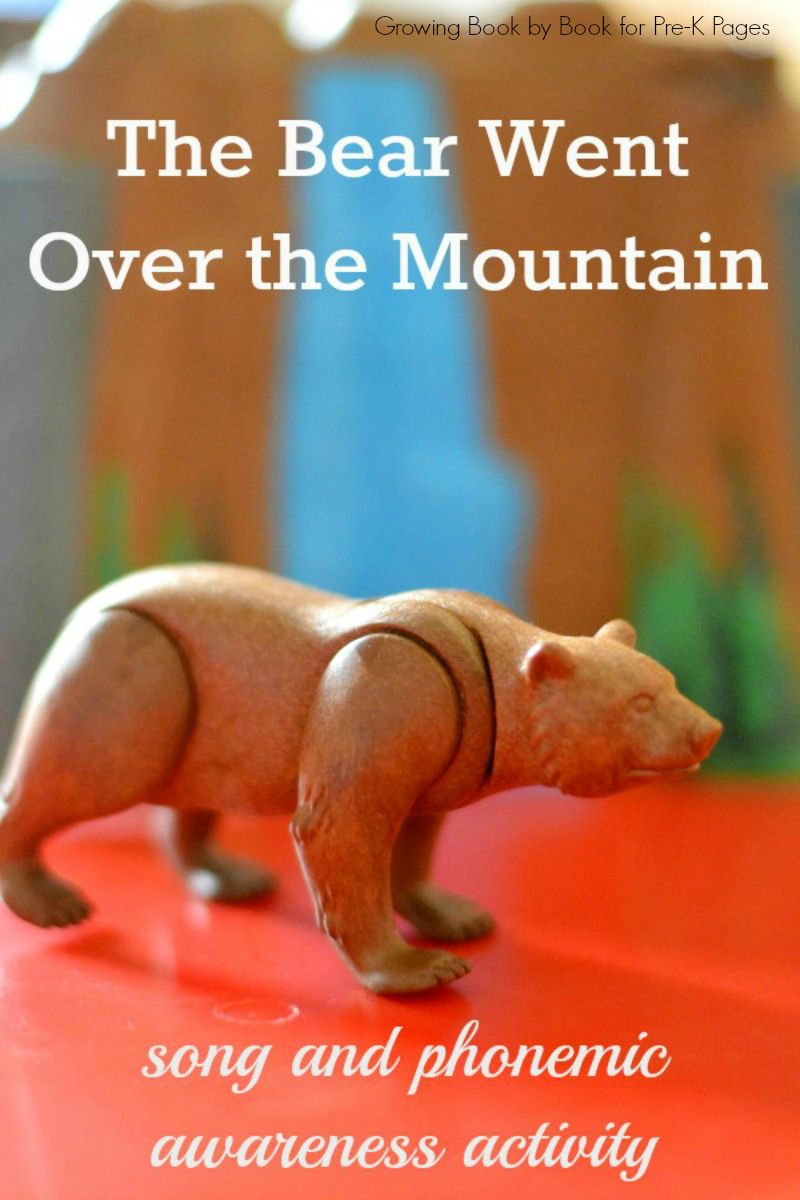 What Is Phonological Awareness?
Phonological awareness refers to the ability to segment and manipulate the sounds of oral language. It is not the same as phonics, which involves knowing how written letters relate to spoken sounds. Activities that develop phonological awareness in children provide practice with rhyme and with beginning sounds and syllables. (from ILA, International Literacy Association)
Phonological awareness is not just phonics.
Phonological awareness is auditory and does not involve words in print.
Phonological awareness is not a curriculum.
Why is phonological awareness important?
"Research has shown that a child's awareness of the sounds of spoken words is a strong predictor of his or her later success in learning to read." (ILA)
The ability to hear the sounds in words and to isolate the sounds from one another can help a child when learning to read. Even before he learns the letters of the alphabet, a child can say the sounds in his language. When he can hear the sounds in a word and tell where the sounds occur in the word, he is developing pre-reading skills.
The term 'phonological awareness' does not describe just one skill, rather it encompasses a whole list of important skills. The following are all important parts of phonemic awareness:
What Are Some Examples Of Phonological Awareness?
Having strong phonological awareness is one of the biggest factors that determines future success in learning to read. Preschool is the perfect time to start building phonological awareness. Rhyming, alliteration, beginning sounds, and syllable counting are all appropriate examples of skills to work on with this age group.
Below is a simple singing activity that you can use with your kids several times. In fact, it might just become their new favorite song!
This activity for building literacy skills works well with a small or whole group of students.
The literacy skills covered in this activity include:
develop phonological awareness (beginning sounds)
notice and discriminate small units of sound
speak clearly
Building phonological awareness and more specifically phonemic awareness helps pre-readers prepare for their reading journey. The more opportunities we give children to hear and say sounds, the more we are "filling" their reading tank with fuel to read on their own one day.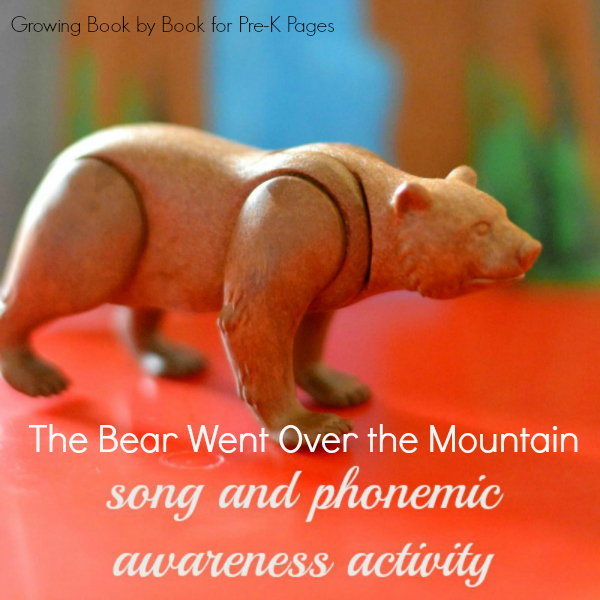 The Bear Went Over the Mountain Activity
Materials Needed
1 basket or container
4-6 small toys or objects
1 paper hill (aka mountain) or toy mountain (optional)
1 stuffed animal bear (optional)
Place a collection of small toys or objects in a container. Find a variety of items to represent different letters sounds. For example, you might use a toy motorcycle, apple, penguin, cat, hamburger, and zebra.
Keep the items out of view until you are ready to reveal each one at a time.
For extra effect, you could also use a small hill or mountain made of out of paper, paper mache, or a toy mountain to hide each item. Having a stuffed animal bear adds even more playful fun.
Print and learn the song. Click to download The Bear Went Over the Mountain Song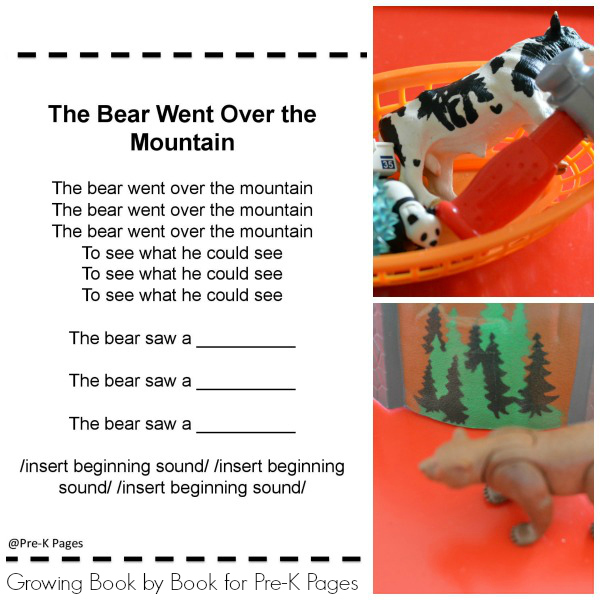 The Bear Went Over the Mountain Song
The following song is the traditional "The Bear Went Over the Mountain" with the second verse altered slightly to work on beginning sounds. If you forgot or are unfamiliar with the original tune, you can listen to it here.
The Bear Went Over the Mountain
The bear went over the mountain
The bear went over the mountain
The bear went over the mountain
To see what he could see
To see what he could see
To see what he could see
The bear saw a __________ (object)
The bear saw a __________
The bear saw a __________
/insert beginning sound/
/insert beginning sound/
/insert beginning sound/
Playing the Phonological Awareness Activity
Hide a toy or object behind the mountain. Sing the song the with the kids. When you come to the line, "The bear saw a ____," reveal the hidden item. You can do this step or have one of the children use the stuffed animal bear to go behind the mountain and find the item. He then reveals it to the class. The kids join in again with the song highlighting the beginning sound. Continue to play until all items have been used.
Variations
If students are having trouble identifying beginning sounds, you can just name the object to develop vocabulary.
If you don't want to use a hill or mountain, you can hide the object behind your back.
Identifying beginning sounds support phonological awareness. How else do you work on letter sounds with your kids?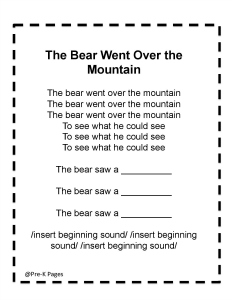 BIO: Jodie is the creator of Growing Book by Book where she shares book lists, reading and writing activities, and literacy-building tips for young children. She is also the proud mom of 2 little boys. Check out her Phonological Awareness Ideas! You can connect with her on Facebook and Instagram.
More Activities For A Bear Theme
If you are teaching a bear themed unit in your classroom, then I have a few more ideas for you to go along with this phonological awareness activity.
Bear Cave Snack  – After reading the story aloud in class, invite your kids to make this simple snack on their own using only 3 ingredients to extend the story even further.
Polar Bear Activities for Kids –  Here are 25 of my favorite polar bear crafts, snacks, and activities to use at home or in the classroom for learning and fun!
Bear Counts: Counting on Paws – This hands-on activity, based on the book Bear Counts, can lead kids to practice counting and adding one more.
Bear and Hibernation Books- Here are some of my favorite fiction and non-fiction books about bears and hibernation to read-aloud to young children.
Bear More or Less Activity- Here's a hands-on bear theme activity that will also help young children develop a strong mathematical foundation.
Going On A Bear Hunt Activities For Preschool – Whether you are exploring a bears theme or just following up after reading the book, We're Going On A Bear Hunt, then check out these bear hunt activities for your classroom.
Activities For Brown Bear, Brown Bear, What Do You See? – After reading this book with your preschoolers, use the activities below to retell the story, explore colors, or develop literacy skills.
If you are teaching a bear theme bundle then you might also enjoy this bear theme bundle.
More Phonological Awareness Resources
HeidiSongs Singable Songs for Letters and Sounds DVD is a fantastic product to use with young children because it incorporates music and movement which brain research has proven to be effective. This DVD teaches letter identification in combination with letter sounds.
HeidiSongs Little Songs for Language Arts DVD features songs for teaching phonemic awareness and concepts of print, such as words in a sentence and beginning sounds in words.
DIY French Fry Box Phonological Awareness Activity – This is a fun, hands-on literacy activity to help your pre-k or kindergarten students practice phoneme segmentation or syllables. The french fry phoneme or syllable activity is highly engaging because it uses something familiar to children and it also includes a tactile element. Children love to put the sponges in and take them out of the boxes.
Syllable Counting With Straws – We have a simple syllable counting activity that you can revisit over and over with the children. This activity works well with a small group of students to build literacy skills.
Initial Sounds Sorting Game – We have the perfect sorting activity to build literacy skills. Grab a few items from the kitchen and you are ready to create an easy center or small group activity.
Skeleton Syllable Activity – Forget spooky or scary, these Halloween skeleton gloves are just plain fun!  As teachers and parents we know the importance of making learning fun for kids. The more hands-on activities we provide the longer kids will stay engaged and on-task!
Pool Noodle Syllable Caterpillar activity. This literacy game focusing on syllables is so easy to make and the total cost is only a few bucks. Young children learn best through fun, hands-on activities where they manipulate three-dimensional objects.
More Bear Ideas