Do you want to pack your Winter-themed lesson plans with exciting Winter animal preschool activities?! Well, I've got the best list for you! I've laid out a bunch of super-fun and inexpensive winter animal preschool activities that your students will surely enjoy. Use these activities to help your preschoolers or kindergartners explore animals in the winter.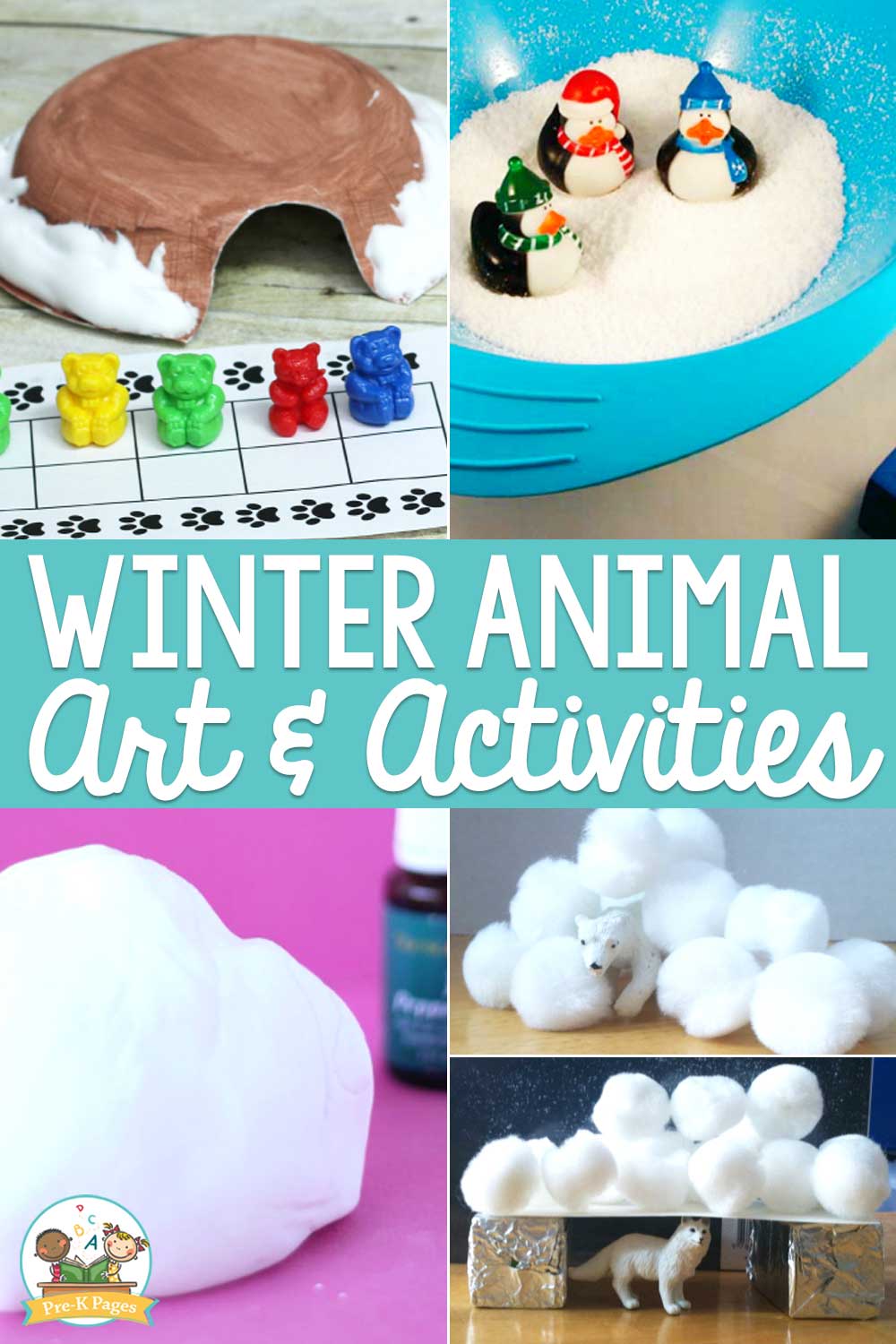 Animals in Winter Activities
Over and Under the Snow Building Activity (Pre-K Pages) – A fun STEM extension after reading a book.
Hibernation Rhyming Activity (Pre-K Pages) – Listen for rhymes and pack for hibernation!
The Snowy Nap Activity (Pre-K Pages) – Another literacy activity that builds on a read aloud book.
Penguin Counting Game (Pre-K Pages) – A fun roll-and-count math game.
Snow Play Dough (Pre-K Pages) – Make snow play dough in your classroom, add a few animal figures, and enjoy the sensory play.
Bears More or Less Game (Pre-K Pages) – Math game that includes counting and comparing quantities.
How Do Arctic Animals Stay Warm? (I Can Teach My Child) – A fun science experiment to see how arctic animals stay warm in the winter.
Polar Bear Math Game (The Educators Spin on It) – This Polar Bear Math Game adds a little gross motor movement in for your kinesthetic learners and to help keep kids active and moving throughout the day.
Penguins Science Play (Little Bins for Little Hands) – Start learning about penguins with this simple and fun ice melt science experiment. This new favorite experiment is all about ice!
Why Are Polar Bears White? (Still Playing School) – If your preschoolers have ever wondered about this question, this is the perfect lesson to answer it!
Penguin Sensory Bottle (Teaching Mama) – This penguin sensory bottle is fun to make with toy penguins, glitter, and instant snow.
Snow and Ice Small World (Stir the Wonder) – Create this fun ice small world and engage in sensory play.
Build a Winter Animal Den (Fun-a-Day) – This STEM activity encourages children to explore how to build different dens for animals.
Build a Cave – A STEM exploration to make a cave to crawl into.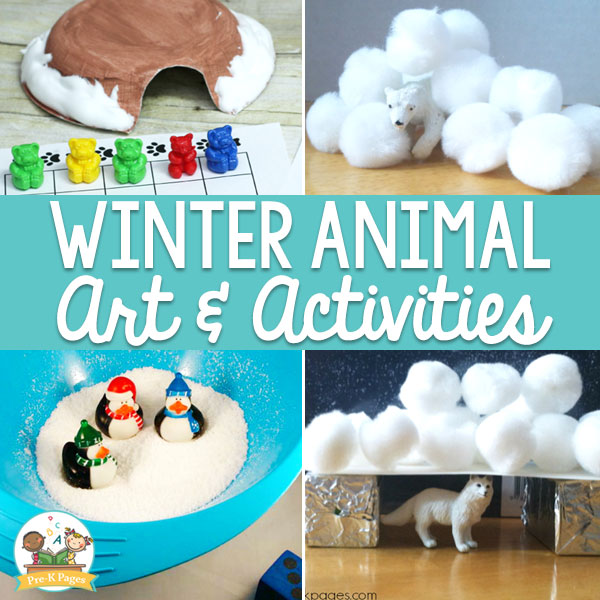 Winter Animals Art Ideas
Hibernation Habitat Process Art (Pre-K Pages) – Create a place for animals to sleep in the winter.
Arctic Small World (Teach Preschool) – A wonderful way to celebrate any season or holiday is to invite your students to create their own small world play!
Puffy Paint Polar Bear Handprint Activity (Fun Handprint Art) – Your preschoolers will love using their own handprint to make these puffy paint polar bears.
Polar Bear Masks (I Heart Crafty Things) – Grab some tissue paper and other household items to make adorable polar bear masks.
Polar Bear Paper Craft (Easy Peasy Fun) – Some ripped paper and glue is all you need to have fun making this polar bear paper craft.
Penguin Painted Rocks (Inspiration Laboratories) – Grab some rocks from outside and have fun painting and creating your penguin rocks!
Polar Bear Finger Puppet (I Heart Crafty Things) – These cute Polar Bear Finger Puppets are not only a great winter kids craft but they are perfect combined with a favorite children's book about Polar Bears.
Winter Cardboard Tube Animals (The Best Ideas for Kids) – Recycle cardboard tubes to make a variety of winter animals.
Paper Plate Arctic Fox (I Heart Crafty Things) – Half a paper plate and tissue paper are the foundation for this fun fox art activity.
Snowy Owl Painting Art (Fantastic Fun and Learning) – This art exploration uses white paint, black paper, and shower loofahs.
Make a Bear to Hibernate (Teach Preschool) – Your preschoolers can create bears and lay them aside to hibernate.
Other Resources
Bears and Hibernation Books
Books About Penguins
Winter Books
Winter Bundle
Hibernating Animals Literacy Activities
Hibernating Animals Math Activities
More Winter Ideas