When we think about developing preschoolers skills or building foundations for future learning, we often think about literacy and math skills. But just as important are thinking and problem-solving skills. These types of skills are involved in literacy and math but also in all areas of life. STEAM activities encourage children to think, reason, solve problems, and experiment. STEAM stands for science, technology, engineering, art, and math. (You will also see references to STEM activities.) The toys below encourage construction, problem-solving, using technology, and reasoning through challenges.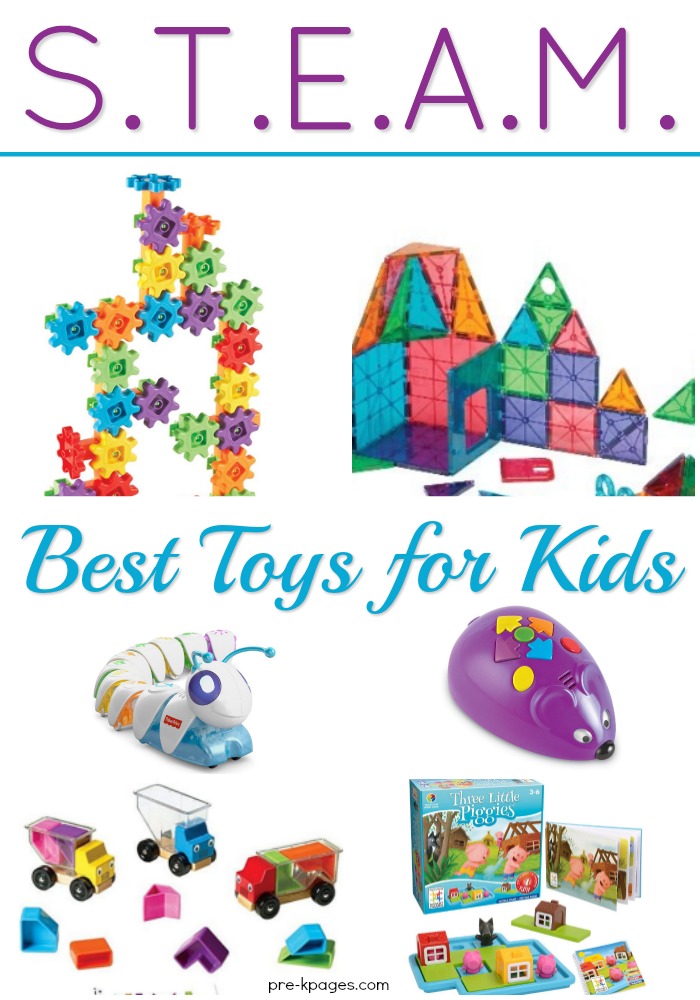 STEAM Toys for Preschoolers
Teacher Resource Book: STEAM Kids
A great resource with over 50 activities and ideas that will help children "question like a scientist, design like a technologist, build like an engineer, create like an artist, deduce like a mathematician, and play like a kid."
Better Builders
A fun magnetic construction set; the set includes rods (some flexible to make curved pieces) and balls.
Code and Go Mouse
Introduce older preschoolers and kindergartners to coding with this programmable mouse. Enter a group of movement commands and watch the mouse move across the floor or tabletop. Coding cards and activity guide are included.
Think and Learn Code-a-pillar
Each segment of this caterpillar is a particular command. Children can rearrange the segments to code the caterpillar's movements. Expansion packs are available to add more options for movements and sounds. (Note: Several have commented that the sound is loud with no way to adjust the volume.)
Gears, Gears, Gears
This construction set contains gears, connnectors, interlocking bases, and a crank handle. Children can create interlocking arrangements and watch how the different gears interact to make movement. In addition to building thinking skills and supporting STEAM concepts, preschoolers can also learn more about cause and effect.
Magna-Tiles
With these magnetic building tiles, children can create 3-D buildings or other structures. Additional sets provide other shapes or just more tiles for building.
STEM Simple Machines Set
This 19-piece set allows children to explore six simple machines. Pieces include a pulley with rope and hook, wedge, cart with wheels, lever board, weighted barrels (and others). Older preschoolers can explore and solve problems. Activity cards also included.
Nuts and Bolts Builders
This fun plastic construction set contains nuts and bolts along with pieces to connect together. Preschoolers will enjoy constructing a variety of structures. With the included wheels they can make all kinds of vehicles.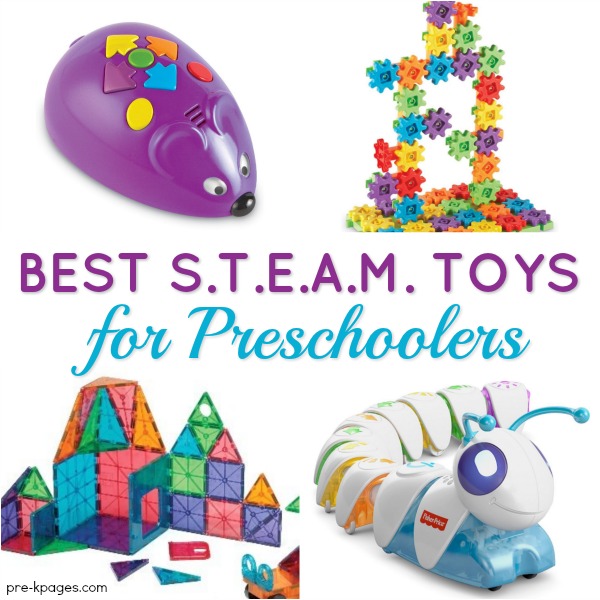 Best STEAM Toys for Preschool
Magz-Bricks Builders
This magnetic building set is a collection of pieces that are all the same shape – similar to a short wide craft stick with circular magnets attached. The pieces are all different colors and can be stacked in a variety of configurations, allowing preschoolers to create different structures and designs.
LEGO Duplo Creative Play Box
This set of the classic interlocking blocks contains a variety of Duplo blocks–numbered blocks, window pieces, a wagon base, plus a boy and dog figures. A great starter set of blocks…or a good addition to a collection of Duplo blocks.
Three Little Piggies by SmartGames
A logic game for preschoolers. The activity book presents challenges for the preschoolers to accomplish, arranging the houses around the pigs or to hide the pigs if using a wolf challenge. A fun way to engage problem-solving skills.
Little Red Riding Hood Deluxe by SmartGames
This brain game for older preschoolers has 48 challenges. Preschoolers arrange pieces to create a path for Red Riding Hood (and maybe the wolf) to get to a door of the house.
Trucky by SmartGamz
Fun 3D truck puzzles. The game includes 3 trucks with clear open "cargo" spaces and a variety of shaped blocks. A booklet with 48 challenges leads preschoolers to solve how to fit the bricks into the 3 trucks with no bricks extending past the top of a truck. Help preschoolers build reasoning skills and spatial awareness. (Preschoolers could also just play with the blocks and trucks or experiment with their own configurations.)
Smart Car by SmartGamz
Like Trucky above, this is a toy/game that builds spatial awareness and problem-solving skills. A car has space to arrange a variety of shaped blocks. The challenges provide clues for preschoolers to place the blocks in the correct configuration. 48 challenges are included for younger kids and 48 challenges for older kids.
More Science Ideas