Pumpkins, pumpkins all around! One of the best things about fall is that there are pumpkins everywhere, making it easy to have a pumpkin science exploration! They can explores parts of a pumpkin, the inside of a pumpkin and use their 5 senses! Children can explore the insides of a pumpkin and then create what they have learned.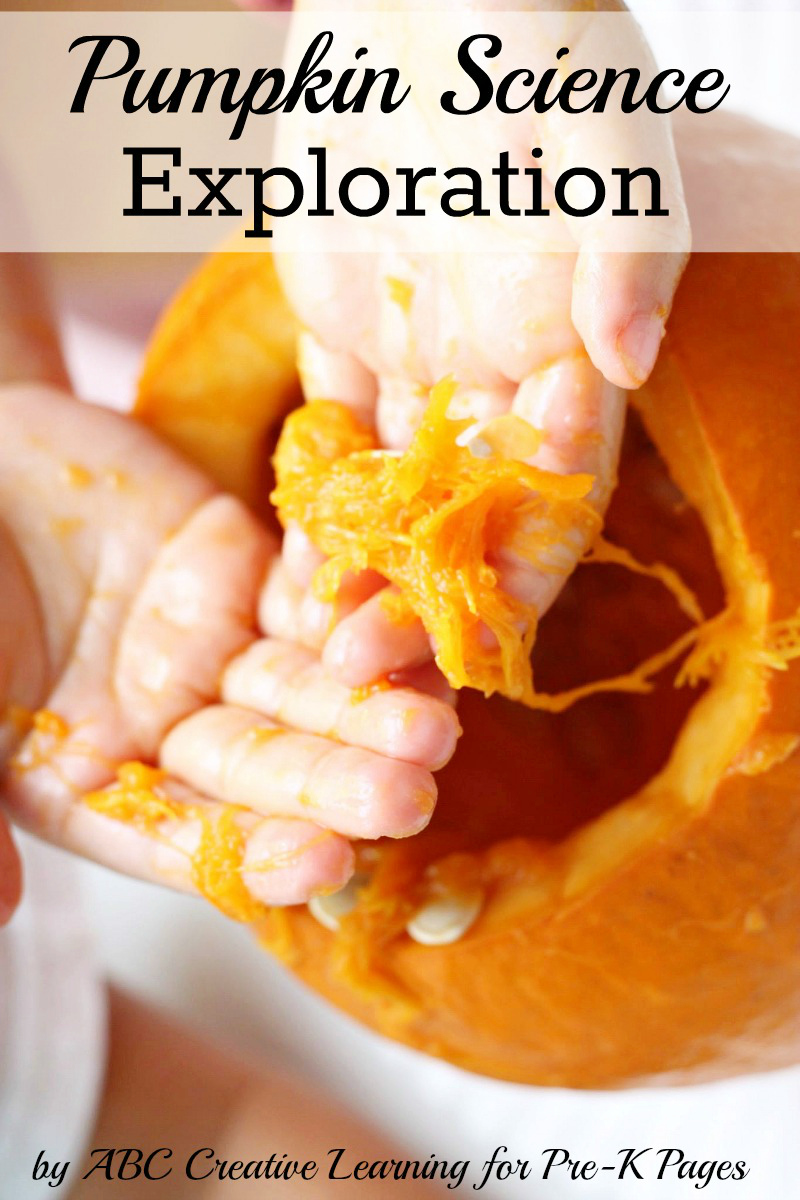 Pumpkin Science Using the Senses
Allowing students to explore the parts of a pumpkin and inside of a pumpkin for a science activity can be fun, but when you incorporate the 5 senses into an activity it becomes even more engaging and meaningful to the children.
Inviting children to use their senses when learning something new helps them to better understand the concepts being taught. You can give a child a pumpkin and invite them to explore it. Ask questions such as, "How does it feel?" or "What does it smell like?" to develop oral language, communication, and vocabulary.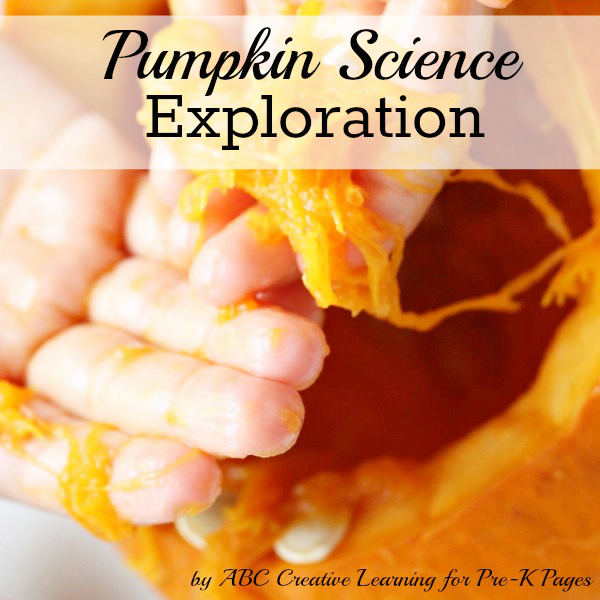 Skills developed in this pumpkin activity
Concept of the 5 Senses (sight, hear, feel, smell, and taste)
Sensory skills
Pretend play
Observational skills
Fine motor skills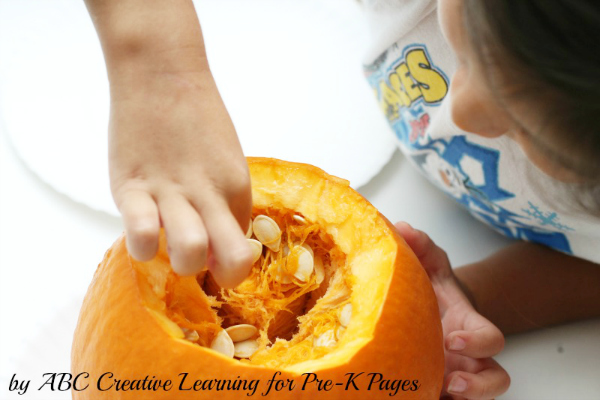 Supplies Needed For Pumpkin Science Exploration
pumpkin
paper plates
orange, brown, and green construction paper
orange yarn
clean and dried pumpkin seeds
craft glue
brads
marker
hole punch
Questions To Ask  Your Preschoolers About Pumpkins
Part 1: Pumpkin Exploration
1. List questions you will use. Connect these to the 5 senses.
How does it feel?
Is it hard, soft, mushy, slimy?
What does it smell like?
Can you hear anything?
Do you think we can eat this pumpkin?
Does it remind you of anything else you have smelled or touched before?
What color is the pumpkin?
What color are the seeds?
2. Cut the top of your pumpkin to create a lid.
Part 2: Record Observations
1. For each child cut out two orange pumpkins, a brown stem, and a green leaf.
2. Cut short lengths of orange yarn.
3. For younger children, print Inside My Pumpkin on one of the pumpkin pairs. (Older children can print the words themselves.)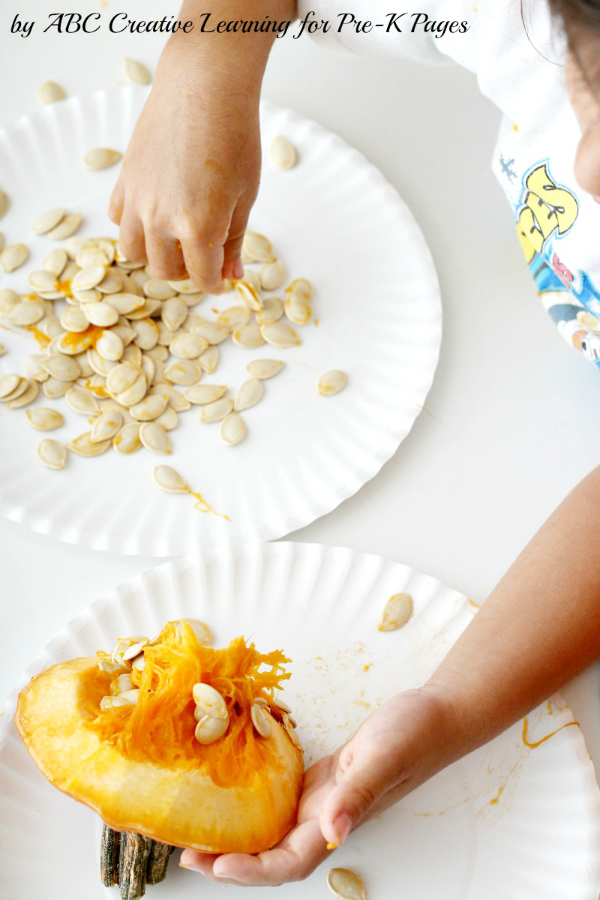 Explore The Parts Of A Pumpkin
Now it's time to allow your children to explore their pumpkins using their senses. Invite children to examine the outside of the pumpkin. Have them explore the parts of a pumpkin. Remove the top and encourage them to explore the inside. As they are explore, ask the questions you prepared. Allow them to investigate with their hands, eyes, ears, and nose.
Help the children to wash and dry the pumpkin seeds.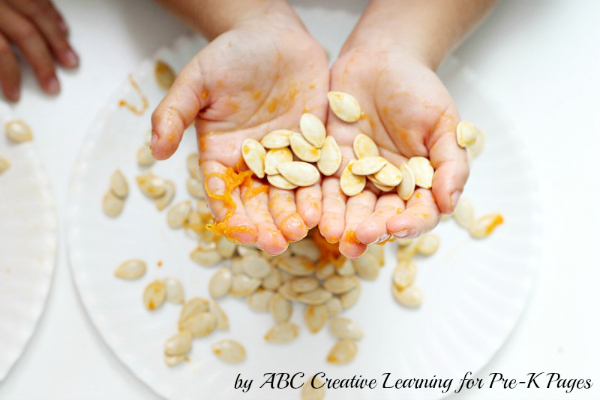 If you want to use the sense of taste, spread the seeds on an oiled baking sheet and cook in an oven at 300 degrees F for 45-50 minutes. Cool completely and taste. (Or wash and dry the seeds and send home with instructions for children to cook at home.)
Record Observations
Children can record what they learned about using their senses by creating a book.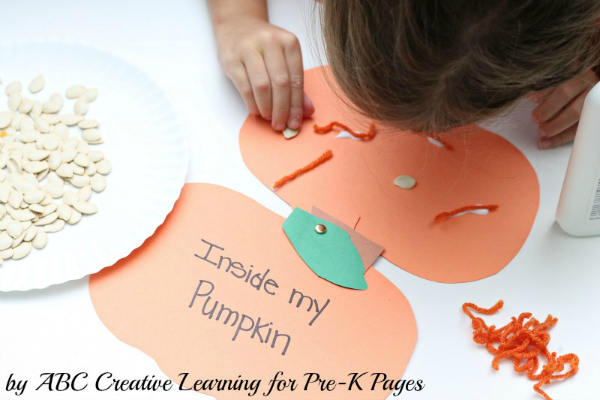 Invite children to glue stems and leaves on the title page of their books. Offer markers for older children to print Inside My Pumpkin on the title page.
Punch holes in the top of both pages of the book and join with a brad.
Children can glue yarn pieces to represent the fibrous strands found inside the pumpkin (pumpkin guts) on their blank pumpkin pages. They can add dried pumpkin seeds. This is a great way for them to review everything they learned.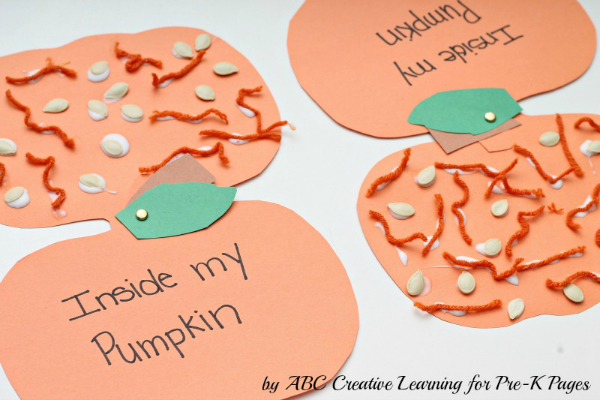 Ask children to tell you words that describe the pumpkin. Print these words on their pumpkins, too. (Or allow older children to print the words with pencils.) You can print on the pages with the seeds and yarn or on the back of the title page.
Encourage kids to use descriptive words that reflect all of the senses they used in the exploration.
BIO: Victoria is a former elementary school teacher and now homeschooling mom. She is the writer over at ABC Creative Learning where she shares homeschooling ideas, crafts, and family recipes. She has co-authored the book Learn with Play. Follow her on Facebook, Twitter, Pinterest, and Instagram for fun educational ideas.
More Pumpkin Ideas