It's Spring! Green appears on tree branches and up through the dirt. Seeds are beginning to sprout and soon flowers will bloom. Use spring as a natural learning opportunity to talk about plant life cycles. These 20 books focus on seeds and the life cycle of plants.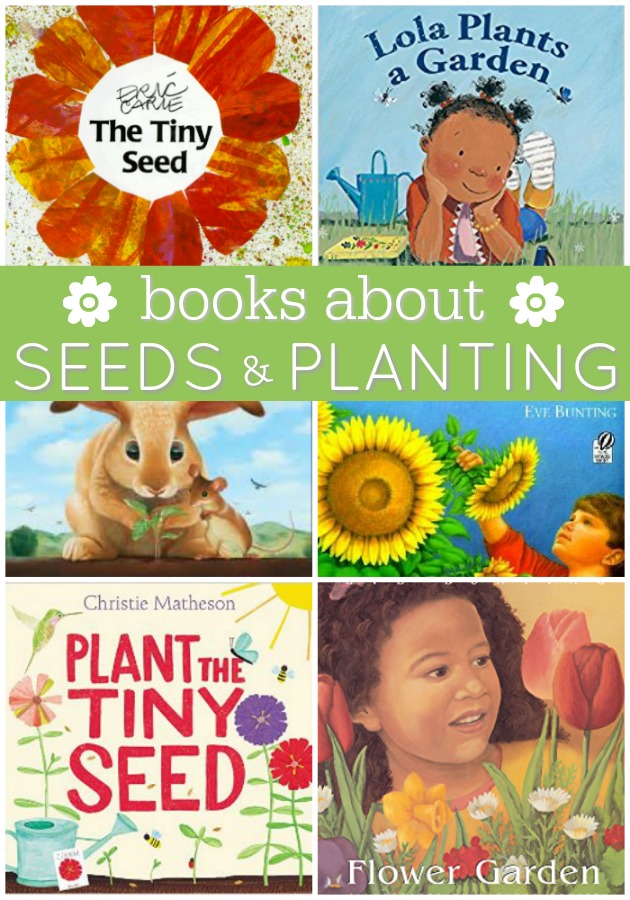 Books about Seeds and Plant Life Cycles
Apples for Everyone by Jill Esbaum
In this nonfiction book, photographs tell the story of apples from blossoms to small fuzzy apples to ripe apples at picking time.
Because of an Acorn by Lois Schaefer
This book goes beyond just a plant life cycle to consider the entire ecosystem. An acorn becomes a tree. Trees provide homes for birds. Birds eat and scatter seed. Plants grow and bear fruit. And so on.
The Carrot Seed by Ruth Krauss
In this classic book, a boy plants a carrot seed and carefully takes care of it. He waits patiently for it to grow even as everyone else is telling him that it won't.
Flower Garden by Eve Bunting
A girl and her father plant a garden in a window box. A story about gardening in an urban setting.
From Kernel to Corn by Robin Nelson
A farmer plants kernels that eventually yield corn that people can buy and eat.
From Seed to Plant by Gail Gibbons
As with most Gibbons books, this one contains lots of information and detailed illustrations. This book covers all aspects of the plant life cycle.
From Seed to Pumpkin by Wendy Pfeffer
A farmer plants hundreds of pumpkin seeds that grow into plants and produce pumpkins. This book includes an introduction to some basic science concepts about plants and how they grow.
How a Seed Grows by Helene Jordan
This informative book explores how seeds become plants and trees.
How Do Apples Grow? by Betsy Maestro
This nonfiction book contains more detailed information and scientific vocabulary. A great introduction to an apple's life cycle for older preschoolers and kindergartners.
If You Plant a Seed by Kadir Nelson
A rabbit and a mouse plant seeds and wait for them to grow. What will they do with the vegetables after they harvest them?
Let's Go Nuts!: Seeds We Eat by April Pulley Sayre
Through rhyming text and photos this book examines different seeds that people eat. This book includes a wide variety of edible seeds from the widely known (corn) to the more unfamiliar (quinoa).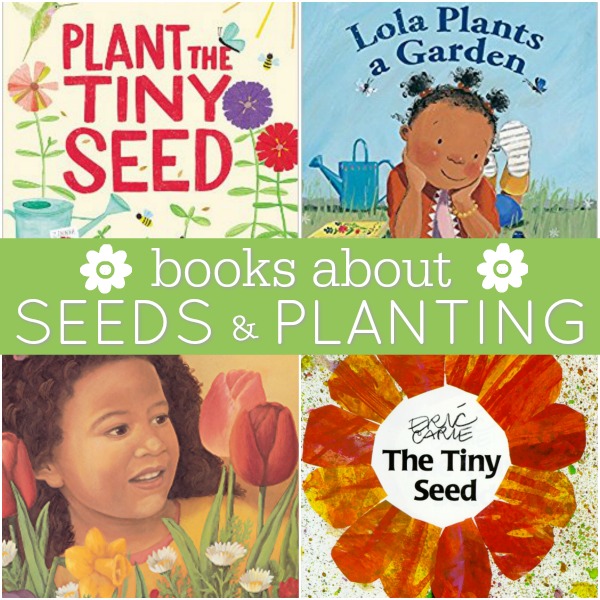 Lola Plants a Garden by Anna McQuinn
After Lola reads a book of garden poems, she decides to plant a flower garden. She buys the seeds, plants them, and waits.
One Bean by Anne Rockwell
What happens when you plant a bean? This book follows the cycle when a boy sprouts a bean in a paper cup.
Plant the Tiny Seed by Christie Matheson
This interactive book follows a small seed through its life cycle.
Pumpkin Circle: The Story of a Garden by George Levenson
From pumpkin seeds to pumpkins to pumpkin seeds again. This book contains lots of photos that illustrate (with the text) all aspects of the pumpkin life cycle.
Seeds! Seeds! Seeds! by Nancy Elizabeth Wallace
Buddy receives a package from Grandma. All week he explores seeds through a variety of activities.
Sunflower House by Eve Bunting
A boy plants sunflower seeds in a large circle. After they grow, the sunflowers create a wonderful place to play in the summer. The sunflowers create more seeds that will grow again in the spring.
Ten Seeds by Ruth Brown
A fun counting book. Ten seeds are planted but, one by one, the seeds or plants disappear until only one is left.
The Tiny Seed by Eric Carle
In autumn, a strong wind blows flower seeds high in the air and carries them far across the land. One by one, many of the seeds are lost. Soon only the tiniest seed remains, growing into a giant flower and, when autumn returns, sending its own seeds into the wind to start the process over again.
Tomatoes by Robin Nelson
The life cycle of a tomato is told with simple text and close-up photographs.
Zinnia's Flower Garden by Monica Wellington
Zinna plants flower seeds and carefully tends her garden, watching the plants grow and bloom. This book is a good overview about how to care for and work in a garden.
Also check out the Books About Animal Life Cycles.
More Science Ideas