Preschoolers always enjoy building in the blocks center. As they build and explore, they're actually learning about shapes and engineering. Have your kids ever gotten into a rut with their block play and building? Sometimes they can get bored when they build the same things over and over. (By the way, this is perfectly okay; repeating experiences helps children better understand concepts.) To spice things up, you can introduce this fun zoo building activity to keep interest and engagement up in your block center.
With just a few simple additions or suggestions, your children may think about building a zoo or an animal preserve in your blocks center.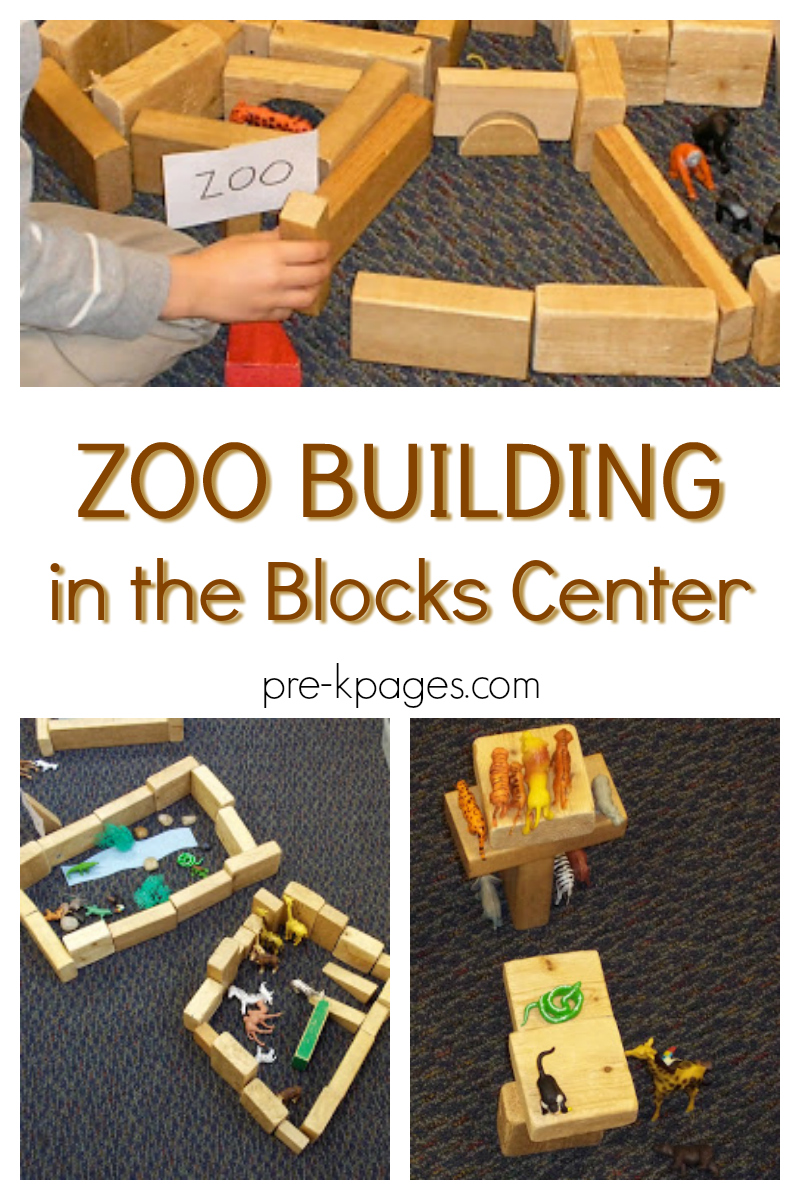 Building a Zoo in the Block Center
You do not need a lot of materials or any specialized resources to build a zoo.
That's pretty much it. Including a zoo sign will trigger thinking in boys and girls. Read the word to them or encourage older preschoolers to read it themselves. And, while it will encourage thinking, it also will not get in the way. If a group of kids want to build something else, they will push the sign aside and build. (That is, if they have been encouraged to use their own ideas in the past.)
Make sure you include a variety of animal figures–animals that live in the jungles and savannah, animals that live in colder climates, animals that live in forests, animals that live in the desert. You could also include farm animals for a petting zoo.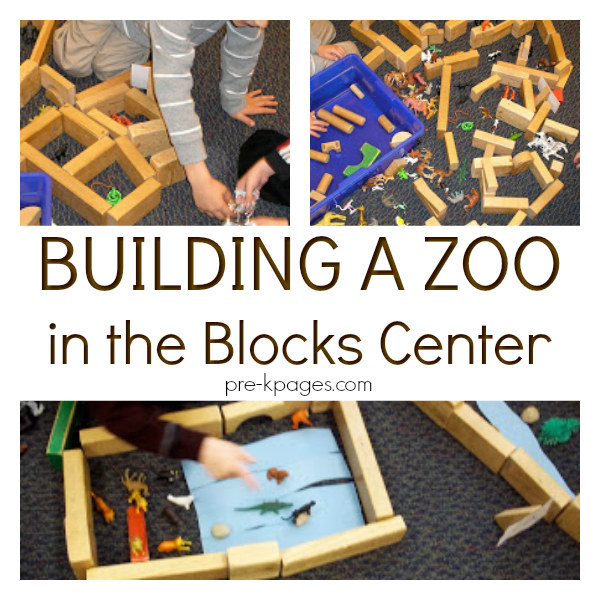 Zoo Play in the Blocks Center
Talk about trips children have made to zoos. Talk about what they saw and what they did. Read books about the zoo. Encourage children to build using their own ideas.
Children may want to make a large zoo and work together to construct it. Or they may build their own mini-zoos independently. They may explore using animals and blocks in a variety of constructions that look nothing like traditional zoos. The way the play will evolve depends on your group and the conversations and interactions they have with one another.
Encourage them to categorize animals. Talk about what animals eat or what care they would need. Help them think about the different ways enclosures would be constructed or supplied for different animals.
Expand your play with additional items in the blocks center. Here are a few more ideas to boost your children's imaginations and constructions.
Wrap some blocks with foil to create "colder" spaces for arctic animals.
Provide blue paper strips for "water."
Include small smooth stones and plastic or wooden trees for more terrain.
Use craft sticks and other wooden pieces for more building possibilities.
Add paper strips, markers, and tape for making signs.
Post photographs of your local zoo or pictures of other zoos.
Or my favorite way to think of supplemental materials: Ask children what to add. They may have ideas for things they need. And you may end up with lots of interesting materials for building.
Other Posts About Centers