One of my favorite places in the classroom is the block center. I have children that love to build and will stay in this center as much as possible. Blocks provide lots of experiences for engineering, for ice and math exploration, for creativity, and for cooperative learning. The blocks center can provide an opportunity for building literacy skills like in this building letters preschool activity.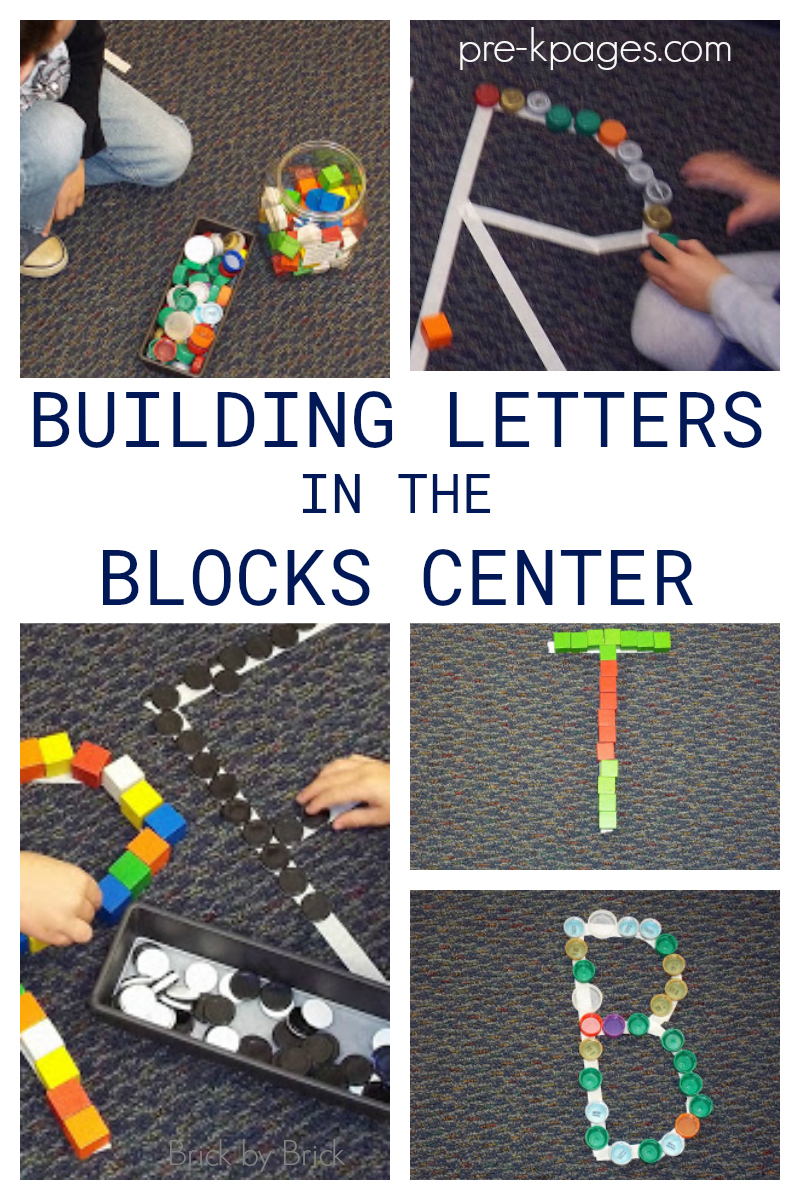 Building Letters in the Blocks Center
To build alphabet letters, you do not need lots of unusual items. You can use whatever you have.
Masking Tape
Cube blocks
Bottle lids
Whatever small manipulatives you have
Use masking tape to create letters on the floor. Choose letters of the children's names or letters of key words for your focus theme or concepts. I will often use the initial letters (or entire name) of the main people in stories we are reading/hearing.
Place baskets with the various items beside the tape letters. Place one or two items on one of the letters – set up an invitation for kids to continue building on the letters.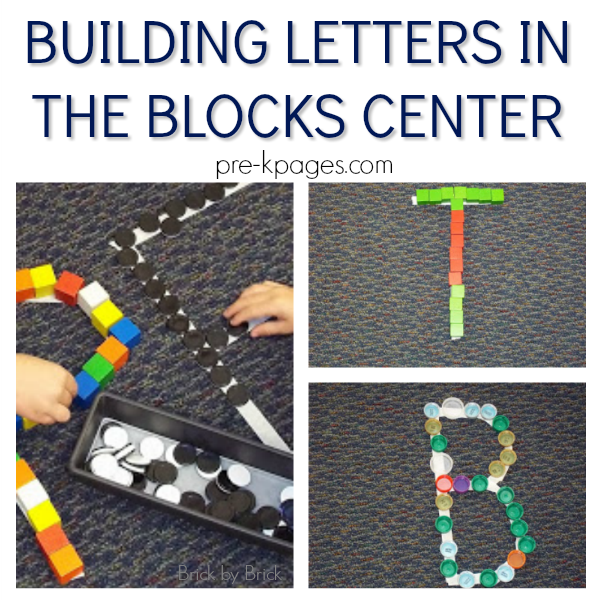 Block Center Alphabet Building
Call attention to the letters when boys and girls are in the center. Often they will build on the letters (especially after we have done this activity once). Other times they will build other structures on top of the letters (ignoring them) or build around the letters. Even if kids are not using the letters as templates, mention the letter – and any focus name or word – while they work: "I notice these lines make a letter M. Micah's name begins with M." If the children seem absorbed in what they are doing, that's all I say. If the conversation takes off, we'll talk more about letters in general and the tape letters in particular.
Variations
Offer tape and scissors for the children to make letters themselves. (Note: Making curves with tape can be tricky.) Then they can build on the letters they create.
Print large letters with a thick marker on large paper. Lay the paper in the center instead of using masking tape on the floor. (These are reusable, too, if you laminate them.)
Notice patterns children make as they build on the letters. You could also suggest children create patterns on the letters if they are not doing so.
If you do not have floor space for building letters, print the letters on smaller pieces of paper. Lay the letters on a table with smaller rocks and floral gems.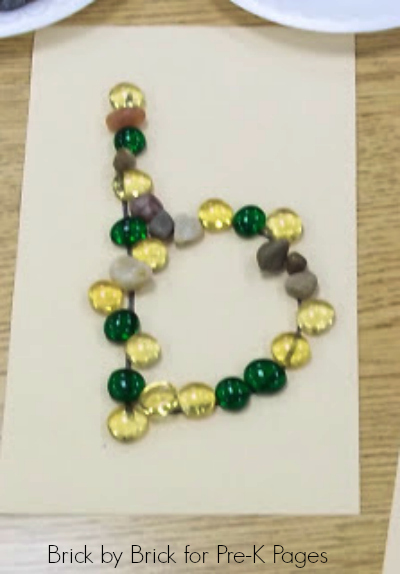 Sometimes these 3-D experiences with building letters in the block center can help some children really understand how letters are formed and how letters are different from one another.
BIO: Scott Wiley, an early childhood educator for 30 years, is managing editor for Pre-K Pages. His blog Brick by Brick exploring the connection between play and learning. Connect with Scott on Twitter, Facebook, and Pinterest.
More Alphabet Posts