This is a fun twist on a classic game that will have your preschool or kindergarten students begging for more! Even better, the Bunny Listening Easter Game can be used in public or faith based programs- it's not just for Easter.
You may already be familiar with this game from my free Easter Party Planning Guide. I made a set of free printable cards to go along with the game, keep reading to download your copy.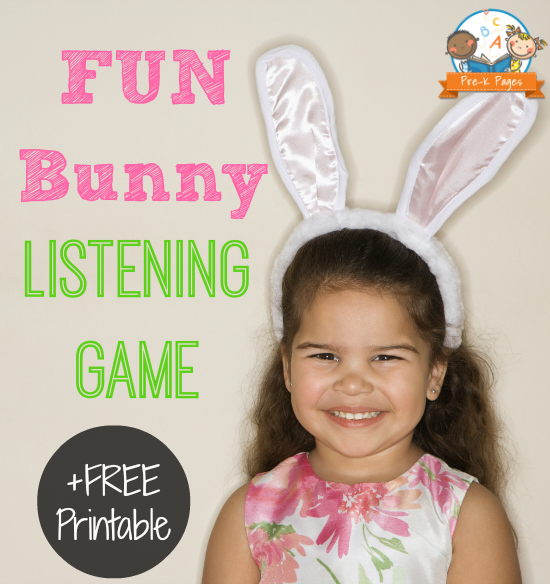 Supplies
Bunny ears- store bought or make you own
Free printable Bunny Says game cards- see below
Cardstock
Scissors
Bunny Ears
If you don't already have a set of store bought Easter bunny ears like those pictured above, or if you are not allowed to use them due to lice concerns you can easily make your own. To create your own bunny ears, use a sentence strip for the headband and white paper for the ears. Cut and glue the white paper ears to the sentence strip, then staple the sentence strip to create the headband. I also found this cute idea for making bunny ears with a paper plate.
How to Play the Bunny Listening Game – An Easter Activity
This game is played just like Simon Says, only the bunny does the talking! Select one child to be the bunny and invite that child to wear the headband. Give the child an Easter basket with the picture cards inside. If your program does not allow Easter baskets just skip the basket and put the pictures in a brown paper lunch bag. The bunny stands in front of the class and selects one card at a time to "read" aloud to the class. For example, "Bunny says, touch your toes."
The students will listen to the bunny and perform the action he or she says. If the bunny does not say "Bunny says" and the students do the action they are "out."
When playing this game with 4 year olds it's helpful to use picture prompts for the bunny because it is very difficult for 4′s to come up with actions on their own. I created a set of free printable cards for you below to use for this purpose. You can print the pictures on cardstock or glue them on index cards and laminate.
Educational Benefits of Playing the Bunny Listening Game
When they are playing this game, kids just think they're having fun. What they don't know is they are developing listening skills and self-regulation at the same time. Remember what Mary Poppins said about "a spoonful of sugar?" Kids have to listen carefully and follow the directions given by the Bunny in this game, then practice waiting or regulating their own behavior until it is time to move.
Tips
Encourage the child who is playing the role of the bunny to use complete sentences for oral language development. For example, "Bunny says, touch your elbow."
Extension
My class always enjoys the book The Tale of Peter Rabbit by Beatrix Potter. I think they enjoy this book so much because it is about a naughty bunny and has many similarities to other favorites such as No, David by David Shannon. After reading Peter Rabbit, we play this game and call it "Peter Says" instead of "Bunny Says." This is a great way to incorporate a fun learning game in your preschool or kindergarten classroom without involving any religious holidays.
Click on the image below to download the free Bunny Says game.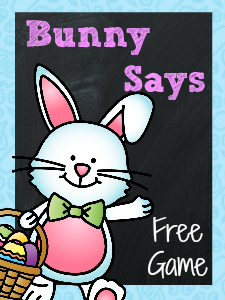 More Easter Ideas
Easter Sensory Bin for Preschool– This Easter sensory bin is super quick and easy to set up at home or in your classroom.
Easter Play Dough Counting Mats-A set of free Easter play dough counting mats to help your kids develop number sense and fluency within ten. Includes 10 printable color mats for you to use in your play dough center.
Easter Fine Motor Activities for Preschool-This Easter themed cutting skills tray will provide your kids with plenty of fine motor practice. These activities will help your kids build fine motor skills in fun and playful ways, so they won't even know they're learning.
Preschool Easter Activities using Plastic Eggs-At this time of year, you see plastic eggs everywhere. You probably have several close at hand. Those plastic eggs make great learning tools, at Easter and anytime of the year. Look at the dozens of ways you can use those eggs to help your children learn and explore.
Practice Position Words with Plastic Easter Eggs-Plastic eggs are irresistible for kids! They provide hours of open-ended seasonal fun. Children are working on fine motor skills as they open and close the eggs. Adding a chick to hide inside the egg allows for the perfect preschool game to practice position words for Easter and spring!
Printable Easter Bingo Game-Here's a fun game for your Easter celebrations at home or for a fun Easter party in your classroom.  This bingo game free printable is perfect for playing with small groups of young children.  There's also a blank and white version included because I know how expensive ink can be!
Easter Egg Process Art–  Make the perfect open-ended Easter themed art activity! This Easter art project encourages children to think outside of the box. This plastic Easter egg process art activity is inviting and enjoyable – all in one!
Photo Credit: iofoto @Shutterstock