At this time of year, you see plastic eggs everywhere. You probably have several close at hand. Those plastic eggs make great learning tools, at Easter and anytime of the year. Look at the dozens of ways you can use those eggs to help your children learn and explore.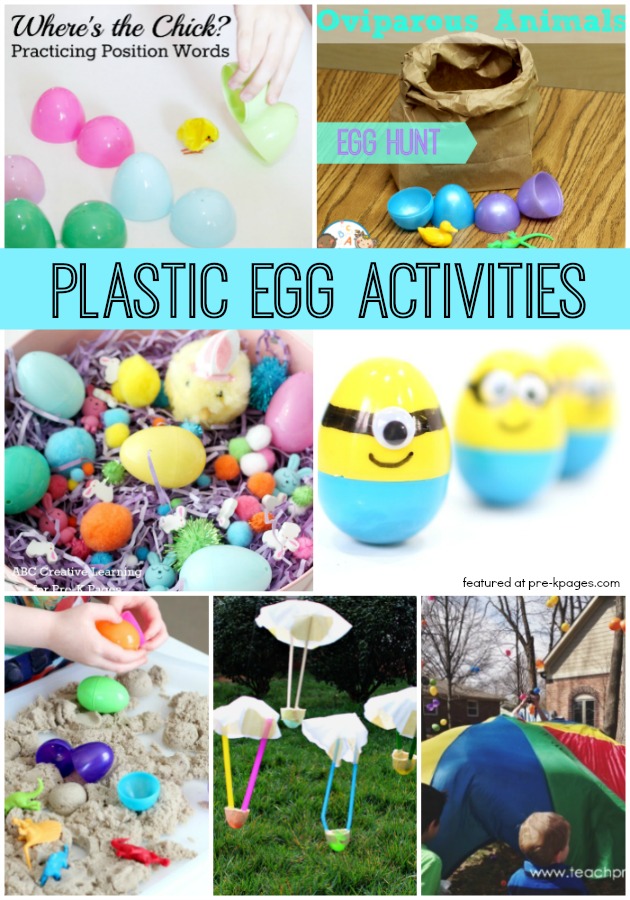 Plastic Egg Easter Activities
Here are some ways to use plastic eggs at home or in the classroom for learning and fun!
Got plastic eggs? We're talking about ways to use them for learning at home or in the classroom NOW!

Posted by Pre-K Pages on Monday, March 14, 2016
Resources mentioned in video:
Fun Erasers (affiliate)
(Free Printable)Easter Party and Egg Hunt Guide
More Ideas for Plastic Eggs
Practicing Position Words (Pre-K Pages) – using eggs and a small chick to practice positional words such as in, out, beside, over, under, and between
Easter Transfer Activity (Pre-K Pages) – fine motor practice pouring rice (or other material) into eggs and snapping eggs together
Learning About Eggs (Pre-K Pages) – a fun game to learn about animals that lay eggs (oviparous)
Easter Egg Alphabet Game (Pre-K Pages) – visual discrimination game with letters
How to Plan an Educational Egg Hunt for Preschoolers (Pre-K Pages) – curb the chaos of your egg hunt with these ideas
Spring Classification Science Activity (Pre-K Pages) – sorting eggs by various categories
Easter Egg Process Art (Pre-K Pages) – dripping and pouring paint in a fun messy art exploration
Upcycled Plastic Egg Music Shakers (Pre-K Pages) – add fillers to eggs to make simple musical instruments
Super Simple Minion Weeble Wobble Easter Eggs (Lemon Lime Adventures) – super easy craft to make eggs look like these favorite characters
Teenage Mutant Ninja Turtle Easter Eggs (Lemon Lime Adventures) – another easy way to decorate plastic eggs
Beginning Sounds Easter Eggs Game (Growing Book by Book) – sorting by those initial sounds
Plastic Egg Chicks (Fireflies and Mudpies) – simple craft with basic supplies
Gak Filled Easter Eggs (Kids Activities Blog) – make oozy slime and fill eggs for lots of fun play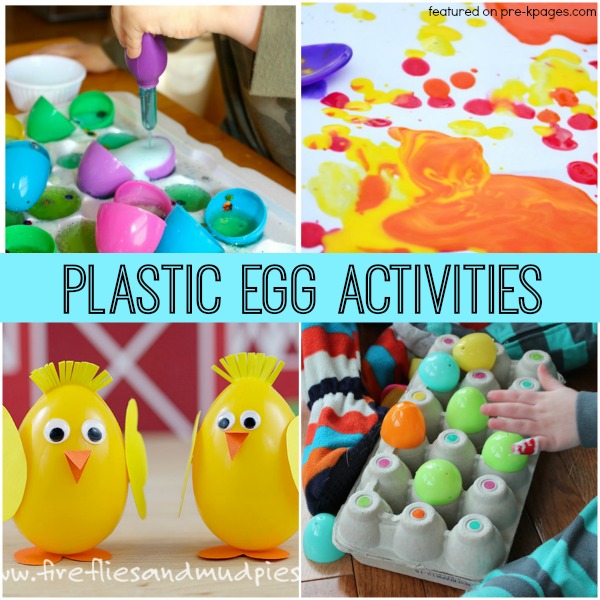 Color Surprise Game for Kids (Still Playing School) – colored scarves in plastic eggs
Sensory Nest Building (Still Playing School) – pasta bird nests with plastic eggs
Easter Egg Color Matching and Stacking (Sunny Day Family) – fun color matching game
Easter Egg Alphabet Sounds Hunt and Sort (Stir the Wonder) – sorting by initial sounds using objects and letters
Easter Egg Color Sorting (Busy Toddler) – color sorting with pompoms
ABC Easter Egg Match (Busy Toddler) – uppercase and lowercase letter matching
Easter Egg Music Shakers (Preschool Inspirations) – exploring plastic eggs and pea gravel
Easter Egg Beginning Sounds Activity (Mom Inspired Life) – matching animals with their initial sounds
Easter Egg Sight Word Sort (Mom Inspired Life) – exploring letters that spell sight words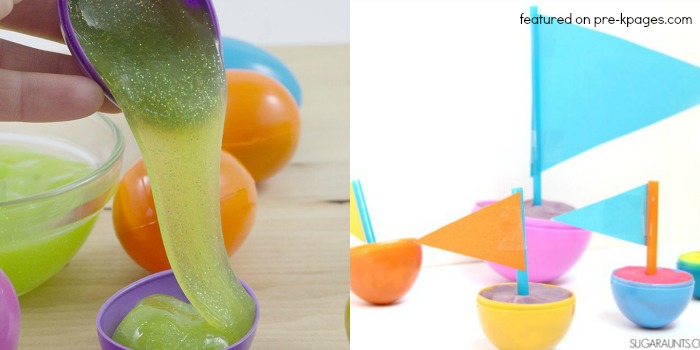 Playing with Kinetic Sand and Dinosaurs and Plastic Eggs (Mom Inspired Life) – fun digging and sensory exploration activity
Easter Egg Letter Puzzles (Mom Inspired Life) – create letter puzzles with plastic eggs
Easter Egg Toss Game for Learning Addition (Mom Inspired Life) – fun way to move and explore addition
Easter Egg Match Game (Craftulate) – color combination matching game
Easter Egg Fine Motor Fun (Craftulate) – using tweezers to pick up pompoms is great fine motor practice
Easter Egg Sensory Game (My Mundane and Miraculous Life) – develop listening and critical thinking skills
Plastic Egg Greenhouse (JDaniel4's Mom) – science project for growing plants in plastic eggs
Plastic Egg Patterning (JDaniel4's Mom) – create different types of patterns with plastic eggs
Easter Slime Recipe (Little Bins for Little Hands) – explore homemade slime with plastic eggs
Texture Eggs Tactile Sensory Play (Little Bins for Little Hands) – fill eggs with homemade texture balloons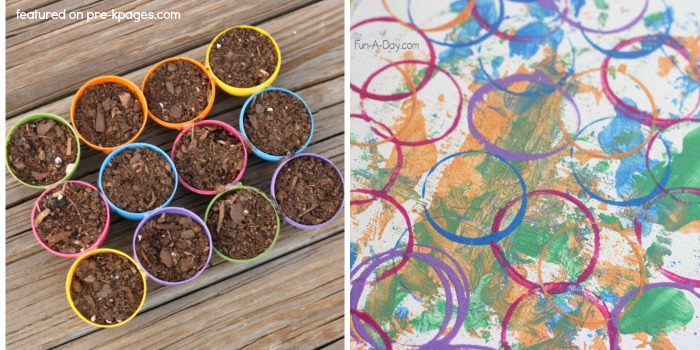 Easter Egg Art in Preschool (Fun-a-Day) – collaborative art exploration
Plastic Egg Color Mixing (Teach Preschool) – exploring color mixing and water play in this science activity
Easter Egg Math (Teach Preschool) – prediction and counting activity
Easter Egg Parachute Game (Teach Preschool) – fun outdoor movement game
Egg in the Next Sorting Game (Teach Preschool) – color sorting with plastic eggs
Plastic Egg Mini Planting Pots (Coffee Cups and Crayons) – simple spring planting activity
DIY Memory Game (Happily Ever Mom) – hide small objects under egg halves to make a matching game
Plastic Egg Crafts and Activities (No Time for Flash Cards) – 3 quick ideas for using those plastic eggs
Practice Balancing with Easter Egg Walk (Mom with a Lesson Plan) – balancing game with plastic eggs and kitchen utensils
Buttons and Eggs! (My Nearest and Dearest) – a tray of buttons and eggs encourages exploration and play
Plastic Egg Boats (Sugar Aunts) – build a fleet of boats and sail them in a tub of water
Science Experiments with Egg Parachutes (JDaniel4's Mom) – create parachutes on egg halves using different materials and then toss them in the air
Easter Activities (Pre-K Pages) – Book lists, literacy ideas, math ideas, and other fun activities
More Easter Ideas